It's been twenty years since 39-year-old lesbian comedian Ellen DeGeneres came out on The Oprah Winfrey Show, announced "I'm Gay!" on the cover of Time Magazine, and debuted an episode of her sitcom that would change the world forever — and, temporarily at least, derail her career. In "The Puppy Episode," which aired on April 30th, 1997, the character of Ellen Morgan came out as a lesbian in a star-studded 46 minutes that featured guest spots from Oprah Winfrey, Laura Dern, kd Lang, Melissa Etheridge, Demi Moore, Gina Gershon and Billy Bob Thornton. (If you pay REALLY close attention, you'll also spot Jenny Shimizu, Leisha Hailey, Kathy Najimy and Jorja Fox.)
In 1998, a one-hour documentary called THE REAL ELLEN STORY aired on UK's Channel 4 as well as Bravo and PBS, but since has largely faded from view. I didn't even know it existed until it was mentioned offhand in a book I'm currently reading about disappearing lesbian spaces.
Created by gay filmmakers and World of Wonder Productions co-founders Fenton Bailey and Randy Barbato, the film uses "The Puppy Episode" as its focal point for a story about the rise and fall of Ellen's sitcom and career. We hear from series writers, gay advocates, anti-gay asshats, cast members, family members, and Ellen herself about the process leading up to the coming out episode and the bitter fall-out that ensued afterwards. You'll also hear from a delightfully bizarre Anne Heche, who gushes about making love to Ellen for 17 hours the night they met and, subsequently, probably setting a record for most ambitious U-Haul of all time.
If you, like me, lived through this and were paying attention when it happened, this doc both fills in some blanks and reminds you of stuff you'd long forgotten about. If you didn't live through it or weren't paying attention, it's a brief introduction to a really important part of lesbian history specifically and LGBTQ media representation history generally. Despite the fact that the only copy of this documentary I could find online has some audio/video tracking issues, particularly in Part 2, which normally drives me nuts, I watched the whole thing with RAPT attention, and you can too!
If you'd like to remain in an Ellen K-hole for a solid portion of the afternoon: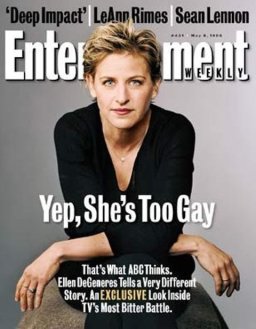 Some further reading:
Also, pro tip: the final season of Ellen's sitcom was not "too gay," because NOTHING CAN BE TOO GAY, but despite everything that has changed between then and now, Ellen Season Five will totally blow your mind with exactly how gay it was. We've still yet to see another lesbian character featured so prominently in a network sitcom. In addition to being funny (and damn good television), Ellen Season Five stands as a reminder of how far we've come and how much farther we've got to go.
Finally, Ellen hosted a Puppy Episode reunion on her show today, and you can watch clips from it right this minute!