Ellen Philpotts-Page was born in 1987 in Halifax, a harbor town on the eastern shore of Nova Scotia, Canada. Halifax, the province's capital, is scenically beautiful and it's also a cultural center, which means lots of theaters, bookstores, music festivals and, of course, gay people. LGBT activism has been present in Halifax since the early 1970s and in 1978, the LGBT community held what some consider to be their first local Pride March. Nova Scotia has offered domestic partnerships to same-sex couples since 2000, and same-sex marriage since 2004. Growing up in Halifax, Ellen Page attended a Buddhist school and enjoyed "playing with action figures and climbing trees." She told NPR that growing up in Canada kept her down-to-earth and non-judgmental.
In 1997, a local casting director visited Page's school and although she hadn't considered acting, really, Page auditioned. Thus, at the age of ten, Ellen Page was cast in her first role ever, as Maggie MacLean in the 1997 CBC TV Movie Pit Pony. It was the beginning of what would become a swift rise to Hollywood and critical acclaim.
Meanwhile that same year in America, a 39-year-old lesbian comedian named Ellen DeGeneres came out in an episode of The Oprah Winfrey Show and, in April of 1997, on the cover of Time magazine. The infamous Time cover corresponded with the coming out of Ellen's character on her sitcom, also named Ellen, a show regarded as "the female Seinfeld" then at its peak of popularity. Ellen Morgan became the first leading gay prime-time character ever. Despite record numbers of viewers turning in for the Coming Out Episode, ratings quickly declined and by April of 1998, ABC pulled the plug on Ellen. ABC Entertainment chairman Stuart Bloomberg told the press, ". . . as the show became more politicized and issue oriented, it became less funny and the audience noticed." Ellen alleged more bluntly: "I was fired basically because I'm gay." Following "The Puppy Episode," ABC had quickly distanced itself from the program, offering minimal promotions and slapping it with an adult content advisory warning.
It's easy for young people to forget, considering Ellen DeGeneres's current popularity, that there was a time when it seemed like her career was over for good. In a 2007 interview with DeGeneres, W Magazine described this time period as Ellen's "fierce public fall from grace" which left Ellen "stunned, angry, unable to find work for three years and mired in depression." Although her sexual orientation was an "open secret" in Hollywood, the rest of the world was not Hollywood, and it definitely didn't help when gay icons like Elton John told New York Magazine that Ellen should "shut up" about being a lesbian and "just be funny!" Chaz (then Chastity) Bono, a GLAAD spokesperson, insisted he was misquoted when he was reported to have told The Daily Variety that Ellen's show was "too gay," but the reaction from within the gay community was harsh enough to inspire Bono to resign.
For me, a 15-year-old television fanatic and diehard Ellen fan (I'd been hooked since its first season, when it was called These Friends of Mine) who had been actively keeping my gay Mom's sexual orientation a secret from my friends since she'd come out that same year, what happened to Ellen was pretty scary. It sent a clear message: coming out is a bad idea, coming out is being "too gay." I was a teenager who felt acutely that reality was too much and therefore had devoted myself to a meticulously organized prime-time television watching schedule which I supplemented with as much background reading material as I could gather through newspapers, magazines and entertainment news shows. I read Entertainment Weekly and Time every week. Ellen was getting a lot of press.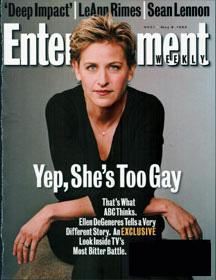 DeGeneres wasn't the first famous out lesbian, nor was she even on the front lines of political and economic gains being earned at the time or the struggles being fought by out politicians, athletes, musicians, activists, radicals, philanthropists and behind-the-scenes players in Hollywood. There were brilliant lesbian writers and artists producing some of the best literature and media the world has ever seen, and they had been doing so for decades. But DeGeneres's story was really big and really mainstream and it's all anybody was talking about, and pre-internet, it was also the only lesbian story loud enough that teenagers like me could hear it. Nobody had anything nice to say about her except my Mom. I remember Anne Heche, her bisexual girlfriend, suffering by association: the press speculated on whether or not Heche could convincingly play Harrison Ford's love interest in Six Days and Seven Nights now that she'd been linked to DeGeneres. I remember Ellen DeGeneres's recent turn as a straight woman in the romantic comedy flop Mr.Wrong being played for laughs, over and over.
Huge strides had been made in gay and lesbian rights and radical activists were shaking shit up. But mainstream media lagged behind. In 1992, Cosmopolitan Magazine allegedly blocked Rosie O'Donnell from coming out in their magazine for her own "protection." In 1994, Newsweek's cover story "Lesbians: Coming Out Strong — What Are The Limits of Tolerance?" called lesbians "the invisible homosexuals" but posited that their visibility could be on the rise for reasons that included Sandra Bernhard playing a lesbian character on Roseanne and Canadian crooner k.d. lang having come out in 1993. Newsweek also talked about Lea DeLaria's recent turn on Arsenio Hall, lamenting that "the appearance of an openly gay comic on national television was a rare event" and quoting author Julia Phillips saying lesbians were very afraid to come out, even in Hollywood, especially because "lesbians are right at the bottom of the list in terms of power structure." Indeed. A 1996 New York magazine story stated plainly as fact, without examination, that "lesbian culture has, until just recently, had neither the visibility nor the impact on the larger mainstream culture of its male counterpart."
Regardless, despite this disparity in visibility, human beings have always been more uncomfortable about men breaking traditional gender roles and male/male relationships than the same for women. Then again, maybe it's a lot easier to tolerate something you never actually have to look at.
Ellen Page's first gig in Pit Pony extended when the movie became a TV series in 1999 and Page followed that up in 2000 with a five-episode run on Trailer Park Boys. Page worked in independent films, mostly within Canada, but her big break in America was her turn as 14-year-old vigilante Hayley Stark in the dark indie film Hard Candy. After the film's premiere at Sundance, The New York Times Magazine declared that "a star was born." As Page became more and more successful in America, she never left Canada behind — she continued school there, and she talks about Halifax so much it became a meme. Even now Page eschews the typical Hollywood scene in her off-hours in favor of backpacking in Europe and living on a farm with goats. (Experiences she always acknowledges she's incredibly financially privileged to be able to have.) Ellen Page cites Nova Scotia's "humility" and "calm" as primary influences on her own attitude. Page's favorite show growing up was Degrassi, known for tackling tough teen issues like homosexuality and abortion with a frankness once foreign to American television shows.
America has always lagged behind Canada in terms of gay acceptance, due to many reasons including the overwhelming influence of religious conservatives in the States. Ellen DeGeneres grew up in Louisiana, where an amendment banning same-sex marriage passed the same year that same-sex marriage was legalized in Ellen Page's Nova Scotia. I hear about this disparity in gay stigma a lot from my Canadian girlfriend, but the numbers back it up, too: in 2000, 32% of Canadians felt that same-sex relations were "always wrong," compared to 59% of Americans. In 2007, 70 percent of Canadians and 49 percent of Americans felt homosexuality "should be accepted." In 2013, 80 percent of Canadians and 60 precent of Americans felt that way. Of the 39 countries worldwide surveyed by Pew in 2007 and 2013, Canada was the third most accepting of gay people, behind Spain and Germany and tied with the Czech Republic.
So ultimately what we have here with Ellen Page is a very young girl around the same age I was when I had literally no fucking idea I was gay, suddenly America-famous, suddenly grown-up and very good-looking, suddenly followed everywhere by cameras eager to document any sign of budding romance: Ben Foster, for example, as well as Clea Duvall and, more recently, Alexander Skarsgard. We have a young girl who is already scrutinized because she does not look like what Hollywood wants its leading ladies to look like, and she is quickly becoming a leading lady — Oscar nominated for Juno, and top spots in blockbusters like X-Men: The Last Stand and Inception. She cares in earnest about Important Issues like ending the military dictatorship in Burma, pro-choice feminism, the vanishing honeybees and animal rights. She also knows how to wear a suit, kisses and holds hands with Drew Barrymore throughout the Whip-It press tour and dodges questions about her romantic life, often seeking counsel from her manager and publicist, Los Angeles power lesbian Kelly Bush. But one thing she will tell interviewers over and over again is that she values honesty and authenticity above all else.
Anyone who grew up a tomboy can identify with what Ellen Page discussed in her HRC speech about being policed for her attire (I definitely could), like the E! article that asked "why does the petite beauty insist upon dressing like a massive man?" Girls who "dress like boys" are on High Alert for Homosexuality or Transgenderism from day one, really (see also: Shiloh Panic). It's funny because research has shown that tomboyism isn't a strong predictor for homosexuality — although many lesbians grew up tomboys, most tomboys don't grow up to be lesbians. And even if a tomboy turns out to be a lesbian, she won't necessarily be butch or masculine-of-center — I'm not, and I was the kind of tomboy who threw huge temper-tantrums about having to wear a dress and enjoyed being mistaken for male most of the time. Regardless, for most of human history, wearing men's clothing was believed to be inexorably linked to sexual orientation, and this faulty position was endorsed by popular medicine and science until a few decades ago. (Also interesting: Ellen Page's heterosexual roles have consistently pushed the boundary of what we expect a female heterosexual love interest to be — in Juno, especially, but also in Inception, as Laura argues in "What's So Unsexy About Asexual Chic?")
So, a lot of tomboys learn early on that the way you dress alarms people because it means you might be this other thing, and this context might be the first context in which you learn that this "thing" (this gay thing) exists. I don't know if Ellen Page got that growing up, like I did and many of you did, but she got it later from the American press, and it bothered her a lot.  "There are moments when you are encouraged to dress a certain way," Page told The Guardian last year. "But I can't. It just erodes my soul. That's no criticism to girls who can wear a tiny dress and kill it — that's awesome. People always attribute being a feminist to hating girls being sexual, and that's not it at all. I'm just not into it." This pressure surrounding the correlation of her style to her sexuality betrayed the fact that the gays don't consider gender presentation or style to be all that relevant when it comes to who "pings" or not — gaydar is a thing we genuinely feel, and it's a vibe, not a fashion show. We got that vibe from Ellen Page and would've gotten it even if she hadn't worn men's underwear.
Yeah, we knew. Yeah, there were rumors so intense that practically nobody, straight or gay, missed them. A fan of the Canadian gossip rag Frank who once published a four-page spread about Ellen Page and her rumored girlfriend, Paula Robbins, reminded us "Strong and beautiful @EllenPage feeling the Canuck love, but didn't @Frank_Mag report this four years ago?" Michael Musto devoted his April 2008 Village Voice column to speculating about Ellen Page's sexuality, and Gawker picked it up from there. And, of course, there was the 2008 Saturday Night Live skit many considered to be her "coming out."
But her standing up and saying "I'm gay" is still a big fucking deal and the fact that Ellen Page was able to do it is a really promising situation when it comes to lesbian visibility in Hollywood. There's a specific type of vulnerability involved in saying "I'm gay." Most gay celebrities don't actually say those words. They say they're open to dating girls, they say they have a girlfriend, they say whatever Jodie Foster said at the Golden Globes. Labels like "gay" aren't superior to or more important than other labels or no labels at all, but the words "I'm gay" do have a really specific historical weight that ends up crushing a lot of people before they get a chance to speak, and that's partially because of what happened when Ellen DeGeneres boldly proclaimed "Yep, I'm gay," all those years ago. After Ellen Page said it on Friday, she sighed with her whole entire body.
In 1998, in the wake of Ellen's cancelation, Advocate editor Michelangelo Signorile lamented that "as Ellen DeGeneres became more like Joan of Arc meets Stonewall, the laugh quotient went down," arguing that the show just stopped being relatable to straight viewers when it even attempted to tackle issues relevant to LGBs. Conversely, Ellen Page's next project will be Freeheld, a narrative film based on a true story about gay activism. Page will play Stacie Andree, the domestic partner of a lesbian detective battling cancer and fighting the Board of Freeholders to bequeath her pension to Andree when she dies.
When Ellen DeGeneres returned to the spotlight with The Ellen DeGeneres Show in 2003, it's rumored that she was prohibited by contract to mention gay stuff. If it was true then, it's definitely not true now. By 2006, Ellen was back on top and, along with numerous other actresses and comedians in Hollywood, began speaking openly about her wife and LGB issues. Smart, popular actresses and comedians like Wanda Sykes and Cynthia Nixon opened up about their relationships during the fight for marriage equality and over the past five years, Hollywood players have been coming out as gay, bisexual, lesbian, queer and pansexual in droves. Things are changing very quickly.
Between Ellen DeGeneres and Ellen Page have been so many other Ellens who weren't famous, but who were encouraged to come out to their own friends and family because of somebody they saw on television. As (former Autostraddle Intern) Ashley writes in Medium on "Why (Ellen Page) Matters":
Visibility is incredibly important. Not just to sway politics. Not just for one's own sense of pride and self. But especially to the kids and young adults that are struggling with this knowledge about themselves, to the ones currently embattled in the loneliest phase of their lives. We gotta give them hope. It is important that we live openly so that they can see us as an example of the happy, proud future that lies ahead of them. So that they can see that it's worth it to fight through the murky waters of self-discovery. That it's imperative to reach the other side, so that you can stand up proudly and state: This is who I am.
Ellen Page represents a lot of things young gay women can relate to. She grew up in a relatively tolerant environment — her part of Canada, in her case, but other countries and certain pockets of America in the 21st century for many of her fans. America is increasingly influenced by its more tolerant neighbors, and Ellen Page is here to lead the charge on that count. But despite being in an industry allegedly run by gays, it was hard for her to ignore, as it has been for many gay people living in tolerant areas, "ideas planted in your head, thoughts you never had before, that tell you how you have to act, how you have to dress and who you have to be." Page is arguably the most famous twentysomething actress to stand on a stage and say "I'm gay." Dorothy Pomerantz writes in Forbes Magazine that Ellen Page is unique because most Hollywood coming out stories involve smaller-earning actors or television personalities and, even today, "like it or not, most studio executives are going to take a long pause before hiring a gay actor." If Amber Heard's post-coming-out career is any indication, Ellen Page should do just fine.
Despite the gravity of this revelation and the long road we've traversed from the Ellen I grew up with to the Ellens who inspire young people today, many straight people have responded rudely to her speech with "Yeah, duh" and "Why is this news"? I am wary of these people. I fear they don't realize that the fight is far from over — that gay kids are still getting kicked out of their homes, gay teenagers are still getting cut out of their families, that job and housing discrimination remains legal in most states, that hate crimes still happen, that gay kids are getting bullied and killing themselves, that 92% of American LGBT youth say they hear negative messages about being LGBT and 42% say they live in an area that isn't accepting of LGBT people. Remember that it was a flood of press coverage around the suicides of young gay people that jump-started the flood of prominent personalities coming out to begin with. Remember that devastation.
Ellen Page said she'd been scared to reveal her truth, and way too many people responded with, "In other news, the sky is blue." The fact that so many felt comfortable being that rude to someone who'd just publicly shared a private struggle speaks volumes about how important they consider the issues of gay women to be. We should be wary of these people. People like them are why so many believe this country is post-racial or post-feminist when this country is racist as fuck and hates women.
This country loves to pass a few laws and then declare everything officially fixed forever. This country has a short memory. It belittles the struggles of the disempowered and we see it happen every day when people who experience racism or sexism are usually told by alleged allies that their own account of their own oppression is irrelevant and overdramatic. That dismissal from alleged allies hasn't happened on a large scale to the LGBT community quite yet, but it could get there sooner than you think, and that could happen before "the LGBT community as a whole" has really even begun to give the issues of queers of color, trans* people, and all overlaps therein, their proper attention.
When people argue that Ellen Page is making a big deal out of nothing it reminds me too much of all the naysayers who told Ellen DeGeneres she was being "too gay" simply for being gay at all. And while it may be the best of times for many gay women with certain class, race and  privileges, it's still the worst of times for so many more, both in North America and abroad.
In 1997, Ellen DeGeneres told Entertainment Weekly that "If I do it right, I'm gonna have a career that will grow, and I'll look back on this as my infancy stage. I don't believe you have one moment. You have many moments." She was right, but it's on us not to forget those first moments, either — and to remember everything that came between that Ellen and this Ellen, and everything that's yet to come.