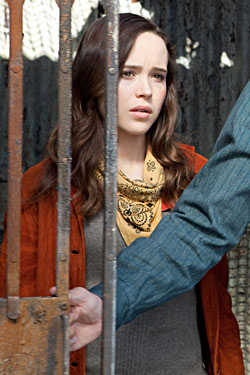 "Poor Ellen Page" seems like an odd way to open an article and, if we're being honest, a strange thing to say in any context. Still, that's how Emma Rosenblum begins her critique of Ellen Page's character Ariadne's style in Inception. The article is titled "The Ellen Page Inception Look: Asexual Chic":
"While most everyone else in Inception looks ripped out of a fashion-magazine spread, she has to traipse around in Christopher Nolan's version of graduate-student chic — ill-fitting corduroys, ratty jackets, and scuffed, oddly pointy motorcycle boots."
…. that alternative aesthetic has followed Page from movie to movie (Juno to Smart People to Whip It ) and clearly informs her character's costumes in Inception… Which would be fine, if they'd at least gotten her a pair of pants that fit. Since Page plays the asexual sidekick, it makes sense that Nolan wouldn't dress her as he does Marion Cotillard's character, decked out in gorgeous, lingerie-inspired couture. And yet, did he have to make her look like a little boy?… there are better ways to signify that Page is smart and not the female character whom DiCaprio wants to sleep with than sticking her in unattractive, earth-tone duds. Like, say, giving her a pair of glasses.
While my initial reaction–and maybe yours as well–was, "Really, Emma Rosenblum? You couldn't just enjoy the movie for what it was? You're going to pick on Ellen Page?" I remembered Moff's Law and realized that I was being dense by not taking time to think about her comments.
She seems to be on the right track when she point out that, as a foil to Marion Cotillard's glamorous character, Ellen Page shouldn't have been dressed to the nines. But asexual? As Cinematical's response piece points out:
"There are no hot designer fashions, feet-killing stilettos, or overtly sexualized pieces, and because of that, [in Rosenblum's mind] she loses both her gendered identity and her sexuality. She's labeled asexual because she's not showing the curve of her breast or the exact form of her hips, and she's not dressing for the male gaze."
Calling her asexual assumes that there's only one way to be sexy. Didn't Arthur (Joseph Gordon-Levitt) steal a kiss from Ariadne in a dream? Maybe Rosenblum isn't able to imagine an androgynous character as the subject of someone's sexual attraction, but it seems like the creators of the movie can. And as loudly as lesbians might like to speculate about different actresses sexualities in real life, think before you cringe over seeing a boyish girl in a straight role. If it's happening in mainstream movies, it's helping broaden people's minds about what gay and straight can look like–and that's good for everyone.
While clothes signify many things in real life and especially in movies–social class, nationality, interests, sexuality, and gender–it's narrow-minded to expect stereotypical markers of these attributes from a movie so intent on being mind-bending. I can get down with the idea that her suit from the hotel scene was bad, but to suggest that a pair of glasses would have been a better indicator of Ariadne's intelligence is ridiculous.
Ellen Page might have been stuck with a lot of the movie's exposition, but there's more to her character's significance than just being an "asexual sidekick." Her age, her intelligence, and even the tiny nod to her sexuality–the brief kiss with Arthur–round Ariadne out as a character.