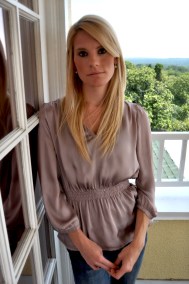 Jennifer Keeton, a counseling student Augusta State University, has sued the university after being asked to complete a remediation program designed to make her more tolerant of the LGBT community, according to the Chronicle of Higher Education. Keeton has interpreted the university's action as being asked to alter her religious beliefs (she is a devout Christian). But the school says they are concerned that she will be unable to comply with the standards of the profession, which hold that homosexuality is not a choice and is not something that needs to be counseled.
In a statement, one of Keeton's lawyers said:
"A public-university student shouldn't be threatened with expulsion for being Christian and refusing to publicly renounce her faith, but that's exactly what's happening here. Simply put, the university is imposing thought reform."
The basis of all this is the American Psychiatric Association's guidelines on working with gay patients. The queer community has come a long way since the days when the  classified homosexuality as a mental illness. That all changed in 1973 when the association revised the DSM entry on sexual deviance. Please listen to the This American Life episode called "81 Words," which has the entire fascinating backstory on how that change happened.
Anyway, back to Jennifer Keeton. The school became aware of her views that homosexuality is a choice and people are born with a definite gender, and she's been heard to advocate gay conversion therapy.
She's arguing that these requirements from the school have violated her first amendment rights to freedom of religion. Here's Keeton talking about her sitch:
Do you think maybe she's been coached by a lawyer? I'm just saying it's possible.
It would seem to depend on how the college worded their requests and on what the remediation would entail. Sounds like the university is trying to expand her horizons by making her be near gay people and is trying to ensure that her views won't temper her counseling. Here's their plan for her:
The lawsuit says Augusta State faculty members developed a remediation plan specifically for Ms. Keeton and told her she would be expelled from the College of Education's counselor-education program if she did not fulfill its requirements. The plan calls on Ms. Keeton to attend workshops on serving diverse populations, read articles on counseling gay, lesbian, and bisexual and transgendered people, and write reports to an adviser summarizing what she has learned. It also instructs her to work to increase her exposure to, and interaction with, gay populations, and suggests that she attend the local gay-pride parade. Ms. Keeton has refused to comply.
She has every right to be a Christian, but a school who educated counselors has a responsibility to their future patients. Gay conversion therapy is not only against APA guidelines, it has also been found to be psychologically harmful to patients. What do you guys think? Did the school take it too far, or are they just being responsible educators?
Here's a hint of how this might go: — this Monday, a judge upheld the dismissal of a lawsuit filed against Eastern Michigan University in Ypsitucky, Michigan, by a student who got kicked out of her school counseling grad program for the same reason — she refused to affirm homosexual behavior while serving clients, citing her religious beliefs:
In an order granting summary judgment to the university on Monday, Judge George Caram Steeh of the U.S. District Court in Detroit held that the university's requirement that the student be willing to serve people who are homosexual was reasonable, and did not amount to an infringement of the Christian student's constitutional rights to free speech and free expression of religion.
The university "had a right and duty to enforce compliance" with professional ethics rules barring counselors from being intolerant or engaging in discrimination, and no reasonable person could conclude that a counseling program's requirement that students comply with such rules "conveys a message endorsing or disapproving of religion," Judge Steeh wrote.
The Alliance Defense Fund plans to appeal the decision. Good luck!
Also, YouWager.com is now taking bets on how the lawsuit will pan out, if you're interested.