The GLAAD Equality index gave CBS a failing grade for gay, lesbian, bisexual and transgender representation. Although we assumed this was related to CBS's continued dedication to airing new episodes of Two and a Half Men, that's not the case: CBS simply doesn't have any homogays on its shows. In an unprecedented move for a company in America, CBS is pulling a Book of Genesis and whipping up some gays for 'ya. I mean, how hard could it be, right? Just find those people with like three lines and make them lesbians.  At the very least, they could assign a secret lesbian past to some of the dead bodies scattered about on Cold Case, NCIS, NCIS: Los Angeles, CSI, CSI Miami, CSI New York, or Criminal Minds, amirite?
After receiving failing grades from the Gay & Lesbian Alliance Against Defamation for three consecutive seasons for the inclusiveness of its prime-time programming to the lesbian, gay, bisexual and transgender community, CBS announced today it will add gay or lesbian characters to three series.
The brother of the attorney played by Julianna Margulies on the legal drama "The Good Wife' will be gay, CBS Entertainment President Nina Tassler said during the network's presentation at the Television Critics Association summer press tour.

The surrogate mother of the child of Jeff (Patrick Warburton) and Audrey (Megyn Price) on the comedy "Rules of Engagement' will be a lesbian and there will be a gay recurring character on the new comedy "S#*! My Dad Says,' Tassler said.
GLAAD's fourth annual Network Responsibility Index released Friday found the 7 percent of CBS' prime-time programming from June 1, 2009 to May 31 was lesbian, gay, bisexual or transgender inclusive, the vast majority of which came from the network's reality programming.
Of course, some asshats are understandably putting hats on their asses and then speaking blankly into the air:
Dan Gainor, vice president of the Alexandria, Va.-based Culture and Media Institute, a media watchdog group on cultural institutions, told City News Service, "two groups of people care about this — GLAAD and their buddies in Hollywood.'
"They don't care anything about what viewers or particularly parents want,' Gainor said.
"Every study shows that gays, lesbians, bisexuals and transgender are a very small portion of the population, a couple percent. They expect them to be in every program. To satisfy a complaining, popular, left-wing group, CBS is caving in immediately, re-writing programs.
"If conservatives complained about something, would CBS quickly turn around and make three of its characters Christian? Of course not. That's not how Hollywood works,' he said.
Well. Hopefully this means our Design Director will be a shoo-in for Survivor. They could throw her onto the island right now. What the hell, we'll all go. Let's make a lesbian Survivor. It would be like The Real L Word, but in houses made out of sticks and drama.
Or, they could've made any of these ladies into lesbians!!!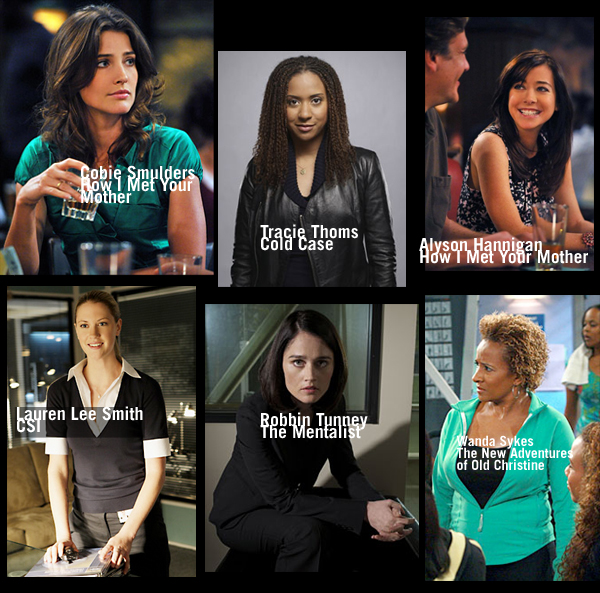 It'd be great if John Cryer became a lesbian on Two and a Half Men, because my Mom looks like Duckie, and she's a lesbian.
In conclusion, I'm sure CBS will find some lezzers to trap in the Big Brother House (a show which nobody on Team Autostraddle is able to explain/watch/understand, seriously we don't get it, you just watch people lie around the house all day? Visually, I am not grabbed. Are there prizes to be won? Challenges? How is this show even still on). Because we ain't watching The Good Wife unless you change it to be The Good Wives, and also legalize gay marriage. Anyhow good job CBS! Maybe since y'all own Logo you could get some lesbians on that channel too. Just an idea.