Every year GLAAD releases its Network Responsibility Index, effectively spoon-feeding the lesbian media a headline-worthy dirge on how, despite any apparent overall progress, gay men far outpace queer women on television. Yes, we had some artificially enhanced record-breaking years thanks to The L Word, but that's over now. This year, like every year since the NRI began, we've been told to applaud a handful of queer-inclusive networks and scold another handful of homo-invisible networks and this year, like every year, this visibility feels awfully invisible to us. (Personally, I imagine the problem is twofold: television lacks WOMEN, let alone lesbians, playing roles that would pass The Bechdel Test.)
So I'm not gonna talk about the lack-of-ladies. Instead I'm gonna talk about how this year's survey shows something that political polls have also revealed in spades: the kids are alright (with us).
The difference in support for gay rights is about 35 percentage points more among the young than the old. Similarly, networks with the highest ratings from GLAAD are also the networks with the youngest viewerships and the most prominent GLBT characters are getting younger, too. And this index only ranks the top ten cable networks, so we're not even counting Bravo, Logo, or Teen Nick.
About the Index:
The fourth annual GLAAD Network Responsibility Index is an evaluation of the quantity, quality and diversity of images of lesbian, gay, bisexual and transgender (LGBT) people on television. It is intended to serve as a road map toward increasing fair, accurate and inclusive LGBT media representations.
Let's look at this year's top scores!
1. MTV – 42%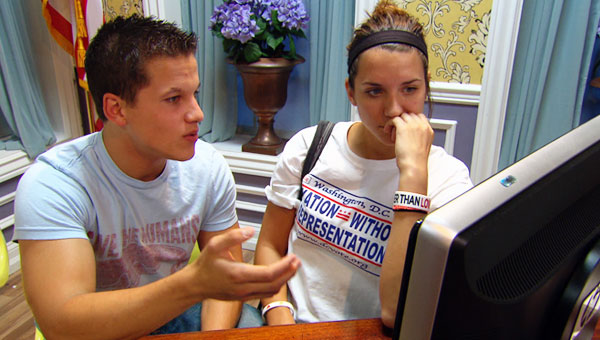 The 2009-2010 GLAAD Network responsibility index gave MTV its highest rating ever:
Of the 10 cable networks evaluated, MTV posted the largest increase (+25%) and ranked highest for LGBT-inclusive original content. Out of 207.5 total hours of original primetime programming, 87 (42%) hours included LGBT impressions. This year, MTV becomes the first network, cable or broadcast, to receive an "Excellentwp_postsrating in this report due to the quality and diversity of its many LGBT impressions.
Obviously, MTV is the number-one rated 24-hour ad suported cable network among the 12-24 demographic.
MTV History: When MTV was born and still had a soul, that soul was an open-minded teenager eagerly energizing the YOUTH OF AMERICA, encouraging them to ROCK THE VOTE and UNDRESS and STOP BEING POLITE AND START GETTING REAL. They even hired not-conventionally-attractive VJs and played a lot of good music and are essentially responsible for proving the vitality of the teen/20something market to The Man. Undressed, with little fanfare, executed more gay storylines in a week than an entire year of CBS. The Real World has always been noted for its GLBT inclusivity (or tokening) and in the early 90's even featured out gay HIV-positive Pedro. The True Life series included topics like I'm Coming Out, The Life of a Gay High School in Texas, I'm Gay and I'm Getting Married, I'm Bisexual, and I'm Changing my Sex. Queers have also been included on MTV dating shows like Room Raiders and Fifth Wheel.
But you know. They're also responsible for shit like this: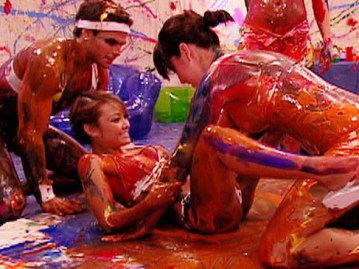 Though they air 75% crap at this point, MTV is apparently still repping its gays… either because they actually care, or because they're responding to demand in a more GLBTQ-inclusive youth culture.
Did MTV lead the way for kids to grow up thinking gay people were just like everybody else? Or has MTV simply reflected what's always been so: that teenagers just don't hate like their grandparents do?  When you look at the Youth of America, you see gay people. And gay people, in turn, would like to see themselves.
Who Are These People?
The Real World: Washington D.C. featured two bisexual roommates: Christian athlete Mike Manning and adorbs midwesterner Emily Schromm.  The Real World: Cancun featured gay roommate Derek, and bisexual roommates Emilee and Aiiya.
Transgender contestants appeared on Making His Band (Jailia Simms) and Randy Jackson Presents America's Best Dance Crew (Leiomy Maldonado). The rest of Leiomy's dance crew, Vogue Evolution, was openly gay. Season Five featured Static Noyze, a crew with a gay member. Also, a gay contestant won Paris Hilton's My New BFF, which may or may not be a good thing.
Real World/Road Rules Challenge: Fresh Meat 2 featured returning transgender contestant Katelynn Cusanelli and bisexual contestant Sarah Rice. Real World/Road Rules Challenge: The Ruins featured lesbian and bisexual contestants Sarah, Eve, and Shauvon.
+
2. ABC Family – 37%
ABC Family scored second to MTV in inclusivity ratings, which might surprise you as ABC Family was once upon a time owned by the Christian Broadcast Network. But they sold that shit to Disney in 2001, and as you know Disney birthed our Lady Lindsay Lohan's career and The Mickey Mouse Club (aka Britney Spears/Justin Timberlake's loveshack) and also I think Snow White, so.
Now it's gone super-teen, even though it occasionally submits us to terrible atrocities like Britsol Palin on The Secret Life of the Fertile American Teenager:
ABC Family, a network new to the NRI this year, is also noteworthy for its debut in second place. Of the network's 98 hours of original primetime programming, 36.5 (37%) featured LGBT-inclusive content. ABC Family has recently become a ratings powerhouse in basic cable and is likely to become a strong presence in our future reports.
Who Are These People?
ABC Family's gays include Greek's college students and fraternity brothers Calvin and Grant, The Secret Life of the American Teenager's high school freshman Griffin, and Baby and Mandela, high school lesbians voted cutest couple in now-canceled 10 Things I Hate About You.
Though Greek will end this year, Pretty Little Liars seems prime to pick up where Greek left off with Emily and Maya, who we'll return to this week with a follow-up mini-recap (hopefully!).
+
3. The CW – 35%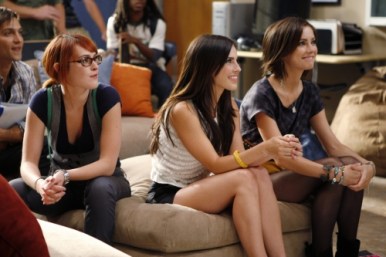 CW is the only broadcast network with a median audience age under 40 and the youngest audience among its broadcast competitors by almost a dozen years. And COINCIDENTALLY it's the top-ranking broadcast network in the GLAAD index:
After three years in second place, The CW is now the top broadcast network in this report with 198.5 (35%) LGBT-inclusive hours out of 570 total hours of original programming. This is the highest percentage ever recorded for a broadcast network since this report's inception. The CW's programming also reflected greater LGBT and racial/ethnic diversity than any other broadcast network.
Who Are These People?
The CW's queer representation includes contestants (all under 25) and judges on America's Next Top Model, high schooler Eric Van der Woodsen and two of his ex-boyfriends on Gossip Girl, bisexual Ella Simms on Melrose Place, Rumer Willis in a recurring role as Gia and the girl she dated Adriana on 90210, One Tree Hill's Josh (One Tree Hill is the leading primetime program for teenage girls), and the new hit series The Vampire Diaries revealed that Caroline's father is gay.
The Beautiful Life, which was on for about a minute, featured a gay villain named Simon. Privileged featured African-American Chef Marco. The new reality series High Society featured an openly gay Latino socialitie named P.J and occasional guest spots from gay African-American socialite Malik So Chic.
Television History: The CW network was created by combining UPN & the WB, back in 2006, and what shows essentially defined and drove the success of The WB? Dawson's Creek, obvi, with this fine young homo blazing his trails…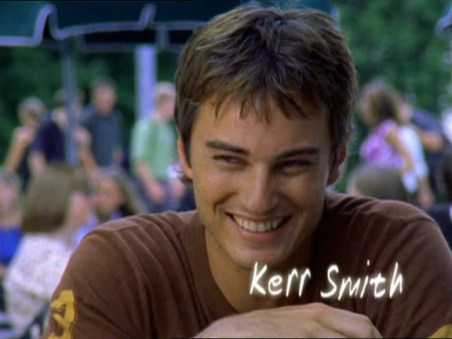 … and Buffy the Vampire Slayer, with these two lovely ladies: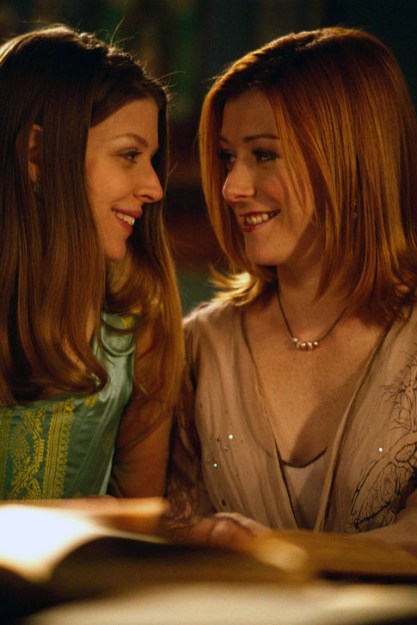 +
4. Fox – 30%
After the CW, Fox has the lowest median audience age on network television, and unsurprisingly therefore is, after the CW, the highest-ranked broadcast network on GLAAD's list:
Fox continues its ascent in the NRI rankings this year by moving into second place with 235.5 (30%) LGBT- inclusive hours out of its 781.5 total hours of original programming.
Obvi Fox got a major boost from Glee's Kurt Hummel and was secondarily rounded out by a bulk of gay hours starring Ellen Degeneres as a host on American Idol. Adam Lambert's guest appearance even scored a few gay points for the network.
+++
So, what comes first, the chicken or the egg? Are kids more accepting because they see more gays on TV? Are more gays on TV because it more accurately depicts high school and college life these days? Do we need more grown-up gays on television? Is Modern Family and the cranky lady on ER enough? Is the cranky lady still on ER? Is ER still on? Is this thing on?
I think the first gay character I ever connected with on TV was this kid. What about you?