SCOTT PILGRIM:
Some lucky con-goers sneaked a sneak preview of Scott Pilgrim Vs. the World as the film ramps up for its August 13th release date. It sounds like fans of Bryan Lee O' Malley's comic won't be let down with lead awkward puppy-dog actor Michael Cera, or with the adaption itself. Comics Alliance's observes that Scott Pilgrim's director manages the difficult process of balancing the comic book sensibility to film-friendliness ratio with aplomb:
"Edgar Wright gets it. And I don't just mean that he gets "Scott Pilgrim"; he gets the relationship between comics and film, and how they're two distinct media that each have their own strengths and weaknesses. There are plenty of sequences and sight gags that Wright lifts directly from the page, but others are modified, eliminated and replaced with things that make a better visual on the screen."
And Wright's adaptation sounds like it does female characters justice too, which is a refreshing departure from listening to Mary Jane squeal helplessly for Spiderman across three films to date:
"They fight dudes. They rescue Scott. They have the same kind of "I just got punched in the face but now I'm totally okay so let's fight more" action movie resilience as the guys, and that's kind of a huge deal."
Miss the Scott Pilgrim trailer? Check it out below!
WHEDON ALERT:
Joss Whedon confirmed that he will direct The Avengers, due out in 2012. 'Nuff said.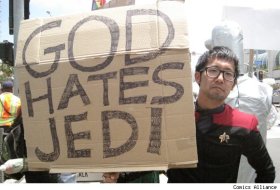 GEEKS: 1; PHELPS: 0:
The ubiquitous Westboro church of hate and assholery made sure to swing by Comic Con 2010, but the geeks were ready. Jedis and robots alike united in absurdity against the handful of Phelps clan members in San Diego.
Top Quote from Salon's brief interview with a Phelps-monger:
MARGIE PHELPS: well we're out here to say that if [we] were to invest one fraction of the resources that you spend and invest in worshiping Batman, and the Ghostbusters and Buffy the Vampire Slayer and so fourth in reading the Bible and obeying God, this nation would not be (garbled).
We can only assume that (garbled) here is "on the fast track to heaven" or "so impossibly awesome– back to Kansas!"
MORRISON'S NEXT BATMAN: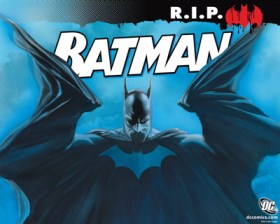 Grant Morrison's next Batman book, Batman Inc., will emphasize "Batman's wealth, power and influence above all." Batman's always been one of the more human superheroes, him being human and all, so Morrison's Bruce Wayne-centric take on the dark knight will be anything less than fascinating. 3D
GAY PIRHANA KISS:
Model/Actress Kelly Brook apparently kissed some porn star named Riley Steele in a movie purportedly about pirhanas. There's a fine line between camp and tastelessness. And this may straddle it just right.
GREEN LANTERN MOVIE:
Watch the star of next summer's Green Lantern film recite the Lantern Corps. Oath for an adorable-sounding tiny con attendee. This Ryan Reynolds guy seems like a real stand-up character.
BRANDY HOWARD, CHICKEN WOMAN:
Autostraddle's own Brandy Howard appeared at San Diego comic con as fast food super heroine "chicken woman", which is so far entirely inexplicable yet delightful. Taco Bell apparently launched some kind of retro comic book marketing campaign which Brandy's presence ostensibly ties in with, but I'd like to think she makes this shit up herself.
QUEERING COMICS:
Greg Rucka of Detective Comics fame and Gilbert Hernandez of Love and Rockets were among the all-star speakers at San Diego's "Writing Queer" panel. The panelists explored the ins and outs of creating queer comic books without tokenizing their characters, and Rucka revealed that he actually consulted Lt. Dan Choi for his reinvention of Batwoman as a soldier dismissed under DADT.