In which we talk about tragedy and then recap the lesbian parts of ABC Family's Pretty Little Liars, which you can watch on Hulu or when it's on the TV, which is Tuesdays at 8pm EST.
Watch Pretty Little Liars Pilot Episode 101:
+
Watch Pretty Little Liars Episode 102
---
+
PROLOGUE:
Pretty Dirty Beautiful Rich Sad Mad Liars
+

The other day Taylor & I were talking about what it feels like to be young when something terrible and irreversably tragic and unexpected happens, like when you're 12 or 14 or 16 and someone up and dies out of the blue, like someone "too young to die" and also close to you. A parent or a best friend or a girlfriend/boyfriend. Something like that. We were talking about how your whole life changes in that instant when the word "surprise" turns tragic on your tongue. How overnight you leave the world of children for the world of grown-ups. Overnight your heart starts stitching up walls for wartime or else it starts unraveling in fists or else it winds itself up tightly but temporarily.
You have now entered this unfair world where teenagers burn to death in car accidents and your father's heart stops working just like that out of the blue and your best friend goes swimming in the dark and never comes up for air. That world.
"This happens. This is something that happens."
-Magnolia
Crystal, another member of our Special Teenage Sudden Death Club, asked if Pretty Little Liars' lesbian storyline seemed speedy to me — Emily, the possibly-lesbian protagonist and Maya, her new friend, jump into flirting quickly with little hesitation despite having boyfriends. Doesn't that seem a bit heady and fast.

But isn't that how it is, I asked her. Isn't this what we do; you lose everything and then feel you've got nothing left to lose. You do adult shit 'cause you think you can handle it, you don't hesitate. Yes, Crystal laughed, I guess you're right about that. I guess that is what we do.
We're giving the writers a lot of credit here with this theory, but it's interesting to think about nonetheless.
Risks seem less risky when nothing can be worse than what's already happened, and it's easier to feel ready to make adult decisions when you're prematurely adult.
In combination with the heady bitchy queen-bee confidence Hannah Marin (Ashley Benson), Aria Montgomery (Lucy Hale), Emily Fields (Shay Mitchell) and Spencer Hastings (Troian Bellisario) all possessed even before their best friend Alison DiLaurentis (Sasha Pieterse) disappeared, this new post-tragedy devil-may-care attitude and unconscious self-destruction manifests itself in a kind of radical overconfident maturity.
All four girls enter into complicated, "adult" sexual situations within the first two episodes despite really knowing better. There is little hesitation and a lot of gumption, and relatively a reasonably ability to deal with it maturely afterwards.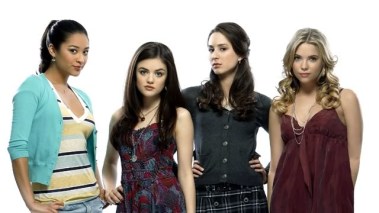 But nobody really understands the troubled adolescent mind — not parents, not friends, not the kid herself. So it's a recipe for complicated drama and so far, so good: Pretty Little Liars has a bit more promise than its CW-esque veneer might suggest.
But let's begin at the beginning:
Pretty Little Liars centers on a clique of five teenage friends who dominate a school called Rosewood.  Well, actually, it's about four teenage friends 'cause the show opens on a stormy night when the girls fall asleep during a slumber party and wake up to find Allison gone.
The present-tense action of the story begins a year later, when Aria has returned from a year away from Europe and the four girls are being terrorized by text messages from someone called "A" revealing knowledge of secrets only Alison knew. The set-up has a smacking of Gossip Girl with the gothic undertones of Six Feet Under.
It's made clear that while the girls don't know who killed Alison, they're all lying to conceal a secret that is somehow related to her death.
But everyone has a secret. Everyone from parents to teenagers are engaged in some kind of illicit affair or potentially life-destroying secret.
The particular secret we will be focussing on this season is homosexuality, namely the story of Emily.
What a lovely name for a homo! Like bisexual Emily from Real World: DC and Intern Emily and Emily from Skins!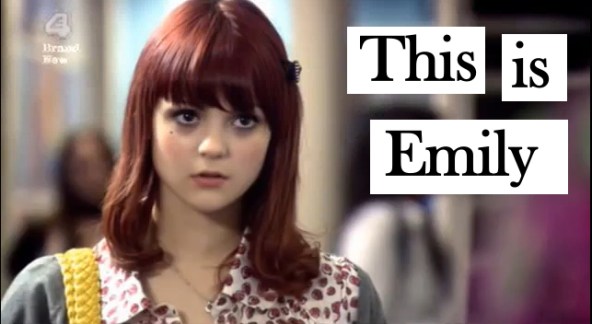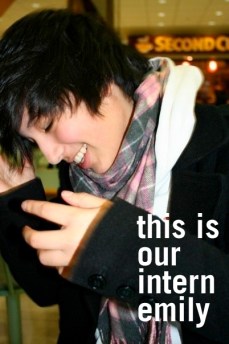 And now we come to Emily Fields, played by Shay Mitchell, on Pretty Little Liars:
---
+
Pretty Little Liars: The Lesbian Parts Recap #1
Episodes 101 (Pilot) & 102 (The Jenna Thing)
+
We know straight up that Emily is a little queer because Alison, on the night she disappeared, called Emily out for liking "Single Ladies" a little too much. You know, first you start thinking about all the Single Ladies, and then you start fingerblasting all the Single Ladies, and before you know it, you're in a nunnery.
Spencer: Ali, did you download the new Beyoncé?
Alison: Not yet.
Emily: I'm loving her new video.
Alison: Maybe a little too much, Em.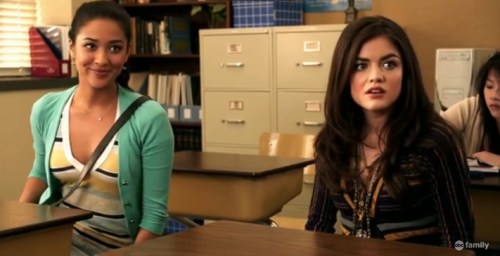 Pretending to be Hot for Teacher
Emily and Aria are in English class, excitedly but not convincingly telling Aria that a new male English teacher is starting and he's a total stud. It turns out to be a dude that Aria actually banged the day before, which I think means we won't have to talk about him again in our lesbian recap. He seems nice enough, and of course this goes along with the pattern of sad, confused girls entering into very mature, complicated relationships they may or may not be prepared to handle.
So far Emily seems like the more polite, easy-to-please member of the foursome — Spencer is the bookish one, Hannah is the new queen bee kleptomaniac eating disordered blonde (who looks a lot like Alison, which is confusing) and Aria um, has wide eyes and looks pissed off a lot of the time.
---
+
Foxfire
Emily's mother wants to know whether Emily's friends are still dying their hair pink and coveting the devil, telling Emily that there's no room in this little sleepy town for the Gothic lifestyle. This is a bad omen for her potential reaction to the Lesbian Lifestyle, and I say that as a lesbian who wears a lot of black leather and a studded belt most days.
---
+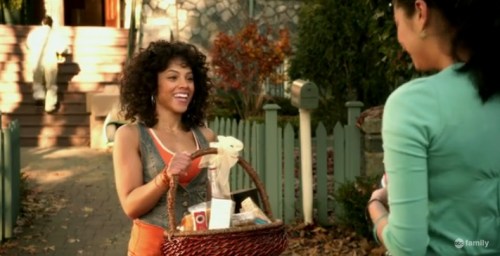 I Wonder if Harry & David Are Gay
Some strangers have moved into Emily's recently-deceased friend's house, so Emily takes them a welcome basket containing foie gras and other things that also recently died. The new neighbour's name is Maya St Germain. She's super cute and has curly hair and wears bright colors and smiles a lot.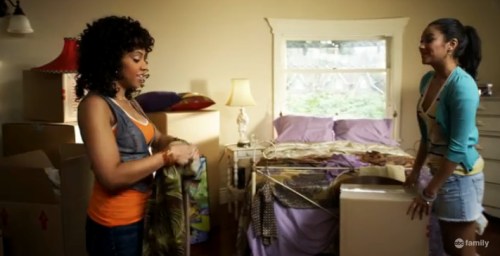 In Maya's Box… Office
Maya's in the process of moving in, so she asks Emily to help her with her box. Instead of saying "that's what she said!" Emily actually just helps her with the box, which is a giant missed opportunity. Emily spots a photo of a boy and starts up again with the hetero girl talk:
Emily: Is this your boyfriend?
Maya: His name is Justin.
Emily: He's cute!
Maya: He's also 3,000 miles away.
Emily: My boyfriend's name is Ben.
Maya: What's he like?
Emily: He's a swimmer. Like me.
This is all code obvs.
"He's a swimmer. Like me." = It's socially convenient for me to date him
"He's 3,000 miles away." = So we never have awkward moments where I don't want to have sex with him and if you give me a hickey, he'll have no idea.
Maya slowly and sleazily runs her eyes over Emily's lovely swimmer body in approval. The sexual innuendo is running high and clearly their attraction is mutual and immediate and there's zero mystery here. Crystal thinks this is ridiculous, but Riese thinks it makes total sense — you sense the lesbian vibe, you are sort of depressed on the inside and nervous, and so you just go for it! Like a tiger!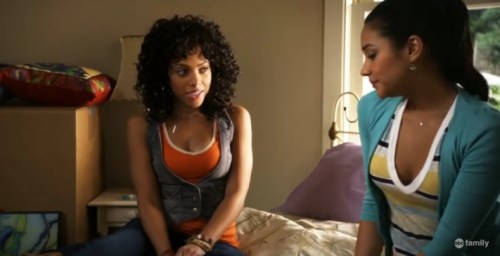 We Were So High We Thought She'd Definitely Died
Maya wants to smoke some weed, which we all know is a gateway drug to bi-curiosity. She sits on her bed and gives Emily her best come hither look and it's really hot.
Maya: Is this your first time?
Emily: No. …  Yes.
Maya: So I'm corrupting you. Are you okay with that?
Emily: Yeah, I think I am.
SO ARE WE EMILY SO ARE WE
---
+
Next: LESBIAN SLEEPOVER
Pages: 1 2See entire article on one page