If you weren't already aware that gay people make f*cking awesome parents, it turns out that a recent spate of studies (like this one that says gay parents are just as good as straight ones, and/or maybe even better?) are bringing lesbian executive parenting realness all over America. For most of us, this wasn't really news. But the article today in the New York Times offers up an entirely new possibility – could scientific evidence that gays are good parents actually mean that gay people are, you know, allowed to be parents? (@nytimes)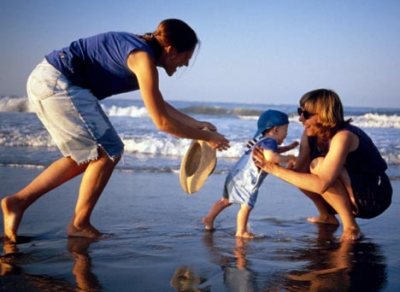 This is the kind of thing like affordable health insurance or over-the-counter Xanax where you kind of joke about it with your friends, talk about it wistfully as the sort of pipe dream that you've come to accept will never actually come true in the time/place/country/universe we live in. But now, in actual real life, there is an article in the August issue of Applied Developmental Science that asks whether scientific evidence on this issue shouldn't inform – basically, whether since there's no measurable basis for saying that gay people make worse parents, it shouldn't be possible to ban them from adopting. Maybe it's stupid, but this is such an obvious and yet revolutionary concept that we had to sit down and do some deep breathing upon first reading about it.
There have been a lot of false starts and disappointments in the gay community's relationship with science – horrible medical experiments, traumatic Freudian therapy, the "gay gene" unicorn hunt, etc. But every once in a while, something like this comes up and we fantasize just for a moment about a world where the endless back-and-forth arguments about our morality, our mental health, and our fitness as human beings could be ended simply and definitively with a pie chart.
Of course, that won't happen: in a world where significant groups of people persist in believing that our President is a secret Muslim Kenyan citizen from Mars who wants to take away their guns and turn them into weed to share with communists, there's only so far that any amount of cold hard fact is going to go. But sometimes miracles do occur, and we can at least hope that this time a few people will be forced to see reason – specifically, the people who responsible for things like the recent Lofton case in Florida, which is depriving hundreds of children from loving families. Let's all pick up a copy of Applied Developmental Science when it comes out next month and cross our fingers, okay? Okay.