Welcome to The Real L Word, Episode 203, "Blame it on the Alcohol," named after the GLEE episode "Blame it on the Alcohol," which was named after a song called "Blame it on the Alcohol" which was basically about when you do something unfortunate, and then say you only did it "because of the alcohol."
Actually just kidding, it's called "Back to Square One." Before you get too excited, I should tell you that it's not the Square One I thought it was.
This week we re-learned that Real L Word Lesbians cannot handle their shit. These girls CANNOT. HANDLE. THEIR. SHIT. You girls need to get your shit together! Listen, take that zen-ninja-zoohoo-yazoo headband thing off your crazy alternative hairstyle situation and get off the stage and put your clothes on and stop letting strangers smell your hair.
No just kidding. Everyone on this show is really awesome and this show is SO AWESOME and it's SO TOTALLY REAL. What's cooler than real? Ice Real!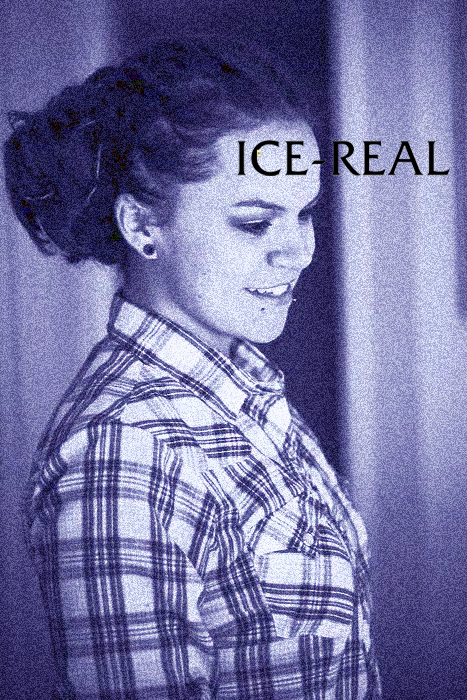 We open in trolly playground childland, where only steps away from frolicking toddlers, Kacy & Cori are sitting on a couch holding a mobile telephone, talking about sperm.
Kacy and Cori are gonna purchase the hell out of those sperm units they found on the internet. How many? One? Two? THREE! They will purchase THREE of those units, from a dude who's an "ID Donor" which means when their baby is 18 and hates her Two Moms she can call The Sperm Guy and see if he wants to hang out. You know, The Sperm Guy!
Glad we got sperm into the show within the first ten seconds. Never wanna take too long to make a tip of the hat to this program's fine audience of sperm-producers. Ilene Chaiken, by the way, is the creator, director, writer and executive producer of not only this "hit series" but the hit series The L Word and also of SPERM.

Over in the Valley of Dashed Dreams, Claire's trying on pants and Francine isn't helping!
Francine won't be participating in Claire's wardrobe dilemma because unlike Claire, Francine cannot simply set aside her feelings following Last Night's illuminating life-changing fight of LESBIAN MEGADEATH and be like "yeah, wear those pants" or "wear those other pants." You know?
Claire has to move out, says Francine. They've been screaming at each other for so many years that both of them are getting permanent gravely-smokey-morning-after-death/sexy voices and it's just not healthy.
+
Things Real L Word Girls Can't Handle:
Pretending like nothing is wrong

Over at The Nail Salon, Sajdah is getting a pedicure (butches get pedicures too, guys!) with her straight friend Marissa, talking crazy about her new lady-love, Chanel.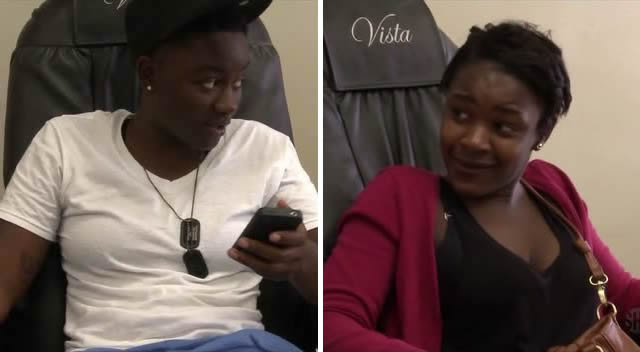 So! This morning Sajdah and Chanel were exchanging the standard "good morning" texts shared between two lovers who just met and aren't lovers yet, when Chanel busted out with:
"I just want you to always be excited about us and about me and support me and protect me in my time of need and I know that I'll do the same for you."
Well.
What say you on this, Marissa?
Marissa: "These kinds of messages, in text? You don't even know her favorite color! And you're at — "I need you to protect me"? Get the fuck outta here! I mean, are you kidding me?"
Sajdah likes it. She can't think about any other girls, so she might as well marry this one. That's rare, you know. When you meet someone you really like and then can't stop thinking about them.
Marissa: "Support me? Protect me? I don't even know your favorite color! I don't even know if you like night or day!"
Sajdah admits these are uncharted waters, as she's never been in a relationship before and lived in a tiny cave with her mother prior to moving to Los Angeles where she never heard anything about anyone else's relationships ever. Marissa has been in relationships, and what does Marissa think, again?
Final answer?
Not so fast:
That's not what Bailey told Callie:
Things a Real L Word Girl Can't Handle:
Pretending like nothing is wrong
Dating

Whitney's taking a little trip to San Francisco. San Francisco is her "playground" which makes me feel weird and like maybe I should move. "San Francisco is my Vegas," says Whitney Queen of the Nile and Queen of the Metaphor.
Whitney's going to The Lexington, which she describes as "The Cheers of Lesbians," aka "the dive bar where every dyke knows your name."  And if they don't know your name then they probably won't let you play next at pool. Sorry bro.
Oh guess who's in San Francisco?
Once upon a time, Jaq & Whitney had a thing but then this one time Whitney and Jaq were in bed being sexy and then Whitney spied Jaq on THE FACEBOOK changing her relationship status and Whitney was like: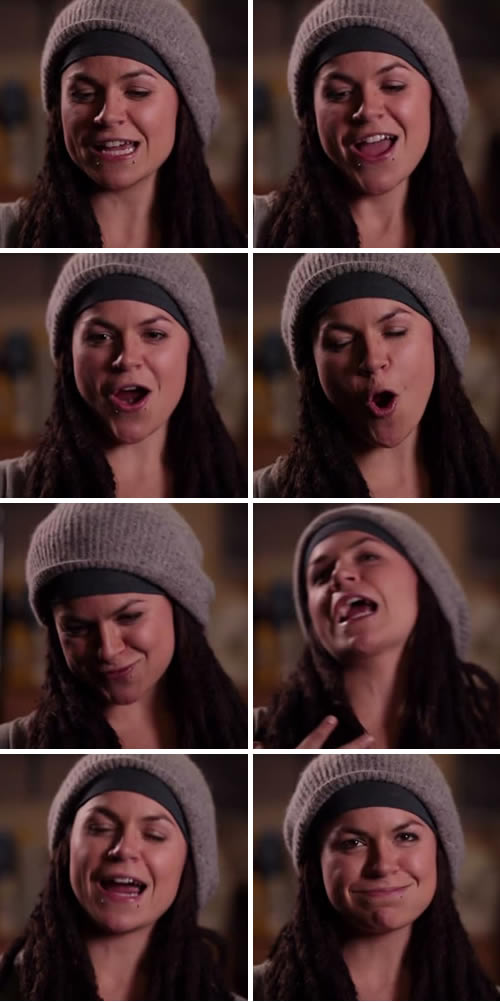 Whitney says there's still chemistry with Jaq. Wow! Life gets curiouser and curiouser by the minute.
Things a Real L Word Girl Can't Handle:
Pretending like nothing is wrong
Dating
Facebook

Kelsey's been sexually fantasizing about Romi all day whilst preparing a romantic candle-light dinner and now Romi has returned from the big bad world, sober as a judge, to spend the evening with her lanky lady-love.
Oh! Romi got Kelsey a present! It's a planner!
Romi: "It's gonna help you!… You can organize your schedule and get all your shit in here!"
Mhm, this is kinda like when your Mom gets you shoes so that you can't stay at home all day, talking to your imaginary fairy-friends from your fantasy novels. Kelsey loves it though, 'cause she loves Romi.
Romi's given up the drink, which'll be an issue 'cause Kelsey is still drinking and also 'cause they've been drunk pretty much since they met. For example, Kelsey is drinking right now! From a giant wine bottle! A GIANT wine bottle!
Kelsey loves wine! Drink drink drink. Poor Romi, seeing the sad sad world as it is through her new sober eyes, is like "why is everyone drunk."
After Romi's Roman Bath, the ladies retire/drink:
Romi tells Kelsey that Kelsey is drunk, but Kelsey insists that nnnnahhh she's justt FESTIVE!
When Kelsey's drunk, she reminds Romi of Romi. So then sex is like Black Swan. And also:
Most important takeaway of this scene, however – Romi's like super tan all of a sudden:
Things a Real L Word Girl Can't Handle:
Pretending like nothing is wrong
Dating
Facebook
Large Bottles of Wine

Meanwhile, Whitney, wearing her Native Heatband, is stalking the streets of my city like a lesbian hulkstress of the evening, striking terror into everybody's bones.
Hip-hop blares. Whitney enters CLUB TRIGGER, stands on stage, and yells some words. Everybody's vadge explodes into the night. The party is on POW POW and Whitney's gonna meet her fans and their tattoos! Whitney loves meeting her fans.
"Girls always wanna smell my hair," Whitney says, like she has no idea that it's 'cause they wanna see if it smells so they can text everyone about it.
Whitney wants to let Jaq know that Jaq still has "a place in [her] heart" and the way to Whitney's heart is through her vagina.
Y'all, Whitney and Jaq are gonna have sex! I saw it on Jaq's facebook. It's gone now, but I swear it was there and I saw it and look:
Whitney: "It's refreshing to not have to deal with intense drama or confusing emotions."
Whitney has simple emotions: she thinks about herself at all times. The rest of it is very confusing. This person's emotions, that person's emotions, etc. Yawn!
Good news! By placing her lips on Whitney's lips and touching Whitney's body parts with her body parts, Jaq is helping Whitney forget about all that trouble with Sara!

Speaking of the Red Devil! Sara's in Los Angeles where she's dancing very sexily for her "roommate's music video."
Sara's kicking back a bottle of vino, Kelsey-style, in her litte gold hotpants: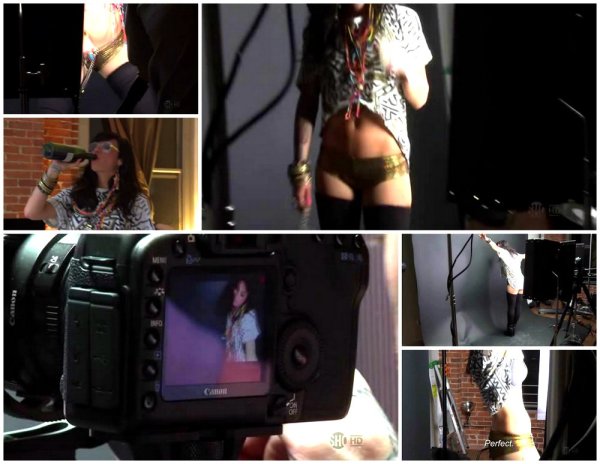 I'm not sure if you knew this or not, but our design director Alex Vega has those exact same golden hotpants. True story. She bought them the day that we met. See:
Before we get any further you might be thinking — Sara's roommate? Who's Sara's roommate? This seems like a pretty involved video shoot, right? Like this is for a music video. For Sara's roommate. Yet searching "Sara's roommate" on iTunes you'll come up empty.
I know this might surprise you, based on how Showtime decided to use footage from an Autostraddle photoshoot without crediting us, our photographer, or the project the photoshoot was for — but OOPS! THEY DID IT AGAIN!
Check out Lady Tragik. Here's Lady Tragik's video of that shoot, featuring 'Dirty Bitch,' the song the video was for (which is not the song that plays during the episode, though you may recognize the episode song (which is not by Lady Tragik or related in any way to the scene) from, I think, a Calendar Girls video).
I guess Ilene Chaiken forgets that The Chart isn't just about who you fuck, it's WHO GETS FUCKED, too.
Anyhow back to the "storyline" as it's being sold to us —
"I just met this girl Erica, and I'm pretty into her," Sara voice-overs while tripping over the photoshoot set while guzzling wine, a la Lindsay Lohan at that one photo shoot where she was talking about Samantha Ronson except with more making out.
Sara's roommate says Sara's not allowed to do footage takebacks tomorrow when she's sober. Shouldn't be a problem, I think Sara's pretty comfortable with widely-distributed footage of herself drunk touching her vadge.
Sara: "Whitney's doing her thing in San Francisco so I'm gonna do mine."
Here's "her's":
Things a Real L Word Girl Can't Handle:
Pretending like nothing is wrong
Dating
Facebook
Large Bottles of Wine
Reasonably-Sized Bottles of Wine

Sajdah's gotta find a new apartment. Maybe she'll move in with whatshername.
Marissa: "It's too soon!"
Sajdah: "Maybe I'm just that fucking amazing!"
Marissa: "Or maybe you're fucking crazy too!"
Sajdah's Mom calls to complain about Sajdah flaunting her sexuality on The Book of Face, which I'm imagining was in the form of an "I felt you in my legs before I ever met you/ And when I lay beside you for the first time I told you / I feel you in my heart and I don't even know you" headline.
Sajdah: "Ma, it's my personal facebook, everybody puts their personal stuff on facebook!"
That's the thing about Moms of grown-up kids. They don't realize that Facebook is where people put personal stuff, not just where they stalk their own children and other people's children and then render unfair judgments about them to share with other Moms. Where's your content, Mom.
Sajdah explains that growing up it was just Sajdah and her Mom. Just the two of them, building castles in the sky, just the two of them, and not one guy.
Sajdah seems to have faith her Mom will come around when she gets used to the idea. I'm sure this show will help.
Things a Real L Word Girl Can't Handle:
Pretending like nothing is wrong
Dating
Facebook
Large Bottles of Wine
Reasonably-Sized Bottles of Wine
Mom

RETURNING TO THE TRAVELING DEN OF SIN! Whit-Me is all sleepyslutted out and Jaq in the Baq slips in for a morning-after steamroller.
Jaq's got to go, but Whitney wants to cuddle. JK, she wants to talk about herself in an impromptu bedside interview:
Whitney: "Jaq is very pleasant to be with. She hasn't burned bridges with people, I don't know it's just different from things lately I've been used to."

Pages: 1 2 3See entire article on one page