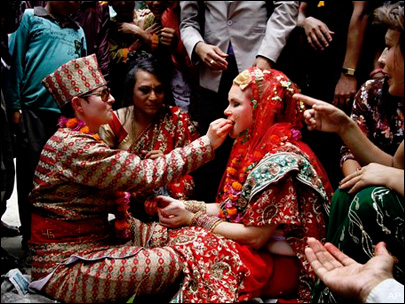 These stories were told today/in the recent past. We didn't tell them, Ilene Chaiken didn't tell them, but somebody told them and by G-d, you should know about them.
There's only one little problem — we don't know what the hell to call this unit. Feministing calls it "what we missed," I believe Jezebel has a thing called "Dirt Bag" — our ideas so far are "By the Way" or "Remains of the Day" or "Also. Also.Also."
+ Once again, there is no decision in New York on the future of gay marriage but New York Republican State Senator Jim Alesi is super gung-ho about his support of it.
+ From The Advocate — new immigration guidelines including references to 'spouse' and 'family' may or may not apply to gay binational couples
+ Pam's House Blend breaks down why Jarret Barrios' resignation as GLAAD chairman is looking increasingly complicated, which is a story we tried to write, got really confused about, and are now leaving it to the experts.
+ Colorlines on Wal-Mart's "free pass for bias" regarding yesterday's supreme court ruling.
+ Everyone has mixed feelings about Obama, and NPR says his "self-described evolution on same-sex marriage is not happening enough for some gay and lesbian activists" while Conservative Christians are concerned that Obama will announce official endorsement of marriage equality.
+ An American lesbian couple went abroad to be married in a Hindu ceremony in Nepal, although gay marriage is not legal there either.
+ Queerty thinks It Gets Better might be totally useless.
+ How to Start a Protest Movement: Good Magazine has tips from the inventor of glitterbombing.
+ Voters in Liechtenstein have overwhelmingly backed a new law giving gay and lesbian couples the right to formally register their partnership.
+ An American lesbian couple who have claimed for months that their homophobic neighbor burned down their house are now being held responsible by their insurance company for the fire.
+ Today in things gay people should/shouldn't say/do and/or things straight people should/shouldn't say/do about gay people — a NY judge rules it's defamatory to call someone gay, a lesbian couple was kicked out of a Minnesota Twins game for kissing, Tracy Morgan continues apologizing, this time in Nashville, and Queerty has a video on anti-trans slurs we should stop saying.
+ From Jezebel – Michele Bachmann and Pawlenty really, really oppose abortions and the real cost of defunding Planned Parenthood.
Do you have thoughts on these stories, ideas on what to call this post, or other stories you want to talk about? Let us know in the comments!