Claire's in her buggy beep beep beep let's get a job in fashion! Beep beep beep! Claire did all the things for Calvin Klein and now she's gonna eat Los Angeles like its a carrot and she's a lesbian rabbit. Her interview went super well and she's super excited!
Claire's gotta pull over, dude. She's gotta call Viv, dude, 'cause Viv wants to maybe tell Claire about how she feels weird that they change her lower-third every time and this time it says "Claire's New York Girlfriend" which is weird because Vivian wants to be Claire's EVERYWHERE girlfriend.
They spend somewhere between 2 and 25 minutes trying to get a fight started and eventually Claire gets it up:
Claire: "Like I feel like you — like everything was fine and then I didn't respond to your BBM and you got this wave of anxiety over you and now you're just mad and you know, I can't be talking all the time!"
Can't you hear how hoarse she is already? She can't just be talking all the time! She's got like 15 other things to do including "picking out pants" and "eating."
Vivian: "I've already told you many times that's not what it's about."
Claire: "I guess maybe I just feel guilty about it."
Vivian: "Yeah, that's not me. 'Cause I've never acted that way towards you."
Claire: "It's like you're asking me questions that I can't give you the answers to."
Only God knows!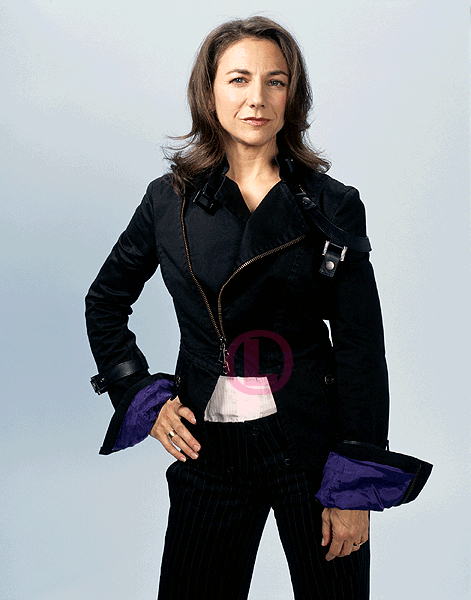 "I'm not gonna talk to this to death," says Claire, who subsequently keeps talking until she dies. Before she dies, Vivian points out: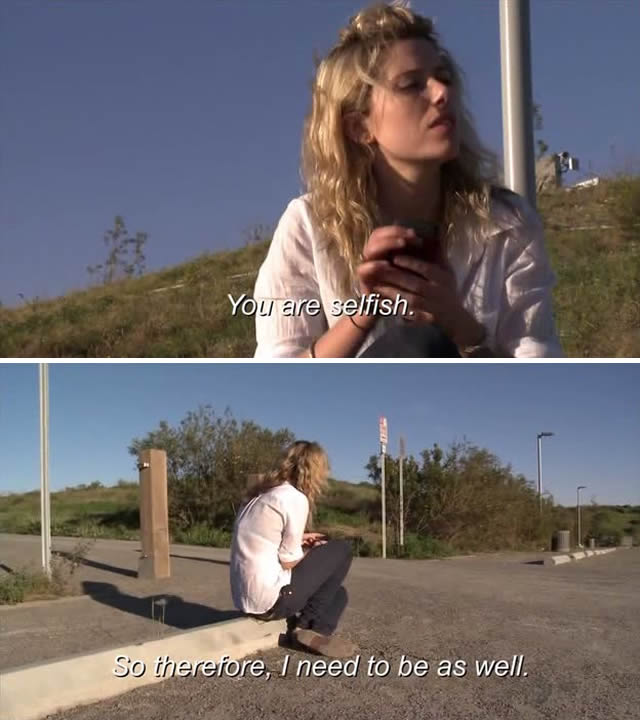 Seems fair. So why is Claire so Classic Rock Montage/drunk guy on the side of the road?
Things a Real L Word Girl Can't Handle:
Pretending like nothing is wrong
Dating
Facebook
Large Bottles of Wine
Reasonably-Sized Bottles of Wine
Mom
"Girlfriends"
Blackberry Messenger

"You're about to leave me," Sajdah says to Marissa. She's leaving YOU?! She's leaving US! Our favorite character, given to us ever-so-briefly and then snatched away, JUST LIKE PAPI.
"I'm not about to take dick just 'cause you want me to," Sajdah says, w/r/t her Mom's feelings. "Sajdah, I really don't like you eating pussy," Marissa says, imitating Sajdah's Mom's feelings.
Marissa met Chanel and said Sajdah needs to keep her eyes open, lest she forget Chanel's primary assets (*AHEM*), so Sajdah is gonna go over to Chanel's straight away and do this thing and totally totally totally not have her eyes even like sorta open.

Alyssa is so obsessed with Whitney that she's dragged Rachel all the way to San Francisco to give Whitney more of her opinions about Whitney's needs/wants/desires. That's commitment to a character.
Rachel says she'd decided to visit San Fran with [someone] and [someone else] to see Alyssa's friend [someone] and that she'd assumed she'd stay with Whitney.
Rachel: "I would love to hook up with Whit because we have really amazing chemistry."
Whitney's like a human chemistry set. She's like oxygen. Sodium. Whatever the thing is that goes with all the other things. I was an English major. I just typed "Englsh major," thank G-d for spellcheck.
Whitney's surprised, as we all are, that her two roommates were also traveling upstate this weekend and she somehow wasn't aware of it.
Whitney spends so much time washing her hair though, probably had suds in her hair as they were planning: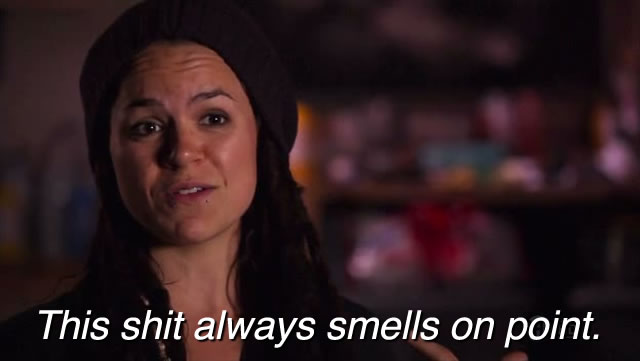 But Whitney was not prepared to bring Rachel into her bed. She already has Jaq in her bed and Showtime made her promise no orgies in The W this time.
So where's Rachel staying? Whitney wants to go back to her hotel but everyone has questions for Whitney. Whitney speaks in tiny sea mammal sounds only heard by Lesbian Whale Watchers.
Whitney: "I don't know where you're staying."
Alyssa: "I thought she was staying with you –" [to her friend] — "I mean she can stay here right, she can totally crash here right?" — [to Whitney] — "All of a sudden you look like you have no energy and you hate your life. Like you've been drained by a vampire."
Whitney: "Uh?"
Cut to 2-3 minutes later, when Whitney's sitting there feeling weird.
Alyssa: "You really look like you hate everybody."
Whitney: "I'm annoyed."
Alyssa:" With?"
Whitney: "Oh, you know, I'm just not sure why the right wing is so intent on stripping women of their reproductive rights. And like, what the hell, why hasn't there been a vote on same-sex marriage in New York? Did you see that video of Dan Choi ripping up the thing at Netroots? G-ddamn!"
Just kidding, that's not what Whitney said! She just made a weird noise that sounded like the word "her."
Anyhow, Alyssa thinks Rachel's feeling a little left out of Whitney's sexual rotation and Rachel had no idea Jaq was gonna be there! In what appears to be, I think, her own apartment!
Rachel: "That's typical Whitney."
This sort of continues along this path. Additional questions aimed at The Whitster include:
Alyssa: "Why are you like a man of few words tonight?"
Alyssa: "Why do you seem like the saddest person in the world, like you saw a murder and then had nothing to say."
Alyssa: "See, that's what I'm talking about. What are you a zombie?"
Alyssa: "What happened?"
Listen. I have something to say.

Okay? Furreal. Just leave Whit-me and her special hairstyle and her sexual toys and her promiscuity and her faux-introspective-moments and her headband and her hats and really everything going on from the neck up alone. LEAVE WHITNEY ALONE.
Whitney: "I can't help but notice that I keep surrounding myself with these women that I dated or I am dating."

Cori & Kacy are in their apartment with a bunch of other people, talking about sperm. Cori and Kacy CANNOT STOP TALKING ABOUT SPERM. They're such fucking addicts, they've invited a bunch of other homos over.
Everyone in this show is fucked. Cori & Kacy are addicted to sperm, Whitney's addicted to sex, Sara's addicted to sex, and alcohol, and Whitney, and Whitney's also addicted to Sara, and Romi's addicted to alcohol and Kelsey is addicted to alcohol and needs sex but Romi doesn't need sex or she does but she doesn't wanna do it on camera and Sajdah is addicted to love and Claire is addicted to girlfriends/being selfish but now Claire's girlfriend's gonna be selfish too and Francine just really doesn't want to help Claire pick out her pants.
Meanwhile, Kacy assures all you men watching at home that she knows she's not a girl and never really filled her sister's longing for a girl to dress up so THANK GOD Cori's here with her long long hair to fill that hole in her sister's heart where Kacy's feminine identity was. Everyone's roles are intact.
Cori to somebody: "You're straight you should know exactly what to do with sperm!"
Kacy mentions that they're having people over to tell them about the baby because now it's "real" and before it was just an idea. But now there is real sperm in the mail! I they ordered it on the internet! You know I did that with Xanax and it took like ten weeks and I think was just Immodium painted blue.
Also, w/r/t "what straight people do with sperm"
Cori: "Every time you swallow, that's $640 down the drain."
They should spit that shit up and sell it to lesbians on the internet.
Kacy wants to know what Cori would say if their kid grows up and wants to go meet their Dad. Maybe: "That reminds me of this movie, The Kids Are All Right."
Just so you know, though, when this baby is born and grows up and then Kacy and Cori die, they've already picked Godparents! They let their Godparent friends know about their Godparent duties for mysterybaby.
Everyone needs to slow the fuck down. It hasn't even come in the mail yet and they're talking about what'll happen to the kid when they're DEAD. SLOW YOUR ROLL, SPERMAHOLICS.
Things a Real L Word Girl Can't Handle:
Pretending like nothing is wrong
Dating
Facebook
Large Bottles of Wine
Reasonably-Sized Bottles of Wine
Moms
"Girlfriends"
Blackberry Messenger
Sperm

Romi's at a pretty party with pretty people where all the pretty people go and they aren't really all that funny but nobody will know unless they're sober in which case WHAT A DRAG.
They wanna play "Who Did Who" which is like "The Chart" but even ZANIER! Someone else wants to talk about threesomes with boys! What will they think of next?! Who likes masturbating to girls giving boys blow jobs? Huh?! Yeah?! ANYBODY?!!
I am personally really high right now, there's no way I could watch this sober, let alone be IN it sober.
Romi: "I don't know how to be me, because me has been drunk the whole time."
Preach.
Things a Real L Word Girl Can't Handle:
Pretending like nothing is wrong
Dating
Facebook
Large Bottles of Wine
Reasonably-Sized Bottles of Wine
Moms
"Girlfriends"
Blackberry Messenger
Sperm
Sobriety

Sajdah & Chanel are on their very first date. Chanel's wearing her 90's Action Heroine Tron jacket just in case Sajdah wants to play Star Wars because Sajdah feels "like a 13-year-old boy" because she just came out. See that, men at home? The way Sara makes your pants dance is totally okay, we all summon our inner 13-year-olds when lesbians are around.
Sajdah tells Chanel "you was born for meeee," and Chanel's like NO YOU WERE BORN FOR MEEEEEEE!!!
I see where this is going…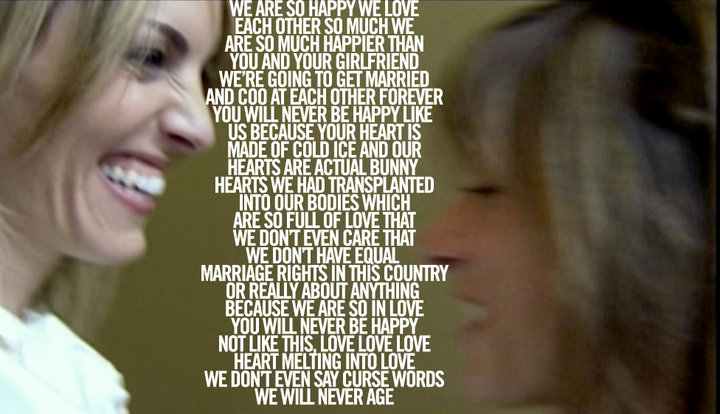 Chanel hasn't even dated Whitney but she already likes Sajdah for the same reason all of Whitney's exes love girls other than Whitney —
Chanel: "I just always want to meet someone who was like totally into me because I fall head over heels every time!"
Sajdah and Chanel are having a talk that makes me feel more naked than sex. This is so weird! Sajdah decides that she's gonna ask Chanel to be her girlfriend. They're gonna go steady, drink sodas, have babies, play on the beach, you know. Things like that.
Sajdah: "At this point, Chanel is damn near begging for me to ask her to be my girlfriend."
Things a Real L Word Girl Can't Handle:
Pretending like nothing is wrong
Dating
Facebook
Large Bottles of Wine
Reasonably-Sized Bottles of Wine
Moms
"Girlfriends"
Blackberry Messenger
Sperm
Sobriety
Dates

Back in The Bay Area, Rachel & Alyssa are talking about their gay rights w/r/t Rachel having sex with Whitney.
Whitney's just going around doing her "Whitney things," says Alyssa. "Going about her everyday Whitney things." And Rachel expecting Whitney to communicate with her about sleeping arrangements is like this:
You guys! Alyssa is OBSESSED with Whitney. But i mean can there ever be too much conversation about Whitney Mixtner? Hell to the no. That woman is FASCINATING.
Just kidding, um, Rachel's gonna go out and flirt with "hot San Francisco girls." But "nobody hairy."
Things a Real L Word Girl Can't Handle:
Pretending like nothing is wrong
Dating
Facebook
Large Bottles of Wine
Reasonably-Sized Bottles of Wine
Moms
"Girlfriends"
Blackberry Messenger
Sperm
Sobriety
Dates
Whitney

Pages: 1 2 3 See entire article on one page