Summertime. The land of no college basketball, no football and no hot chocolate. Although the sweltering summer brings joy to many people for many reasons, the sports/television arena loses a bit of momentum. It's almost like you have to go outside and be a person. Almost.
If the sun is of no interest to you, my grandma's favorite sport is having this tournament called Wimbledon. Maybe you've heard of it, neighborface.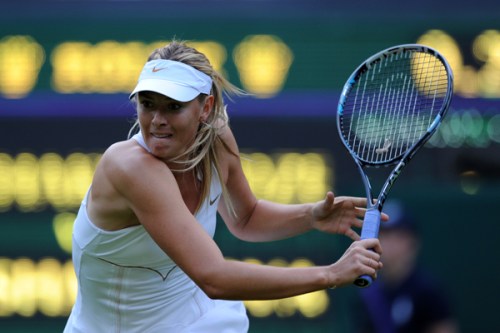 This super fancy tennis tournament started June 20th and runs until July 3rd so it'd be pretty easy to find time to catch a match or two. Wimbledon is one of the four major tennis tournaments called the Grand Slams. These tournaments remind me of Denny's. If they wanted to express to me that these events are a big deal, they would have called them Lumberjack Slams. But you live and you learn, you know.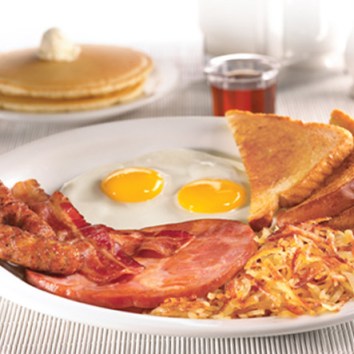 Tennis is fun because every match is like a failed relationship. There are emotional ups and downs, lots of grunting, and when it's all said and done after things have gone on for way too long, someone wins and someone loses. The top four women's single seeds have a single Grand Slam win betwixt all of them which makes it terribly unclear who will win this year. My money is on a female tennis player but then again, I'm not a betting woman. Kim Clijsters and Dinara Safina, who have both found success in Grand Slams, are out with injuries. Let's take a look at some of the remaining contenders, shall we?
+
Maria Sharapova (5)
The Russian player took Wimbledon back in 2004. Since then, she's become a professional good-looking person and one of the highest paid female athletes in the world. Though her looks might get her a win in your book, she's going to have to employ her trademark scrappiness and power game to take the title.
+
Venus Williams (23)
Venus is one of the two players who got bumped up from her Women's Tennis Association ranking. Guess who the other is. If you said her sister, you are correct. Here's an internet cookie. (That works on so many levels.) The Williams are The Mowry sisters of the tennis world. Even if you can't tell them apart, you know they're both awesome. She's won Wimbledon singles 5 times, the last being in 2008. Though she's only played in two tournaments this year, no one is counting her out just yet.
+
Serena Williams (7)
Sharapova would love to win as a means to finally overcome her last two injury-plagued years. I'm sure Serena wants to win as well but I don't think it's going to erase the memory of that time she almost died. If Williams pulls off a win, it will be her third win in a row at Wimbledon. Serena has reached the 200 mark for Grand Slam singles wins in her career. Things I have 200 of include Q-Tips.
+
Caroline Wozniacki (1)
The Dane has no women's Grand Slam titles. She's probably pretty bummed about this since she's seeded first in the tournament and number one in the world. Now folks expect her to do things like win Wimbledon. People and their expectations, right? Wozniacki is only 20 so I'm not ready to call her Kournikova Jr. just yet.
+
Marion Bartoli (9)
Why is Bartoli on this list? 1. In the French Open she advanced to the semi-finals. 2. She's played well at Wimbledon the last four years 3. She recently won her first grass court title at the Eastbourne Warm-Up. I think that's enough but if you need further convincing, I can make something up. 4. She eats Nutella by the spoonful between games for good luck.
That serves as my Wimbledon warm-up. Thanks for coming by. Here's something to show how much I care. A picture of Bethanie Mattek-Sands' tennis ball dress. She sported this gem to the WTA Pre-Wimbledon Party. It was designed by Alex Noble whom you may know from his work with one Lady Gaga.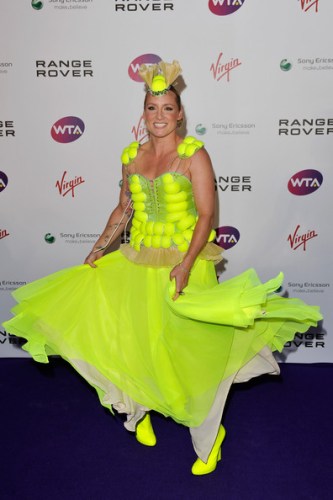 Who do you think will take Wimbledon this year? What is your grandmother's favorite sport? Should Mattek-Sands have said yes to the dress?