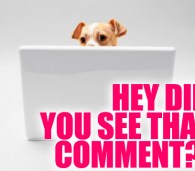 Hello friends and foes. Just kidding, we know Ilene Chaiken doesn't read the comment awards. Another week has gone by which means we have another round of awards to dole out. What did you talk to us about? Well, this week, we had 90 photos of Lindsay Lohan, Nat went looking for a house on Autonatic #6, and we looked at why the DADT survey doesn't work.
We also talked to Margaret Cho, and Riese recapped The Real L Word again because she loves you guys. Laura taught you how to make your own suspenders, and we talked about Edward Sharpe & the Magnetic Zeros being on TV.
---
On Open Thread: You Probably Have a Crush Story to Share, Because You're Gay:
The Taking "We're All Girls" to a New Level Award to Shanz: When I was 8 I tricked my best friend into regularly kissing me by telling her it wasn't wrong because everyones lips are pretty much the same. One day her mom walked in on her autostraddling me and our friendship ended. I kind of miss her. I feel that our friendship could have been great if I wasn't all in love with her/confused about my sexuality.
The What the Frickin' Frack Award to Alice Pieszecki: so i had a crush on dana, she was like this famous tennis player bla bla bla died of breast cancer which didn't make any sense etc etc but i won't get into that right now so ANYWAY i had a crush on my best friend the famous tennis player dana fairbanks, this is before she died and also before she got back together with lara and broke my heart but again ANOTHER STORY ANOTHER DAY, so she announced that she was going to marry this BITCH tanya, who clearly only wanted dana 'cause she was a TOTAL starfucker and like wanted their wedding sponsored by Absolut and all this whatever. it was so dumb and soooo obviously not meant to be. But before that after they announced the engagement and I was like holy fuck, I LOVE THIS WOMAN.
so i go to dana's house and i tell her she can't marry Tanya. And she asks why and I kiss her and she kisses me back… and for the next few months it's like TORTURE. she's planning her wedding with tanya, we're making out in bathrooms, the sexual tension is thicker than max's beard, we can barely keep our hands off each other… then we have sex and it's AHHH MAZZZINGNGGGG.
Finally she does it! She tells Tanya she can't be with her because of me and that's fine 'cause Tanya finds some other butch to be with.
And then we got together, and we were together and it was perfect. You know, until Lara stole her from me and then she died. But before we died, I think everybody here knows that like, we were so close to getting back together. She'll always be my best friend, obviously. And now I have Tasha, who I love love love, and I can still always go to the waterfall to see Dana, or watch DVDs from Season Two.
So that's my story!
The Please Date Me Award to Rachel: I left hot chocolate on her doorstep. Notes under her windshield wipers. I never gave up even when she gave me the "but I'm straight" routine. I was the big spoon all night and even when my arm was numb, I didn't move. I just wanted her hair in my face. I wasn't very dramatic, but awful romantic. I won too, cause she's been sleeping beside me for almost five years.
On Jane Lynch Can Do No Wrong & Everybody Knows It, Including Emmys, Outfest, Madame Tussauds:
bcw Award for bcw to bcw: when i read this i was aroused, then furious. why does she not have a wax figure already?
On How the DADT Survey Breaks All the Research Methodology Rules, Has Issues, Is Useless:
The Synchronization Award to sally: This is not a helpful thing to say, but if the whole world took communal showers, and was split into timed hetero bathing sessions and queer bathing sessions I would not be unhappy
On 90 Days, 90 Photos of Lindsay Lohan: GALLERY:
The Burn Book Award For Best De-Evolution of Another Complaint About Lindsay Lohan Coverage to Some Readers: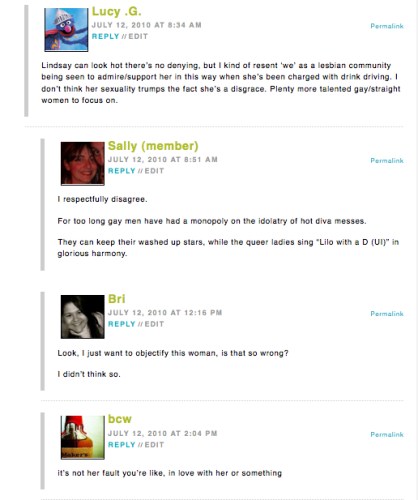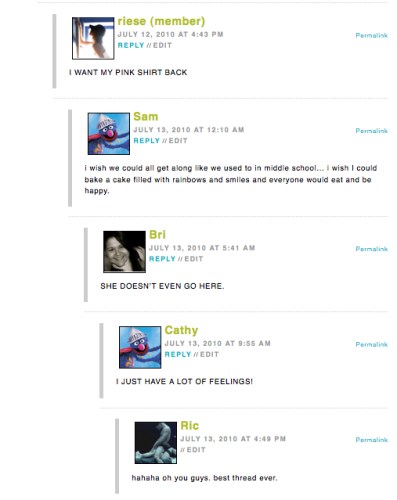 On Family Research Council on DOMA Repeal Recap: Blames Obama, Kagan, Skewed Views:
The Tegan and Sara Award for Being So Excited You Just Want To Punch Somebody to wasteunit: Rachel, I'm going to have to ask you to stop writing things for your own safety. I'm afraid I might break one of your bones or something when I vigorously mount you one day. You say all of the things I feel in a much better way than I ever could.
On Violent Video Games Might Relieve Stress, Also Grass is Green (Or Is It?):
The What Color is Autostraddle? Award to maria: synesthesia is pretty cool, except for that one time when I didn't wanna turn 21 because it was so ugly and tasted like milk mixed with water and all of my friends were telling me to stop doing drugs.
now I'm 23 and loving how green it is, so I think I'll never have another birthday again.
and yes, "a" is red. the most yellow word is "bikini", by the way.
On 8 Nerdy Ways to Mend Your Broken Heart:
The Award for Taking Games Really Seriously to Sasha Farce: Oh man. My girlfriend and I broke up over the weekend (we're working on it, we're working on it, she fantasizes about power tools and you know that power tools mend everything) and I was like five generations into our descendants. WHAT THE HELL AM I SUPPOSED TO TELL MY GREAT-GREAT-GRANDSIMS.
On Colleges Making Fancier Gyms Instead of Smarter Graduates:
The Have You Ever Noticed Ziggy and Sally Are Always Winning Joint Awards? Award to Sally, and Ziggy Hreins:
On Facebook: The Movie (In Which We Briefly Discuss 'The Social Network' Trailer):
The ~*~*Award*~*~ to e: i'll just wait till myspace the movie then, which will be like a dumber, version of this
On The Real L Word Recap Episode 104:
The Way to Have Goals Award to Freddie: And at work the other day a rowdy table of 6 was raving about the real L word (and maybe there was one lesbian at the table, or maybe zero) and I had to try really hard not to die from laughing and get fired on my first shift. Or not die on my first shift.