When 15-year-old Larry King was murdered in February of 2008, it seemed like a perfect nightmare of teenage violence in the 21st century. It was another school shooting, the specter returned from the 90s, and it was revealed later to be an apparent case of anti-gay bullying. Depending on how you look at things, the Larry King murder may not have been part of the school shooting narrative so much as it was the beginning of the "epidemic" which would later be said to have led to the deaths of Tyler Clementi, Seth Walsh, and others. The fact that it occurred the day before Valentine's Day, and that some reports cited King's giving one of his bullies a valentine as the provocation for his murder, was an especially cruel detail. The fact that "Lawrence had started wearing mascara, lipstick and jewelry to school, prompting a group of male students to bully him," and identified as gay at the age of 15 caused his killing to be labeled a hate crime by the next week.
Larry — technically Lawrence — was initially said to be improving in hospital care immediately after the shooting, and it was hoped he would recover. But soon he lost consciousness, and then his life, leaving behind only questions for the hundreds of mourners who came to his funeral and built makeshift memorials outside the school. Over the next few weeks, a picture came into focus that seemed to confirm that Larry's sexual orientation and/or gender presentation were at the root of his bullying and eventually his murder. Activists used the moment to remind the world that homophobia can lead to tragedy while Larry's family sued his school district for not enforcing the dress code and prohibiting him from wearing feminine clothing and makeup to school.
After the stage of collective shock and grief, however, the nation as a whole seemed to move on. There was no high-stakes investigation to follow, as the killer had been known since almost day one. Brandon McInerney, who was 14 at the time of the shooting, was referred to as the "alleged killer," but the shooting took place in front of over twenty other students in first-period English. There was little doubt about who to prosecute, and also little for the public to sink their teeth into until a trial — so, until now.
The trial so far has been a complicated and intense one to follow. The LA Times has done an excellent series of updates on it, but other coverage has been light. It's hard to place blame, though; the nexus of two families' terrible grief along with all of our culture's ideas about gender, violence and the passage into adulthood makes for a picture that's so layered and fraught with tension that it's difficult to even know where to start.
For instance, there's the testimony of Larry's English teacher Dawn Boldrin on giving Larry her daughter's strapless formal gown, which was met by his surviving family with tears, anger, and storming out of the courtroom.
An infuriated Greg King, father of Larry King, stomped out of the courtroom. He returned a short while later and rounded up the entire King family to leave the courthouse for the day. As the group walked past Boldrin's daughter and another relative, Larry's mother, Dawn King, whispered an expletive to them. On Friday morning, Ventura County Superior Court Judge Charles Campbell ruled that was egregious enough to get Dawn King ejected from the courtroom for the rest of the trial. Outside the courtroom, Greg King explained that he became angry because he considered the women's response "crocodile tears."
 The King family claims that Boldrin was one of the teachers who complained about Larry's presentation, who said that he shouldn't be "coming to school in makeup and boots." On the other hand, Boldrin claims that, essentially, Larry's family are the ones who punished him for his clothing and style — she argued on the stand that King's family had abused him, and that the dress was a private gift to him in recognition of the fact that he was "struggling with family and sexual identity issues," and was meant to be worn outside of school. It's true that at the time of the shooting, Larry doesn't appear to have been living with his family. Reports from the weeks after the shooting in the NYT say that Larry was living at Casa Pacifico, "a center for abused and neglected children in the foster care system," and had been there since the fall. There's no realistic way of proving or disproving Boldrin's claim, and even if there was, what light would it shed on this boy's murder? Would it help us understand why he wasn't safe at school if we knew he wasn't safe at home, either?
Queried by Fox, Boldrin admitted that her former colleagues at the school didn't agree with her. She lost her tenured teaching position and now works as a barista at Starbucks. Fox also brought out that Boldrin suffered significant mental issues after the shooting, which occurred in her classroom.
Fox asked her if she felt guilty about King's death.
"You bet," she said after a pause. "And I have guilt over Brandon sitting there too."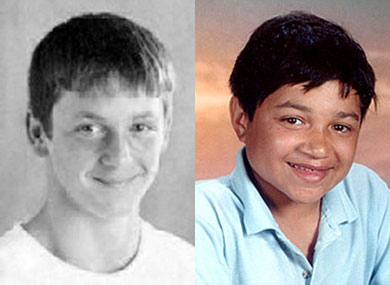 Where does the responsibility lay for something that never should have happened at all?
Recalling the King family's lawsuit in 2008, some people seem to think that the blame lies with E.O. Green Junior High. A number of teachers, presumably those who disagreed with Dawn Boldrin, say that they were worried long before the shooting that Larry's clothes and makeup would be cause for torment and even violence, and that school administrators ignored them.  What's more, they say that his appearance was only part of the problem; they claim that he openly baited his bullies in a way that family and other administrators don't want to admit.
It wasn't just that King, 15, had begun wearing makeup and women's spiked-heeled boots, witnesses testified. It was that he seemed to relish making the boys squirm at his newly feminized appearance and was taunting them with comments like "I know you want me."
In light of testimony like this, McInerney's attorneys are claiming that while he did shoot Larry King, it was only because he was "pushed to the breaking point by King's taunts."  Now E.O. Green's Assistant Principal, Joy Epstein, is under fire both for ignoring warnings that King's outfits were inviting bullying, and warnings that he was in turn bullying other students. What emerges is a complicated picture of a group of educators with a lot of different ideas about how to keep students safe. There's Jill Ekman, the teacher who reported telling Larry to wash off his mascara because the special ed program he was in taught students not to draw attention to themselves, and who now reports on  his "willingness to bring attention to himself, even if it was negative." And then there's Epstein; Larry came back to school the next day triumphantly wearing even more eye makeup, and said Epstein had told him it was his right. Which is true — Epstein was trying to protect him from sexual orientation and/or gender-based discrimination — but it's also probably true that Ekman really was trying to protect him from harm. It takes a village to raise a child, and if something goes wrong, a village is left to point fingers. In the end, everyone at E.O. Green grew increasingly aware that what they were trying wasn't working; Ekman says that "a group of male students in her classroom told her they wanted to beat King up because he would seek them out and follow them into the bathroom." Ekman considered that sexual harassment, and informed Epstein, who told her there was nothing they could do.  Less than a week later, King was shot and killed.
The last two interactions between Larry King and Brandon McInerney that anyone in the courtroom seem to have reported both seem to confirm Ekman's story that King had taunted McInerney in the days before his death. On Monday, February 11th, McInerney and teachers have testified that King passed the other boy in the hallway and called out "What's up, baby?" and later, when waiting to be picked up at the end of the school day, had been "parading" back and forth in high-heeled boots and makeup near a bench where McInerney was sitting after school waiting to be picked up. A group of boys was laughing as McInerney grew visibly angry."   McInerney told psychologist Doug Hoagland that these were the events he fixated on the evening before coming to school to kill Larry King:
"I sat and I thought about it over and over… It didn't calm me down. It made me more angry. All I could think about was I wanted to kill him."
It appears that the defense is claiming that a strong emotional response to Larry King's presentation or orientation pushed McInerney into "a transient period of dissociation," which may have been facilitated by McInerney's living with an abusive methamphetamine-addicted father. Douglas Hoagland, McInerney's attorney, says that his client was having second thoughts after having brought the gun to school, and almost changed his mind — until he heard King tell a friend that he was changing his name to Leticia. The defense claims McInerney "snapped," and later remembered hearing the teacher scream and seeing a pool of Larry King's blood.
In the 1999 trial of Matthew Shepard's killers, Judge Barton Voigt threw out what he called the "homosexual rage" defense. Aaron McKinney's defense strategy rested on the premise that based upon previous life experience, including one instance of rape by a man at age 7, he was unable to function reasonably upon finding out that Shepard was gay, and that while he couldn't deny he killed him, the sentence should be manslaughter instead of murder. From Judge Voigt's court order:
"The defense is, in effect, either a temporary insanity defense or a diminished capacity defense, such as irresistible impulse… There is no proffered evidence of a homosexual rage syndrome that would make the evidence relevant. …That cannot be the law. Is it murder if a white supremacist kills a white man who jostles him in a crowd, but only manslaughter if he kills a black man who does the same?"
Aaron McKinney is now serving two consecutive life sentences for second-degree murder.
Obviously nothing that Larry King could ever possibly have said or done to tease McInerney, if that's true, could justify having killed him. (Really the most appropriate response to taunting, it would seem, is to taunt in return.) It seems legally improbable that it will even justify changing the charge he's convicted for. Rage will never be an excuse to kill anyone, "homosexual rage" or otherwise. But at the same time, it's a fact of life. And in the aftermath of a life, when it's so easy and so tempting to think about what could have been done differently, it's also possible to sympathize with those adults in King's life who knew what rage makes people capable of, and tried to protect him from it however they knew. The instinct to protect a child you care about from the world is powerful, even if that means trying to protect him from himself.
But do we change our behavior to please our oppressors? One could tell the boy not to wear a dress, or one could teach the other boys why it's not appropriate to discriminate against a boy wearing a dress. At times, this case has seemed like nothing more than an extended episode of victim-blaming, but it's hard to view gender-based discrimination objectively from where we sit. As we so often see discrimination, institutionalized and overt, against gay and trans people overlooked or excused in courts and in schools, it's easy to blame the teachers' concerns about his behavior and its impact on his fate to their exaggerated response to gender deviance. But maybe that had nothing to do with it, really — if a girl had done all the same things King did, it's possible the teachers would've reacted with similar concern and perhaps also similar inability to know how to best help the student stay safe.
And at the same time, it seems easy from our position now to look back at the sashaying, performative, attention-grabbing and maybe even intentionally taunting behavior that they were so worried about, and understand it. Anyone who has been bullied, who obviously didn't fit in, who felt ostracized from a community that was supposed to welcome them, be it family or peers, has probably harbored the fantasy of doing exactly what they're not supposed to. Of laughing in bullies' faces, living out loud instead of making every waking moment about trying to be inconspicuous, retaliating with the obvious insecurities that their tormentors are trying to cover up. The defense is implying that Larry King's reportedly having called "What's up, baby?" to his killer was the reason he died; his former teachers say they feared the same, and ended up being vindicated. It's a unique twist on the idea of "gay panic;" that the victim actively participated in inciting panic in the person who killed him, that some kind of "panic" was his aim. But there's a reason popular high school flicks end in the tables turning on the mean, popular kid, who we last see with a look of frantic dismay as he finds himself on the receiving end of what he's been dishing out the whole movie. That fantasy is as inalienable as Larry's right to wear mascara. Even if he did catcall or "taunt" — what unpopular gay junior high school student wouldn't love to do the same? And how would McInerny have responded if it was a girl calling, "What's up baby?" to him in the hallway.
Defense lawyers rested their case yesterday, without Brandon McInerney ever having testified. The prosecution still has to present its case, which will undoubtedly present new and complicated angles from which to look at this heartbreaking loss which continues to slowly and surely break the hearts of everyone still following it. Larry King is dead, and Brandon McInerney — who is being tried as an adult — gave up any chance at a normal life at age 14, whatever chance he may have had growing up in a home with abuse and addiction. There's no ending to this story that will help anything make sense to these families. But the way we talk about Larry King's life and death can tell us a lot about how his community in Oxnard and our community as a nation think about gender, about masculinity, about students' rights, about adults' responsibilities, and inevitably about violence. We can only hope that as a community we'll come out on the other side of this somehow sadder but stronger than how we started.