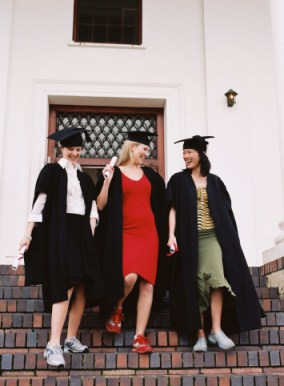 As August draws to a close and September beckons on the horizon, many young women of the gay persuasion will be heading off to college — perhaps you are one of those young women. Or perhaps some of you young saplings are beginning your senior years of high school and considering which colleges to apply to, in which case holy shit you are young, what are you doing here. The smartest among you are probably skipping college altogether, but that's another topic for another day.
Due to overwhelming levels of social anxiety and self-doubt, many young ladies feel a bit uncomfortable for the first few weeks of school and aren't sure where they fit in or where to find the other queers.
So we thought it'd be cool to pool our collective resources to prepare you for your blossoming sexuality and/or matriculation with the First Ever Autostraddle Lesbian College Guide!
Included you'll find the inside scoop on 41 different colleges, mostly in the US but some in Canada, from queer ladies who go there right now or have graduated within the last two years.
Unfortunately, not every school in the whole wide world is included, and we're aware that if your school is not in this post, that you are gonna lose your shit in the comments, so let's address that right away.
Why is [x] school included and not [x] school?
We set our max number of schools in this post to 40 as anything over that is really unwieldy and could possibly spiral into a Princeton Review-size situation.
We had a list of schools we wanted covered due to their high scores on the Campus Pride Index and/or their sapphic reputations. We had every team member under the age of 24 who went/goes to college do a write-up on their University. We posted the list of schools we still needed coverage for in a post and many of you volunteered to cover them or asked us if we could cover your non-listed school.
We said "yes" to many of you and generally what we looked at was diversity in terms of geography as well as the school size. Many of you volunteered and didn't follow through. In any event, this is not a perfect science.
We're sorry that we didn't have room for everybody and for every school and we invite you to share all your feelings about your school in the comments! Especially Sarah Lawrence. How did we not find one single volunteer from Sarah Lawrence? (Although our editor did attend Sarah Lawrence for a hot minute in 1999.) I feel like there are a lot of lesbians there.
Also sidenote — you may be familiar with Campus Pride.org— and if you're not, you should be — every year they rank schools on various elements relevant to the LGBTQ community's interests and they also just have a lot of resources regarding GLBTQ campus life.
Washington, DC
by Carmen, AS Contributing Editor
Student Population: 6,657 undergraduate, 3,620 graduate
Tuition: $37,554 (plus $9,108 housing)
Acceptance Rate: 41% (2011)
My only insider advice on American University is: wait it out. It's going to be a crazy ride. It's going to be worth it. And someone is going to make out with you.
AU is a tried and true Dyke Paradise, complete with American Apparel-clad hipster lesbros, Anthropologie-shrugging femme girls on bikes, and alternative lifestyle haircuts (with a focus on the undercut). Each year at American University gets gayer. In fact, each minute is actually gayer than the last. I know this because I came here with an uncomfortable attraction to dudes who looked like girls, and now my internet network is called "homomafia.wp_postsBy the time you get here everyone will be reading Autostraddle in the library and having lesbian sex in the quad. Or something like that.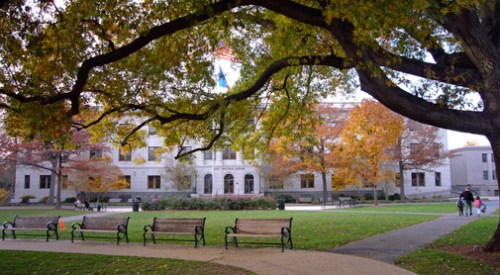 I am ready to prove to you that the best place on Earth to be a lesbian is American University even though it has to lose to Smith College. But let's just look at this neatly-compiled list of Things Making AU So Gay:
+ Queers and Allies, the gay club, has a Queer Women's Advocacy Committee, meaning you can find all the cute girls within the first week of school.
+ Everyone at AU likes everyone. And I mean everyone. By the end of your time here the amount of gay girls in your life will have increased – exponentially. And someone is going to say they "just like people,wp_postsat least once.
+ Not one, but two Autostraddle writers have attended AU.
+ Plus, Judge Judy went here.
At AU, all kinds of queer girl experiences are rampant. You might come here a lesbian and leave here a lesbian with a bigger black book. You might come here a straight girl and realize you and your straight girl friend should be dating, and become famous on the internet. You might even start a queer women's club to find girls, throw parties with said girls, and then remain on the scene with those girls despite no longer attending the school. You might be an outspoken ally – until you are an outspoken homo. You may even find yourself trying to hook up with a girl at a party that a bunch of your friends, since all your friends are gay, too, end up having feelings for.
This is the campus where "give no fuckswp_postswent from being a small joke to a school's mantra. No matter what, you're going to fit in somewhere. And someone is going to make out with you.

New York, NY
By Lily, AS Writer/Lily's College Lesbianage 
Student Population: 2,360
Tuition: $38,868 (plus $12,950 room and board)
Acceptance Rate: 28%
Barnard College is a strange place. This is not to say that I don't love it—it may have taken me awhile to get used to but I do love it. It is impossible to explain exactly what Barnard is (it's a women's college, but there are men in our classes, we are an independent college, but we are part of Columbia University, we are the "straightestwp_postswomen's college yet there is a whole web of lady-loving-drama that happens here).
It is hard to talk about LGBTQ life at Barnard without talking about LGBTQ life at Columbia. Our worlds most certainly collide as we join each other's clubs, date each other's women, and take each other's gender studies courses. Barnard has one official LGBTQ club called Q, which is sometimes packed but more often than not is sparsely attended. The "typicalwp_postsBarnard College woman is very independent, which I believe is a major contribution to the minimal number of ladies who attend Q. We all have our own stuff going on and we have our own worlds outside of Barnard in the rest of New York City. I think many Barnard girls feel like they don't have to join a club to meet other ladies. They can meet those women in their classes, their clubs, and outside Barnard/Columbia altogether.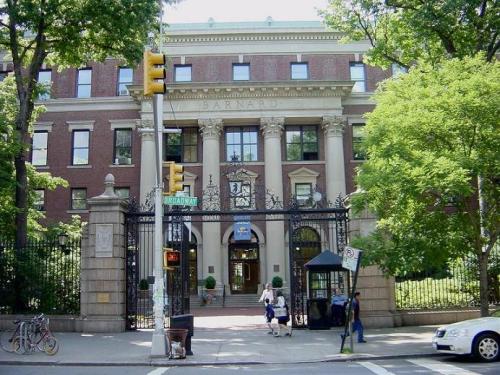 The more time I spend at Barnard the more I realize that everyone is gay. For a while I truly did feel that Barnard was an incredibly straight women's college—it does contain a rather "feminizingwp_postsforce—but then I started actually meeting people (I'm slow, socially). I realized that many girls at Barnard are gay, straight and gay friendly, or open to dating/hooking up/doing whatever with any gender. Girls who I had originally assumed were straight have surprised me by introducing me to their girlfriend or talking about their crush on the women's Rugby team (women's rugby is gay, it just is, you cannot deny this, it is a fact).
Some Barnard students might not agree with me, but I have found that Barnard is a great place to be an openly gay lady. I've become friends with straight women, gay women, in-between women, sorority women, liberal women, conservative women, and non-women, and I have not once had a problem with them because of my sexuality. I'm pretty open about being gay, as in if you meet me once (especially if I'm drunk) you will hear about it. Some girls ask me questions about it, some girls are obviously interested in being "more than friendswp_postswith other girls, some girls treat it as a complete non-issue (because it is…), but none of these girls have treated me differently or poorly because of my gayness.
I would love to say that every gay lady at Barnard has had the same high-acceptance rate here but I know that this is probably not true. But I think that going to school in New York City is one of the best decisions any college-bound person who does not feel like they belong in their hometown could make. Moving to New York City in order to attend Barnard College was definitely one of the best things I have ever done.


Waltham, MA
by Rachel K, AS Senior News Editor
Student Population: 3,341 undergraduate, 2,301 graduate
Tuition: $40,514 (plus $12,732 room and board)
Acceptance Rate: 35%
I went to Brandeis from 2006-2010, and am proud to say it was a pretty good place to be a homo. Boston in general is pretty liberal, and Brandeis is so activist-y and social justice-y that for a lot of people having gay people around is a genuine non-issue. That's not to say that there are never annoying or hard things associated with being gay there, but it tends to be more of the "well-meaning but clueless offensive remark" variety than the "anti-gay bullying or homophobic harassment" stuff.
There are people on campus who are pretty religious, but there's also a healthy community of queer religious people; one of the coolest people I met there was an awesome out lesbian who I am pretty sure ended up going to rabbinical school.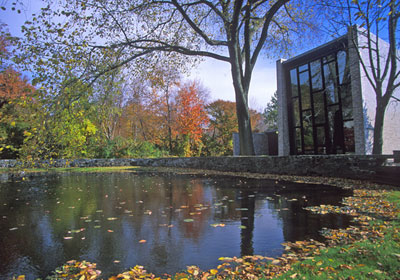 Gay men are maybe more visible on campus, but I think lesbians and queer girls tended to have a stronger sense of community; I definitely had a queer woman crew that I rolled with, and I think that was a common experience. The gay group on campus is Triskelion, and to be honest I never went to a meeting, and most of my friends weren't in it. There wasn't a particular reason, though– I think the overall experience of being queer at Brandeis was just so totally fine that I didn't feel the need to, whereas in high school I was SO in the GSA. Trisk does throw a baller Halloween party every year though, at which you will definitely get laid if you can put in just a minimum of effort.
There's also a Queer Resource Center, which is anonymous peer-based counseling and support. A few of my friends worked there, and I highly recommend it if you need to talk.
Other good social options for queer girls: the women's rugby or women's ultimate teams. Just saying: gay. The options for dating aren't overwhelming; it's a pretty small school, and so the number of queer girls is pretty small also. When I was there, everyone dated everyone else's ex at least twice. But Wellesley is right there, and BC and BU, Harvard, Simmons, Northeastern, etc. are really nearby. If you have an OKCupid account (which, come on, I know you do) meeting people won't be hard. Good luck!

Providence, RI

Student Population: 6,102 undergraduate, 1,905 graduate
Tuition: $39,928 (plus $11,432 room and board)
Acceptance Rate: 9.3%
The LGBT environment at Brown is very safe and friendly. LGBT resources (e.g. LGBTQ Resource Center) are plentiful and LGBT folks are everywhere. The city of Providence can be less welcoming– sometimes people shout homophobic things on the street. Brown itself, though, is very welcoming; I'd even go so far as to say that Brown isn't just gay-friendly but gay-loving. Our Sex, Power, God party thrown every year by the Queer Alliance is a huge success.
The lesbian population at Brown is smaller compared to the gay male population but the environments and resources for both groups are intertwined. Lesbians seem to have less visibility, perhaps because we are a smaller group– but don't worry! We are here and the community of queer women at Brown is welcoming and fun. We have a big party in the spring called "Carpe Dykem: Seize the Gay," and we're working on having other queer women specific events as well. Krista Burton of Effingdykes is coming in the Fall.
There is an emphasis on hook-up culture at Brown, especially at parties like Sex, Power, God and Carpe Dykem, but there are definitely also those who are in serious relationships (though I think they're probably in the minority). And then there's the rugby team.
There's a Queer Alliance at Brown, which is basically an umbrella organization for many smaller clubs and groups that have more specific goals and purposes, such as Girls Night Out (a queer group that meets weekly to hang out and talk), BiTE (a group where bisexuals talk and eat), the Queer Political Action Group, Athlete Alliance, etc.
For new queers on campus, I'd recommend going to the first big meeting of the Queer Alliance at the beginning of the year. Sign up on their e-mail list and you'll get out weekly announcements of things going on around campus for queers. Sex, Power, God is a party worth checking out, but I really recommend going to as many things as possible.
Providence has a few gay bars. Aside from those few times people have shouted homophobic things at me from their cars, I've experienced Providence as pretty friendly.

Bryn Mawr, PA

Student Population: 1,306
Tuition: $39,860 (plus $12,890 room and board)
Acceptance Rate: 48.6%
The Bryn Mawr College environment is about as safe as it gets for LGBTQ* students. Bryn Mawr prides itself on tolerance for all kinds of communities, and since queer ladies are very visible on campus (some might argue the most visible) no one really thinks twice about the queer presence here. We are one of the Seven Sisters, which means we're a school of women, for women, by women, and lots of times those women love other women.
Concerning your prospective queer social life: Bryn Mawr is not known for its ragers, but that doesn't mean we don't know how to party. There is always something to do, either on campus or in the vicinity– when you're a twenty-minute train ride from Philly, you don't really have an excuse for being bored on a Friday night. Plus, the tri-college consortium supplies every variety of party known to man. You can go to Radnor and hang with the lesbros, or you can take the bus to Haverford for a terribly-themed keg party in a Gummere basement, or you can go to Swarthmore and check out a more diverse scene (but avoid the frat parties– roofies are no joke and the Swat frat scene has a serious issue with date rape and sexual assault). At said parties, you may meet many attractive queers. That's great, but keep in mind that Bryn Mawr is a smaller campus than it seems, and the queer community is even smaller. My advice? Go into Philly, find queers who have never heard of Bryn Mawr, and date them. Date them hard, and never look back.
Queer community support is great, and the entire college ends up functioning as a support system unto itself. There is one dominant queer club called Rainbow Alliance, which welcomes everyone and is a great place to meet people and lead queer events. The other club is an anonymous Queer Support group, which gives a place for people who may or may not be out to talk about the issues that affect them as a queer-identified woman or man. But the great thing about Bryn Mawr is that you don't have to join a club to meet ladies. You will meet queers everywhere– in class, in the dining hall, down your hall, walking across the green.
Bryn Mawr is a safe haven, and the surrounding Main Line is similarly safe, probably because they're just so used to seeing gay ladies by now. Philly is a typical urban area– it depends on what neighborhood you're in, but for the most part it's not dangerous to be an out queer in the city.

Northfield, MN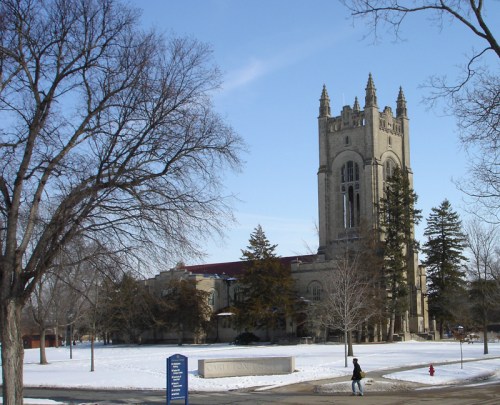 Student Population: 2,009
Tuition: $42,690 (plus $11,238 room and board)
Acceptance Rate: about 30% (2011)
Carleton College, a small liberal arts college plunked in the middle of Minnesota is home to many silly, energetic and smart-but-not-braggy-about-it folks. The icing on the cake is that, Carleton is, in many ways, a big ol' LGBTQ-friendly bubble.
I rarely feel weird about lesbian PDA on campus. And as an out queer woman on campus I feel included in all major social things (like our Midwinter Ball and Senior Prom) and I've brought female dates to all of these functions. At our big school dance parties a "Queer Cornerwp_postsusually forms, but, at least for queer women, I usually felt like this was just sort of a social thing and not a defense mechanism against the straight Carleton population. However, while I sometimes feel like there are gay girls everywherrrre (go to a women's hockey game and you will understand), trans students are much much fewer & far between. Also trans issues have less acceptance on campus (although that is changing) and we've had trouble with institutional things like gender-neutral bathrooms being universal across campus.
The dating scene at Carleton is as about as good as a queer girl could expect for such a small school. It gets incestuous between queer women on campus, especially within certain circles. But often, there are even more women interested in women than it seems upon first glance– lots of people are gay/queer/bi/etc. without being super vocal about their identities. Also, Carleton has great GSA-type stuff. The Gender and Sexuality Center (GSC) does the feminism thing & the gay thing in one office and keeps the queer activities a-flowing: Coming Out Week, Rainbow Retreat, Pride Month, events, etc. And, a lot of non-queer events will end up being pretty queer. Gay girls are all over the place here and a lot of situations that aren't explicitly queer (outdoor club, for example) also can feel rather . . . well, gay.
Northfield, MN, is no Greenwich Village, but it isn't intolerant most of the time. The UU church in town has been really active about being pro-gay, and a lot of the townies agree. Also, there are lots of fun queer things to do in Minneapolis, but school is so jam-packed with stuff, you hardly need it. All in all, Carleton is awesome and for a small campus, queer life definitely felt like a lot bigger than I expected.

Montréal, Quebec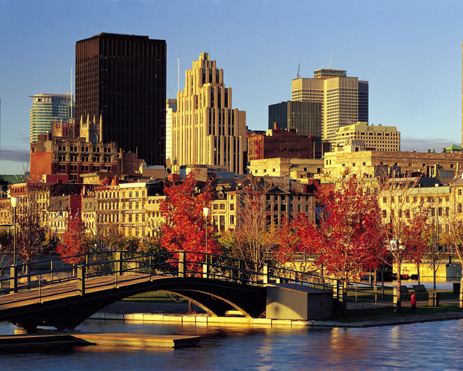 Student Population: 34,548 undergraduate, 6,670 graduate
Tuition: $4,917 to $25,238 depending on citizenship
Acceptance Rate: Your guess is as good as ours.
Concordia University is a vastly diverse, Anglo university in the big gay metropolis of Montréal. With a wild week of rainbow Pride in August and the Diver/Cité festival in July, a vibrant gay village full of clubs, bars, diners, high-end restaurants, B&Bs, and then some, the emergence of a new queer bar in the oh-so-gay-friendly Mile-End, recurring events like Meow Mix, Amène Ta Blonde, Faggity Ass Fridays, and the new Gurl Talk, this city is more than a welcoming place to attend school.
Queer Concordia is the university's LGBTQ+allies student group. The group arranges events and get-togethers during the fall and winter semesters, and members use the facebook page to promote other queer-happenings in Montréal, like the start up of DrivePink.com, a gay-friendly rideshare network.
Concordia also houses the Simone de Beauvoir Institute, which offers studies in feminism(s), sexuality, and social justice. The 2110 Centre for Gender Advocacy offers many activities as well as volunteer opportunities for the queer community and beyond. In their own words the centre promotes "gender equality and empowermentwp_postsworking "within a feminist framework that challenges systemic oppressions.wp_postsIt offers a wealth of support, including a peer-to-peer network and safer sex resources.
The University has many academic programs (and several trans-friendly washrooms!) and it's easy to get involved… or not. You don't have to hook up with the cute girl in your Sexual Representation in Cinema class– you've got four major universities and a city full of other très très gay women to choose from.

Ithaca, NY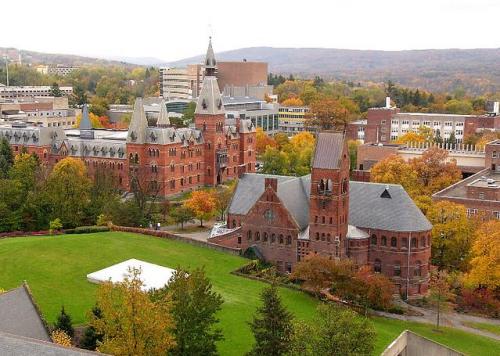 Student Population: 13,931 undergraduate, 6,702 graduate
Tuition: $41,325
Acceptance Rate: 18.4% (2010)
Cornell is a pretty good place to be gay. The school is very supportive, and there are many resources available. The LGBT Resource Center is a good place to start. Here you can find books, helpful staff, and safe sex supplies to your heart's content. There are also several student-run organizations, led by the umbrella organization Haven. We have a Gay-Straight Alliance and a social and support group specifically for women who love women, LBQ. Most people who choose to be out feel comfortable doing so. The Ithaca community in general is very supportive of the LGBT community. The gay male community is definitely the more dominant side of the queer community, but efforts are being made to be more inclusive of women, and the queer women's community is stepping up its game as well (we hosted an Ironic Lesbian Hipster Party in the spring; 'twas epic).
Cornellians work hard and play hard, and we're not known as the hottest Ivy for nothing. There are lots of parties every weekend, though if you want queer-centric parties you do have to look a little harder. The social scene on campus is dominated by the Greek community, but as you make friends you'll find it's easier to find non-Greek social events. Gay men drive much of the queer party scene here, but their parties are open to women, and women-focused parties do happen. In addition, Haven sponsors several events throughout the year, including Homocoming in the Fall and Filthy/Gorgeous in the Spring. The Cornell Women's Rugby Football Club is also pretty queer and holds a lot of parties. If you are female, you have a 95% chance of being asked to join the team. If you don't get asked, it just means that you haven't met a rugby player yet. The Greek community has an LGBT "task force" comprised of Intra-Fraternity Council and Pan-Hellenic members and is working to become more inclusive. My queer friends in sororities have all given mixed reviews about what it's like to be queer and Greek.
If partying isn't your thing, there are many other awesome queer social opportunities. During the early part of the semester, several queer social events will be held (make sure you get on the Haven listserv at Club Fest to find out about them). In addition, the group for women who love women, LBQ, meets every Tuesday. This is a good place to meet and make friends with other women, and the focus isn't necessarily always on the fact that you're all into women. It can be a support group, a place to relax before a prelim (Cornell-speak for midterm), or simply a place to hang out and meet new people.
From a dating perspective, the hook up culture is big (gay or straight). Longer-term dating is more rare, but certainly not unheard of. It simply depends on what you're looking for.

Durham, NC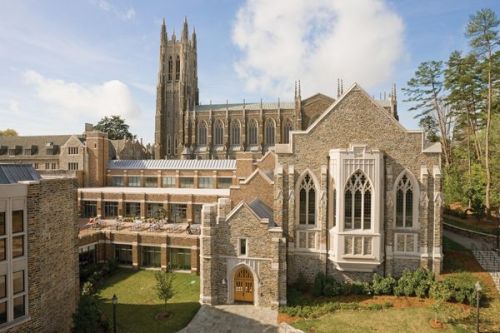 Student Population: 6,504 undergraduate, 7,744 graduate
Tuition: $40,575 (plus $11,830 room and board)
Acceptance Rate: 18.94%
At Duke there have been many women-directed efforts to increase our community's visibility and size. Last year a university-funded magazine, WOMYN (for queer women and their allies) was launched. The Duke LGBT staff also puts on a monthly dinner + discussion called "Women Loving Women" for any LGBTQ or questioning woman-identified student. About 25-35 women come each month, mostly graduate students.
The Duke LGBT Center is 4th-largest campus LGBT Center in the nation! It provides a safe space for LGBTQ students and their allies, especially for those students who are not able to be out at home but would like an environment on campus where they can be open about their sexuality.The LGBT Center at Duke has become a second-home for a lot of students and the three full-time staff members always have their doors open to meet with students and go over the various resources Duke has to offer LGBTQ-identified students. Check out their website for details on the "Welcome Back Party,wp_postsice cream socials and "Fabulous Friday.wp_postsThere are events and celebrations thoughout the year. In October there is a campus-wide celebration of National Coming Out Day (free Love=Love shirts anyone?). In November there is the Trans Day of Remembrance. In December there is an even for World AIDS Day. And at the end of the year there is Lavendar Graduation complete with rainbow tassels! We also have an undergraduate-specific LGBTQ organization called "Blue Devils United". BDU throws a "Lavender Ball" each spring that is usually well-attended and a lot of fun. If you are sporty check out Athletes United.
There have been a lot of advances for the transgender community within the last year. There is a new Gender-Neutral Housing policy. There are unisex bathrooms somewhat consistently in the different regions of campus, and overall the LGBT community at Duke has the support of the University and the student government.
Overall the environment is safe for LGBTs, and depending on the various scenes you're involved in (religious, fraternity/sorority, etc.), there might be varying levels of social friendliness towards LGBTQ individuals. Nevertheless, I would say that in general it's a safe and accepting place. The surrounding town of Durham is known as "lesbian ground-zero", and there is a pretty thriving queer female community in the area, heavily grounded in the folk/DIY music scene. Post Riot-Grrrl band, "The Butchies," is actually from Durham!

Pages: 1 2 3 4 5See entire article on one page