Oberlin, OH
Student Population: 2,800
Tuition: $42,842 (plus $11,550 room and board)
Acceptance Rate: 33%
Safety for the LGBTQ community is of no question on campus– as an out lesbian I have never felt unsafe or out of place, and neither has anyone I've talked to. Teachers are hugely supportive, as are peers.
Dating at Oberlin for lesbians specifically is complicated, but not overwhelming difficult to navigate. Involvement in lesbian-heavy activities (i.e. women's rugby) is a fail-safe way to meet, hook-up with, or date a large quantity of lesbians, as well as develop friendships with upperclassmen who are more savvy in the dating scene and can easily direct you towards available gay women.
The overall social scene is somewhat fragmented, like much of the gay community. Although Oberlin students gather en-mass for marches or riots or large-scale events like Safer Sex Night (an educational week that involves workshops like "How to please a vagina" and culminates in a campus-wide dance), people's friends are usually based on their involvement in sports, clubs, majors, or living spaces.
There is no overall GSA, rather interest-specific groups like Lambda Union, Zami (queer people of color), Queer Jews and Allies, Queers and Allies of Faith, and the Transgender Advocacy Group. The Oberlin Queer Wellness Coalition is new, but that is likely to become a more widely-based gay club/group.
The biggest gay events on campus are Drag Week/Drag Ball (a week-long educational event) and queer nights at the Sco (the college-run dance club). Some housing is also gay-heavy, especially Baldwin Cottage. It is the Women's and Trans* Collective. Baldwin is also a safe-space for those who do need a complete escape from pressures related to sexuality, and is easily one the most open-minded spaces on campus. Also, rugby.
Oberlin is located in Oberlin, OH– and by "located" I mean the college is actually more than half of the town. As a result, the town and college are nearly identical in terms of communities, and thus almost equally as friendly (except for the occasional look from an old lady walking down the street).
Basically Oberlin is one of the best queer communities I've been involved in. It is more fragmented than most, but that is changing. As a result of events like Drag Ball and Safer Sex Week, as well as majors like Gender, Sexuality, and Feminist Studies, people are generally well-educated on queer and trans* issues, and are willing to let you know upfront if they are not. I've also yet to meet a closeted lesbian– a majority of the freshmen either announce their gay-ness or their newfound bisexuality by the end of first semester. Role models, once found, are invaluable resources, and provide proof to many a baby-dyke that there are real-live lesbians in the world and that acceptance is the norm at Oberlin College.

Claremont, CA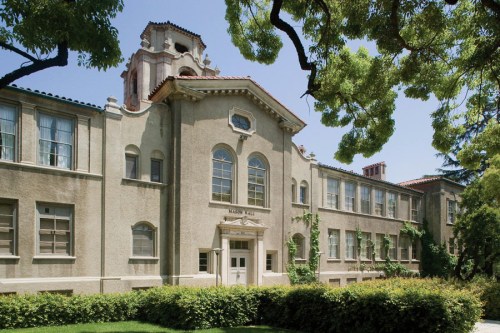 Student Population: 1,560
Tuition: $38,087 (plus $13,096 room and board)
Acceptance Rate: 13.6%
Pomona and the Claremonts (which share one contiguous campus and have a lot of cross-enrollment, but are technically separate institutions) are extremely queer-friendly as far as institutions of higher learning go. LGBTQ ally and awareness training is offered fairly regularly for both professors and students, and I'd venture to say that the vast majority of the student body (and the faculty/staff) are really supportive and friendly towards queer people. Once in a blue moon there will be a 'bias-related incident', usually perpetuated by a member of one of the sports teams, but they're never major and are always taken seriously by the administration (think gay slurs written on a whiteboard in a dorm hall– they're shitty, but they never endanger queer students or even really make anyone feel unsafe. Regardless, they aren't tolerated by faculty at all). Pomona is also wonderful not just for people of varying sexual orientations, but for those with nontraditional gender identities, as well. There's a pretty big contingent of students who go out of their way to make sure they're addressing you with the correct pronouns, etc. It's sort of startling at first, but the level of respect is wonderful and makes me, at least, feel really safe.
The dating scene is more of a hookup scene than anything. There are a lot of long-term relationships, but many of them started as drunken party hookups and then progressed to something more. The relationship rate IS significantly higher among queer women than queer guys, though, probably because there are significantly more women at the consortium than guys (Scripps College is right next door). There's a lot of hooking up with friends and with people who have hooked up with said friends, but that happens everywhere.
The social scene is . . . interesting. Some would say it's too quiet, but I definitely don't think so– you just have to know where to look. There are no fraternity or sorority houses on campus (thank goodness), so ragers aren't too common. Big dance-y parties, which happen about every other week, are hosted by the schools. They're fun, if you're inebriated or just want to dance, but can be overwhelming. There are lots of smaller kickbacks in individual dorm rooms, which are usually where the queer parties happen.  If you aren't into partying there's always hanging out in the dorms/quad/library/whatever.
The Claremonts' version of a GSA is the Queer Resource Center (QRC). The QRC hosts weekly talks on different themes (gender talk, grrl talk, guy talk, etc.) as well as a myriad of other events. Last semester they had a queer faculty symposium series, a bunch of film screenings, a HUGE calendar of events for Gaypril and more.
New queers on campus should definitely check out the QRC. They host the Queer, Questioning, and Allied Mentor Program (QQAMP), which is a really excellent resource. At the beginning of the year, new students in the program can request a student mentor (often one who identifies the same way they do). This mentor will answer questions, provide support, and help them make friends. It's highly recommended for all incoming queer students. Don't be afraid to ask any of the other queer students on campus questions, though– everyone is welcoming and more than happy to have you come along to events, meals, and parties. If you're looking for a place to hang out, definitely check out the Motley. It's a student-run coffeeshop on the Scripps campus that is often a haunt of the queerz. They host a lot of small concerts and open mics, but it's a great place to study or chill with friends too. Plus, the baristas are all really cute! And if you're looking for a place to find other girls who like girls, look no further than the 5C women's rugby team. Stereotypical, but wonderful.
Claremont is a small, sleepy college town, but a very liberal one. As such, it's quietly gay-friendly, but not a lot of people are marching around waving rainbow flags or anything like that. We're pretty close to LA, though, so if you'd like to find gay/lesbian bars or clubs or hangouts, they're less than an hour away.

Houston, TX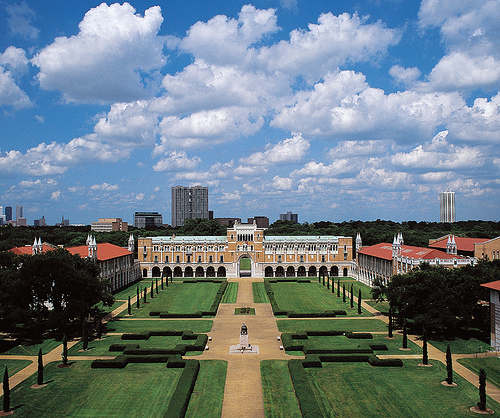 Student Population: 3,485 undergraduate, 2,275 graduate
Tuition: $33,120 (plus $11,750 room and board)
Acceptance Rate: 21%
Rice's general population is supportive of the LGBT communities, but the average student's knowledge and/or understanding of LGBT issues and lifestyles varies. Their knowledge of trans* issues is especially lacking. However, the administration, faculty, and staff are extremely supportive and there are ally-trained psychiatrists, counselors, peer health advisors, and orientation advisors on campus.
Because Rice is a relatively small school, there is a limited dating pool, but the people who are around are cool. If you look off-campus, your dating horizons widen significantly.
Rice students work hard, but they play hard too. Most students study/are really over-involved during the week, and then blow off steam on the weekend. Rice hearts theme parties and has a lot of on-campus events. Because of all of the resources and entertainment available, Rice can become kind of insular/people can become hesitant to leave campus, but if anyone gets out into the real world, it's the LGBT community.
The gay club at Rice is called Queers & Allies. The quality of the club fluctuates year to year, depending on student leadership and involvement, but if you want to be involved and make things happen, it's definitely possible. The club is a healthy mix of a social group and an activist/visibility-based entity, and it holds weekly meetings and monthly events.
For nightlife, there's Blur (lesbian club), South Beach (gay club), and The Usual (lesbian bar, 21+), as well as a number of other gay bars/clubs. If you're into drag you can find queens and kings perform regularly at F Bar (21+), a local troupe of kings called the Gendermyn do drag in the community, and Rice Queers & Allies has an annual drag show in the spring. If you're politically inclined and/or into volunteering, you can attend Equality Texas meetings, check out the Houston GLBT Political Caucus, or volunteer at HATCH (Houston LGBT youth organization) or the Bering Omega House (AIDs hospice). Other things to check out include the Transgender Center, the Houston GLBT Center, Qfest (Houston LGBT film festival), Houston Pride (it happens at night you guys!), and the Rice Center for the Study of Women, Gender, and Sexuality.
As for Houston, it is the largest city with an openly gay mayor. Yayyy! According to the work of demographer Gary Gates, Texas has the fourth largest LGBT population and Houston has the 12th largest number of LGBT individuals in the country. The Kinder Houston Area Survey found that the majority of Houstonians find being gay acceptable and support same-sex marriage. The Houston Independent School District requires every Principal and at least one Vice Principal from each school in the district to attend a two-hour training workshop addressing the rights and safety of gay and lesbian students.
Overall, Houston is a really underrated city with a thriving arts culture and a vibrant LGBT community that always welcomes more queermos! Come to Texas. I promise whatever Rick Perry has isn't contagious.

San Francisco, CA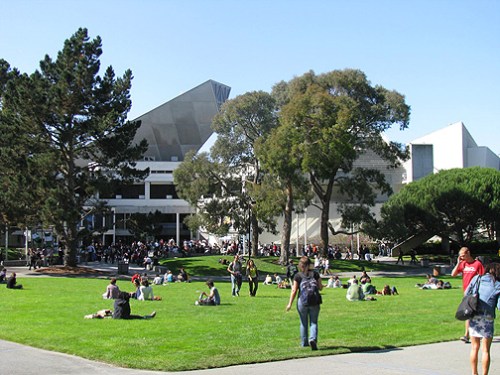 Student Population: 30,000
Tuition: $6,276 to $7,542
Acceptance Rate: 67%
There are two groups/clubs for gays on campus. EGAY, Everything Great About You, is specifically for students who live on campus and it's a good way to get integrated with the gay campus community. The other group is the Queer Alliance, and it's for both residents and non. In my opinion EGAY is better because it's more interactive and has more of a scene. They usually have weekly meetings and have all kinds of events. They host a yearly drag show. All of my experiences with Queer Alliance are "meh" at best. They don't have many members and the members they DO have don't attend the meetings. Occasionally they do have bonfires, parties or other socials, though each one I've personally tried to attend was cancelled, so I don't actually know what goes on.
Though there might be more, I only know of one 18+ club for queers. The Crib is where I go to get my homo dancing on. It's hosted every Thursday night near downtown San Francisco. While there are often time middle-aged straight male creepers, The Crib has about a 75:25 gay to straight ratio, which isn't too bad. The DJ is popping and the crowd is much nicer than the straight crowd that shows up on Friday nights at the same venue.
The best way to get out into the homo world at State is to talk to some homos. At the beginning of the semester everyone is looking for friends so if you start early you'll be bound to find a nice little homo niche to call home. Where there's one gay, there're more.
Also the school has an official site about all things gay.


Claremont, CA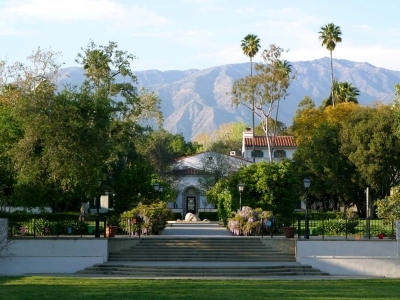 Student Population: 946
Tuition: $52,900
Acceptance Rate: 39%
Scripps College is a women's college located in Claremont, California, and is one of 5 other colleges that make up the Claremont Colleges Consortium. While Claremont is a sleepy little college town, it is surrounded by larger cities (LA, Hollywood, etc.), which helps to widen one's college experience, queer or not.
The Claremont Colleges Consortium share a 5C Queer Resource Center, located on the Pomona College campus, which provides resources, puts on events, and hosts workshops related to queer life on and off campus.
The Scripps Queer and Straight Alliance is called Family and is located in the Scripps Communities of Resources and Empowerment building on campus. Family is an eclectic mix of Scripps students, inclusive of all students, LGBTQ and straight, from all backgrounds. The environment at Scripps is extremely safe and friendly for queer womyn and our growing number of trans* students, who affectionately call themselves "Scripps bois." Students have even voted to change their student government bylaws and constitution to reflect gender neutral language and have been consistently campaigning for gender neutral restrooms around campus.
The dating scene is iffy. Some people find that access to 5 other colleges creates a vast dating scene, while others think it's still too small. There are long-term relationships and extremely quick hookups, as expected on college campuses, and so the dating scene really just depends on who/what you're looking for.
There is a lack of diversity within the queer campus community. There are people who identify as femmes, butches, and bois, but trying to find people who self-identify as studs, AGs, butch dykes, or any other of those categories might be difficult.
The overall social scene isn't bad. There will always be parties at one of the Consortium colleges and almost all of them are open to every campus. There is a growing population of students who refuse to attend events involving alcohol, so sober parties/events can be found campus-wide as well.
New queers at Scripps or any other Claremont College should find the QRC stat. Be friends with everyone in it. It is a friendly, welcoming, accepting and affirming space. Queer women of color should be on the lookout for Queer People of Color Brunches and monthly gatherings.
Nearby gay clubs include The Hookup, Oasis, Alibi East and Menagerie.
Fun Fact: One of Autostraddle's March 2012 Calendar Girls goes here.

Boston, MA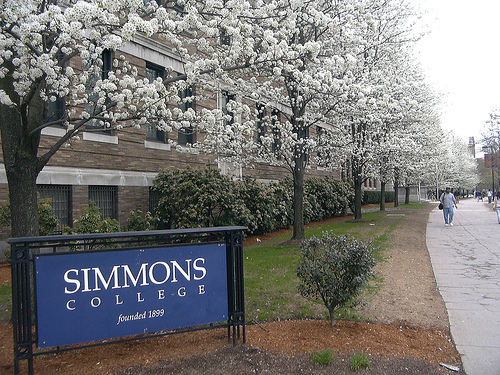 Student Population: 1,900 undergraduate, 3,000 graduate
Tuition: $30,520 (plus $12,050 room and board)
Acceptance Rate: 55% (2008)
Simmons College is a women's college in Boston, which should instantaneously bring queer paradise to mind, obviously. It is very safe for LGBT people, including trans* men (hooray for gender neutral bathrooms!), especially with out queer people in the Public Safety Department. It's especially safe for lesbians and queer women because we're a women's college. Since it's small the dating scene can feel a little claustrophobic at times, but it's easy to date people off campus. That way you don't have to overhear gossip about yourself in the dining hall. There aren't a lot of social activities on campus, but most everyone is friendly and when you make friends you can go have adventures in Boston!
LGBT groups include the Alliance, our GSA, and the Women's Center, which partners up with other groups to put on The Vagina Monologues and other queer-friendly events. They are both pretty active and a lot of fun. Boston is also very gay friendly and there is plenty to do.
Tip: Take "Intro to LGBT Studies" when you get here. It's enlightening and you're guaranteed to make queer friends!


Northampton, MA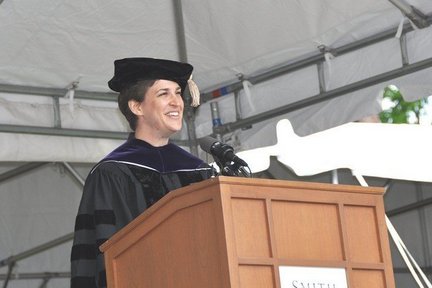 Student Population:2,500
Tuition:$39,800 (plus $13,390 room and board)
Acceptance Rate: around 50%
At Smith being queer is a non-issue. Most people don't have to come out as queer – it tends to be something that is either assumed or met with as much surprise as if you stated your favorite color. This is not the case at some of the other "5 colleges" campuses. Your homosexiness may not be as respected and/or accepted at UMass Amherst and Amherst College.
Smith is located in Northampton, Massachusetts, which is an historically queer friendly place. At the peak of lesbian feminism in the 1970s, Northampton became a kind of lesbian Mecca. It was even dubbed "Lesbianville, USA" by a 1992 article in the National Enquirer. Northampton is a rare small city in which being queer is seen as the norm.
Active queer groups on campus include:
+ Queerz & Alliez, which is a general group for queer students.
+ Prism for queer students of color.
+ Femmepire for queer femme women, who often feel invisible within the androgyny of the queer population.
+ Transcending Gender, which is an organization for trans* students on campus.
+ And the radio station, which is basically a GSA.
Most queer organizations meet at the Resource Center for Sexuality and Gender, located in the basement of Wesley House. But due to the queer-friendly atmosphere at Smith most queer students don't feel the need to participate.
The overall social and dating scene at Smith is very queer friendly and Smith isn't divided along lines of sexuality; everyone is friends with everyone regardless of what floats your boat. Most Smithies are closest with members of their house (that's what we call dorms), all of which are student-governed and have fun traditions. On the weekends, there is usually at least one college registered open-house party in the Quad. This is a good place for a queer lady to find a hook-up. The various student-of-color organizations also throw a lot of college-registered parties in the Campus Center, which generally draw more men (and straight Smithies). Due to the small size of the school, queer interactions can get a little incestuous and everyone knows your drama, but it's a small price to pay for a little slice of third-wave heaven. In general, it is much easier for queer Smithies to find girlfriends, dates, or hook-ups than for straight Smithies to meet men.
To a new queer on campus, I would recommend Quad parties, the annual Drag Ball, Celebration, Diva's (Northampton's LGBT nightclub) and joining any club or organization that they are interested in, because they are certain to meet other queer Smithies anywhere they go. For any student, I recommend getting involved in your house community because you can truly make lifelong friends, queer or otherwise. I also highly recommend the Study of Women and Gender program (SWAG).

Pages: 1 2 3 4 5See entire article on one page