Tuscaloosa, AL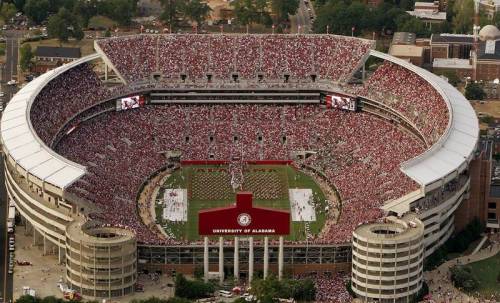 Student Population: 30,232
Tuition: $4,300 to $10,950 (plus $5,700 room and board)
Acceptance Rate: about 60%
When you think of the University of Alabama, you probably think of one thing and one thing only: football. It's what everyone knows us for, but what most people don't know is that we also have a fairly large queer community.
The campus and the surrounding bubble are relatively safe for LGBTQ+ students, though I don't think that necessarily translates to being friendly, at least not at all times or under all circumstances. However, when you get outside of the area immediately around campus it is even less safe. Queer women are definitely subject to less aggression than queer men, and of course the feeling of safety declines even further for our trans* students. However, the progress we have made for our trans* students includes a comprehensive list of gender neutral bathrooms all across campus, and a preferred name field on our website, making it possible for all students to list the name they would prefer their instructors address them by. The university has a non-discrimination policy that includes sexual orientation, but we are still working on getting gender identity and expression included.
The only time you might not feel completely safe on campus is during a game day when there are lots of non-students on campus or around the older Greek organizations. Some fraternity houses are still dealing with issues of racism. Homophobia isn't even on their radar. This is not to say that ALL traditional Greek organizations at UA are unfriendly. They can sometimes give off that a heteronormative vibe, but last year, our GSA hosted a discussion called "Gays and Greeks" to discuss this issue and we realized that we stereotype them just as much as they stereotype us. And there are a couple of multicultural sororities that are openly welcoming to queer women.
The dating scene is kind of lackluster. There are a lot of people that aren't fully out or just don't feel the need to participate in any queer-related educational or social events. In my experience it seems as though a lot of the queer community here is looking for casual, semi-discreet fun. To find a girlfriend, rather than a hook-up, try Spectrum meetings. Spectrum hosts academic discussions, movie nights and game nights, as well as a lot of events in October for Queer History Month, including an event called "Coming Out on the Quad." Spectrum also has a presence in the homecoming parade and in the Birmingham Pride parade every year. Check out Spectrum is what we're saying: spectrum [at] ua dot edu.
For off-campus solicaizing:
+ There's a white male oriented gay bar
+ A Tuscaloosa chapter of PFLAG
+ Several queer-inviting churches, including Canterbury Episcopal Chapel, and University Presbyterian Church.
+ Central Alabama Pride festivities and parade
+ And people often make the hour-long drive to Birmingham to visit are a few more bars/clubs like Club 21,  Quest, Joe's, and Our Place
On-campus support relevant to your interests:
+ The faculty equivalent of Spectrum is the Capstone Alliance. Grad students can be involved in either or both.
+The Safe Zone program trains students and faculty who wish to be more knowledgeable about and sensitive to LGBTQ+ issues.
+ UA even made and an It Gets Better video.
+ The Women's Resource Center hosts a Brown Bag Lecture series, which often speaks to the issues faced by queer women.
UA definitely has a lot going on (at least more than people seem to expect) and there are a lot of opportunities to get involved. It's not a perfect environment, but there are a lot of people working to make it better.


Santa Cruz, CA
by Megan

Student Population: 14,888 undergraduate, 1,444 graduate
Tuition: $12,732 (plus 14,172 room and board)
Acceptance Rate: 65%
UC Santa Cruz is the most beautiful place to go to college and home to some of the most beautiful queer women I have ever seen. On any given day, you will observe about a dozen dread-locked lesbians sipping on organic teas, trying to figure out on which part of their messenger bags to put their HRC sticker.
As a student of the Feminist Studies department, I was taught that "sex is what's in your pants, gender is what's in your head and sexuality is what's in your heart". That is the perfect way to sum up Santa Cruz's collective community ideology. The Zami co-op in downtown Santa Cruz is a gender queer co-op that promotes trans* awareness as well as community activism and sexual education. Plus it's home to some of the hottest genderqueer shes, hes and xes and the rent is cheap. Oh, and they have naked paint parties.
I am personally involved in the nation's first and only (that I know of) gender-neutral queer frarority (fraternity + sorority, get it?). Basically our goal is to queer Greek life on our campus and promote more gender neutral activities. This last year, we were able to get the Fraternities and Sororities on campus to make the Greek-Week dodgeball game gender neutral.
Santa Cruz is the place you go when you want the queer subculture you live in to be the dominant one. It is also probably one of the only college campuses where, "Hey beautiful, what's your PGP," is an appropriate pick up line. The queer community here is effortless because for most people, it is just life as usual.

Storrs, CT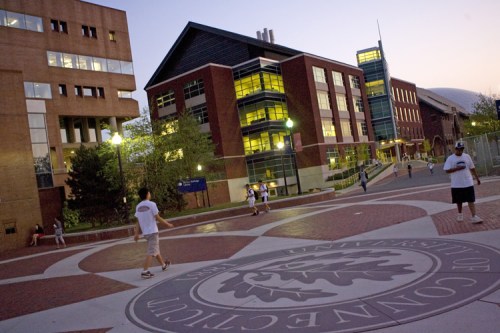 Student Population: 21,881 undergraduate, 8,153 graduate
Tuition: $10,416 to $26,880 (plus $10,552 room and board)
Acceptance Rate: about 55%
The main thing about UConn is that it is HUGE. The plus side of going to such a big school is that there are about eight million clubs and other social activities for you to participate in! UConn has Cultural Centers at the Student Union to promote diversity. Centers relevant to your interests are the Rainbow Center and the Women's Center. These centers exist to create a safe space– everyone is welcome! The Rainbow Center has FREE COOKIES AND TEA every Friday. The Women's Center has lots of queer girls on staff, naturally, and it is a very supportive and nurturing environment. The Rainbow Center and the Women's Center run all sorts of support groups and social events for queers. The awesome thing about the school being so big is that there is MORE THAN ONE group of queers. Some groups focus on violence against women, others fight for marriage equality and others plan awesome parties, like the Drag Ball. The balance of political and social clubs is really cool.
I almost always felt safe at UConn. There was the occasional catcall or creepster boy, but, tragically, that happens every/anywhere. And one time a student made me feel uncomfortable in class by making a derogatory comment about lesbian sex. The professor was super supportive and worked with me to reach a solution. I had a few queer professors, who were all awesome and great role models. I got to take a queer literature course, and the one of the heads of Student Mental Health Services is queer! There is a lot of support on campus for queer folk, and even though I heard the occasional bigoted comment, right before I graduated, an out queer activist was voted Homecoming King!
As far as dating goes, I managed to get my heart broken a few times, so I guess that is about right for the college experience.
UConn is in the middle of nowhere, and there is no town around it. It's just you and the university. But I managed to be taught by queer professors, read books by queer authors, work with queer students, and make friends (and make out) with other queer folk. Not bad!

Chapel Hill, NC

Student Population: 18,500 undergraduate, 11,000 graduate
Tuition: $7,008 to $26,834 (plus $9,470 room and board)
Acceptance Rate: 17% (2010)
UNC is an extremely LGBT-friendly environment. There are lots of queers on campus and our LGBT population is extremely visible. This is due, in part, to GLBTSA (Gay, Lesbian, Bisexual, Trans, and Straight Alliance) and their efforts to spread acceptance through events like Ally Week, our bi-annual drag show, and other social activities. They also participate in LGBT events in the surrounding community, such as the pride parade in Durham.
Through the LGBTQ Center on campus we also have a special gay graduation ceremony, peer support groups, weekly support dinners for trans* or gender questioning people, and many more events. The University even has a policy of gender neutral language– for example, we have "First years," not freshmen. Though one normally wouldn't think of North Carolina as a queer-friendly place, UNC and the Triangle (Raleigh, Durham and Chapel Hill) are definitely very accepting.
Although it sometimes seems like LGBT life at UNC is dominated by gay men (like everywhere else), we have our fair share of things for queer women. If you're looking for a date, you should probably just stop by a women's rugby game, attend a "gay night" at a club off campus or drive about a mile down the road to the town of Carrboro. Once there you'll want to make your way to the Weaver Street Market, an organic food co-op, where you'll spend 99% of your time asking yourself if that cute girl is a hipster or lesbian. (HINT: She's probs a lesbian.) The bars in Carrboro are also great places to meet girls. And Duke is just 8 miles away so that helps in the dating department because they, too, have a good queer scene.


Ann Arbor, MI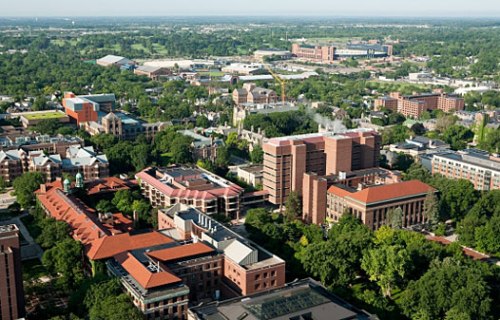 Student Population: 41,924
Tuition: $12,263 to $36,675 (plus $9,192 room and board)
Acceptance Rate: 50%
The University of Michigan – Ann Arbor is essentially a Mecca for LGBTQA-Z students. While there will always be exceptions, as a whole, the city of Ann Arbor and U of M are unbelievably supportive and accepting of our community. As a clearly gay, 5-foot-nothing girl on this campus, I've never felt attacked, unsafe or ostracized. I've never felt hesitant to hold my girlfriend's hand while walking down the street or avoided talking about my significant other in classroom settings. I've had many gay professors and with classes taught by the greats of queer scholarship (David Halperin, Gayle Rubin), and classes like "Intro to LGBTQ Studies," you will never feel alone.
The dating scene here is complicated, but not all that difficult to navigate. The gay community is so spread out that it can be difficult to really find what you're looking for, but there is no shortage of opportunities to try to find a fit because of how visible and out so many people are. You can find the entire spectrum of romantic intentions– from those that are looking for lifetime partners to those that are just looking to hook up.
The social scene varies as much as anything else. There is a great club and scene for queer students that includes, but is not limited to, two gay nights every week at the infamous Necto Nightclub, two a month at LIVE, frequent drag performances from the home-grown troupe Drag King Rebellion and the ever-fabulous Aut Bar. For those that don't like to go out (or aren't 21 yet) you can usually find a house party hosted by any number of the gay cliques on campus every Friday and Saturday night (don't worry, we're easy to find).
Campus life for queer students is amazing. There are many formally recognized gay clubs that really reach out to all corners of the UM population. We have clubs that focus on specific issues. Some are geared toward specific identities, such as BiLateral for bi students and their allies. Some are specific to majors, such as OutLaws or oSTEM (Out in Science, Technology, Engineering and Math). The LGBT Commission of the Michigan Student Assembly addresses LGBT issues on campus. Involvement in these student organizations makes it easier to meet new people and make friends. Any and all gay friendly student organizations can be located through the Spectrum Center— the central office for LGBT students on campus. It's the oldest office of its kind in the nation and just celebrated its 40th anniversary. Check out Gayz Craze in the beginning of the year. It's a good introduction to everything organized and gay.


Minneapolis, MN

Student Population: 50,067
Tuition:$13,060 to $18,060 (plus $7,728 room and board)
Acceptance Rate: 48%
The University of Minnesota – Twin Cities is located in Minneapolis — the 'gayest' city in the country. With over 40,000 undergraduate students and 15,000 graduate students, it is easy to find your gay social niche on campus. But not only is UMN gay– it's really fucking queer. Hence the name for the safe-space on campus: the Queer Student Cultural Center (QSCC). Incoming freshmen have an opportunity to live on an LGBT-inclusive floor called Lavender House. And the GLBTA Programs Office offers resources, information, and addresses concerns about the LGBT environment around campus.
In terms of 'the scene', there are plenty of queer ladies at UMN– it's only a matter of finding them. There's lots of ladies in the Gender Women and Sexuality Studies (GWSS), but gay ladies can be found in almost any department from art to engineering. The stereotypical Minneapolis queer lady has piercings and lots of bicycle gear. But don't let that fool you, there are plenty of femme ladies to flirt with. Overall, UMN is very gay-friendly and it is a joy to be as out as you want with little to no social reaction.

Philadelphia, PA

Student Population: 10,394 undergraduate, 10,809 graduate
Tuition: $42,098 (plus $11,878 room and board)
Acceptance Rate: 14.3%
The queer social scene at UPenn is fairly overwhelmingly male, although with the new Queer Ladies group, a vibrant non-male scene is forming. The queer social scene as a whole, though, is quite robust, with lots of queer parties and events. It's really easy to find the scene and jump in. The campus is LGBT-friendly, and becoming more T-friendly with time. Students have access to transgender healthcare through student health insurance, no extra charge. There is a lovely LGBT center on campus, open to anyone. There are a handful of queer organizations, and Lambda Alliance is the umbrella for those. There is Queer People of Color, J-Bagel (Queer Jews), Wharton Alliance (Business Queers), Allies, Queer Student Alliance, Queer Ladies at Penn, a Queer Nursing group, a Queer Athletics group, and I'm probably forgetting a few.
For the new lady queers, I'd definitely suggest checking out the QL@P group. They have movie nights and lunch hangouts. Or just saying "Hi" to one of the members is a great way to meet ladies. Also pop into the LGBT center and introduce yourself to Bob Schoenberg, who runs the place. Come to a meeting of any of the queer groups, and just start talking to people. For parties off campus in Philadelphia look downtown in the Gayborhood. Yes, it is actually called that.

Seattle, WA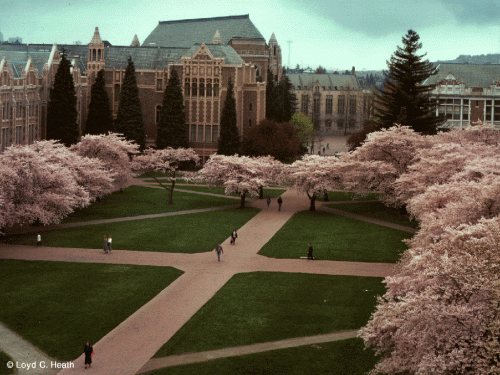 Student Population: 34,523 undergraduate, 11,592 graduate
Tuition: $10,346 to $27,830 (plus $9,771 room and board)
Acceptance Rate: 57.7% (2009)
The environment is fairly safe/friendly for queer students. My friends and I feel very safe on campus and I have never heard of anyone who had issues with violence or discrimination. There are also queer people in the student government (ASUW) as well as openly queer people in administration. The environment is not quite as friendly for trans* folks because UW doesn't have gender neutral housing or a lot of gender neutral bathrooms yet and there is still some blatant transphobia on campus, but everyone is still pretty safe. There is a very large population of lesbians/queer women on campus. Sometimes 90% of the people at GLBT meetup will be women. There are lots of different groups of queer women. You've got the rugby players, the Gender, Women, and Sexuality majors, or, you know, both.
The Q Center provides a physical space for hanging out. It also hosts groups, puts on events, and advocates for the interests of queer students on campus. There is also an independent student group, Students Organizing for LGBTQ Equality, which focuses on queer activism around campus. The Gay, Bisexual, Lesbian, Transgender Commission is a student government group that holds weekly meetings and puts on events like the ASUW Drag Show, which is a MUST SEE!
Most queer students go to meetings or clubs relevant to their interests and end up developing a circle of friends from there, so I would definitely recommend going to a couple of meetings that you find interesting. UW is located in Seattle, which is quite queer-friendly. The university is located in an area known as the University District, which is good. Just a short bus ride away is Seattle's gay neighborhood, Capitol Hill, which is has lots of queers, resources, bars, and events. The gay bar/club Neighbours, which is in Capitol Hill, offers one underage night per week as well as all ages after 2am on Friday and Saturday. It's late, but its still a lot of fun.

Nashville, TN

Student Population: 6,831 undergraduate, 5,045 graduate
Tuition: $39,952 (plus $13,068 room and board)
Acceptance Rate: 16.3% (2010)
Gay life at Vandy is a B-. There are some resources on campus and Nashville is a good city, but the campus can seem very segregated between Greeks and non-Greeks. On top of that the non-Greeks are further segregated — the international students stick together, the smart kids never leave the library and you'll want to seek out the drama/theater department for open-minded individuals.
There are more gay men on campus than girls. This past year a gay fraternity was organized and approved, but they're small at around a dozen male members. I know of one trans* guy on campus. Most people seem supportive of him. Safety isn't really an issue for LGBT students. I don't know of any bullying or attacks – no violence, just some good old-fashioned southern prejudice.
There is an LGBT resource center. It's a small little building on campus, but a safe place to gather! They have lots of resources and information and they host lunches on Fridays!
Nashville has about three gay bars/clubs. Wednesday night is college night at "Play," the largest gay dance club. There's no cover charge with any Nashville college ID. There's a very cute gay bookstore with gifts and trinkets downtown. There's a great music scene; it's mostly of country (obviously), but other good shows come. Tegan and Sara stopped by last spring!

Poughkeepsie, NY

Student Population: 2,400
Tuition: $42,560 (plus $10,080 room and board)
Acceptance Rate: about 24%
The environment at Vassar is extremely safe and friendly for LGBTs. The liberal arts atmosphere breeds a certain sense of invincibility, where it's nothing for one to be out not only among one's peers but even with bosses and professors. I will say this: the gay male population is much more visible and represented, and to some degree, there is a struggle to find a space for queer women on campus.
The social scene is active, but dating can be . . . tricky. There is a lack of variety in 'types' of women and there are more women open to a queer experience than outright lesbians. Find a Drama major. It's party central and a hotbed of queer activity.
We have several LGBT groups on campus. ACT OUT has been active in the fight to pass marriage equality in NY. There's also the Queer Coalition of Vassar College, which has become a social club for the gay men, but we're working to improve diversity. New queer students should check out those groups regardless. Visit the LGBTQ center. It's a great place to study and socialize. They occasionally have free pizza!
If you want lesbian-specific activities, there is an all-women comedy group, which isn't officially 'gay,' but, well, you'll see. And keep a lookout for clandestine Queer Lady Parties.
Vassar is located in Poughkeepsie, which is not a very gay-friendly place. Once off the Vassar campus, people are often on guard. Students can hold hands on campus, but outside the gates some stares and maybe harassment is a possibility.


Wellesley, MA

Student Population: 2,300
Tuition: $39,420 (plus $12,284 room and board)
Acceptance Rate: about 36%
At Wellesley, you'll never be the only gay in the room. It is a truly gay-friendly place. It's common to see lady friends holding hands, or other forms of PDA, on campus without worrying about repercussions. Not only are you safe here, you are welcomed with open arms.
The gay scene on campus is great. Places to find like minded ladies:
+ The Hoop – The student-run co-op cafe in the campus center that makes the best nachos on the planet.
+ The Pub – You will ALWAYS find queer students here. You don't need to be 21 to go in this pub and there's a new theme every Thursday. If there's one things gays love, it's a THEME.
+ El Table – Another student-run co-op that makes sandwiches and sells delicious things in the basement of an academic building.
+The Shakespeare Society – A theatre troupe-like group that produces an all-female Shakespeare production every semester
+ And rugby – Duh!
We also have organizations specifically aimed at queer woman of color. At the beginning of the year, this groups will all advertise themselves to the student body with great zeal. You will find queer students in just about any organization you join. Join things. You will find the gays.
The dating scene is very good. I highly recommend it. You'll get the inevitable awkward feeling that everyone has dated everyone else, but that comes with the territory of being gay in any social circle. Rest assured the pool of candidates is large enough that you will not be limited to dating your best friend's ex.
There isn't too much going on in the actual town of Wellesley, but I don't know of anyone who has had any issues with being queer in town. There is a bus that goes directly from the campus into Boston. There you'll find cafes, Trident bookstore and clubs. Most of the queer night club scene is 21+ only, and a lot of things close down around midnight because that's when the public transportation stops. Boston has plenty going on, so no matter what you're looking for, you'll find it.
At times it seems as though the Administration is trying to keep a lid on the queer community; however, progress has been/is being made. A LGBTQ Advisor has recently been appointed. Her mission is to find out what our needs are and work with the Administration to meet those needs.
Baby queers should go to the Hoop, order some food and do some homework while listening to Tegan & Sara. Join an organization. Spectrum is an all-inclusive gay organization that runs events. They have a big sibling/little sibling program if you are looking for someone to show you the ropes. The campus is full of bois AND femmes, so don't assume the lady sitting next to you is straight just because she has long hair and sports high heels. Keep a look out for "The Wellesley Chop," our very own alternative lifestyle hair cut. And don't miss the Dyke Ball. It's the prom you wish you had!

New Haven, CT
by Brittani
Student Population:5,279 undergraduate, 6,381 graduate
Tuition: $40,500 (plus $12,200 room and board)
Acceptance Rate: 7.5% (2011)
There are a lot of places to be gay. The grocery store, an amusement park, your house. Thus far, Yale has been my favorite. It's a magical place and not just because Yalies like to pretend it's Hogwarts. Affectionately known as "The Gay Ivy" with a musical and admissions video to prove it, Yale provides a great environment to come to terms with the gay. Trying to figure things out or find some cute queers to study with? Take Gay and Lesbian History, taught by none other than one mother effing George Chauncey. You might remember him from the Prop 8 trial when he was a boss. Proof of his bossness? He goes to lunch with all the students that take his class to talk to them about the environment for queers at Yale. It's a really fun, informative, and popular class that I wanted to do all the reading for. Doesn't matter whether I did or not because it's the thought that counts in these matters.
It's a well-known fact that there are a few sure shot places to find queer women carrying on gaily amongst their peers. They include the Women's Rugby Team and Yale Precision Marching Band. As for official groups, they fall under the LGBTQ Co-op umbrella which is responsible for many of the events, fellowships, and services that appeal to your gaymazing interests but are available to the entire Yale community. I never made it to a meeting but then again I didn't attend a single Black Student Alliance meeting either. Naps needed to be taken. However, I did make it to many Pride Month, Trans Awareness Week, and Sex Week activities. Two of the more debaucherous events include Drag Ball and the Bad Romantics drag and burlesque show. Also worth mentioning are Sappho, a group for queer women, and Prism, a group for LGBTQ people of color. If you have some gay problems or you're just a gay with problems, lean on Queer Peers who offer LGBTQQAA people help with their shit. We even have LGBTQ groups for grad students so I'll have people to hit on when I go back to visit without feeling creepy. Yayyy for meeeee. Speaking of being an alum, I should look into joining GALA, our LGBT alumni network. I think this qualifies as gay-friendly. Or just really gay.
One of the best programs at Yale for incoming queers is the LGBTQ Peer Liaisons program. Peer Liaisons are third and fourth year students who help first year students adjust to campus life and connect with the LGBTQ community.
Pages: 1 2 3 4 5See entire article on one page