Amherst, MA
by Kalei & Liz

Student Population: 1,500
Tuition: $41,900 (plus $11,180 room and board)
Acceptance Rate: about 53%
Hampshire College is nestled in Amherst, MA, which is a progressive little town close to Northampton, MA (the lesbian capital of the world). The town has lots of quaint stores and vegan/vegetarian restaurants as well as a few bars that Hampshire kids have to share with Amherst College and UMASS Amherst. Hampshire is made up of only individuals; people that shy away from "socially-acceptable" notions of gender, sexuality, presentation and most other aspects of identity. Hampshire is extremely permitting of all-things LGBTQQIA, and in fact there is a "Queer Community Alliance" event built into the orientation program almost annually.
Many women at Hampshire are queer-identified, few strictly identify as lesbians. Many female-bodied queer folks don't even identify as women. Most people on campus attempt to be trans* friendly. Asking for someone's pronouns is built into orientation, and many who attend Hampshire are able to question their gender with the support of peers.
It is difficult to locate a date that a friend hasn't already dated because the school is so small. Granted, an upcoming Hampshire student can benefit from the close relationship/bus-ride we have with Smith and Mt Holyoke College. There are several multi-campus events and one can expand her community by taking a class at another one of the schools. People are generally outgoing and friendly – especially in the first few weeks of each semester, so finding friends who share your beliefs will be a cinch.
On-campus activities range from meet-and-greets to large dances and lectures. The Queer Community Alliance is an umbrella student group that has several sub-groups including TSA (Trans-Student Alliance), Fempire, Queer International & People of Color and Alternative Sexuality Collective. These groups are active on campus and have WEEKLY meetings and/or events such as the Gender F*ck Dance and queer soccer games. Sometimes these initiatives fall flat and fail to involve enough of the community, but typically they have a pretty big draw.
Ultimately Hampshire will be what you make of it. All beginnings at this school WILL undoubtedly be awkward, but the people that can break through this unnerving shell will be rewarded with rainbows.

Ithaca, NY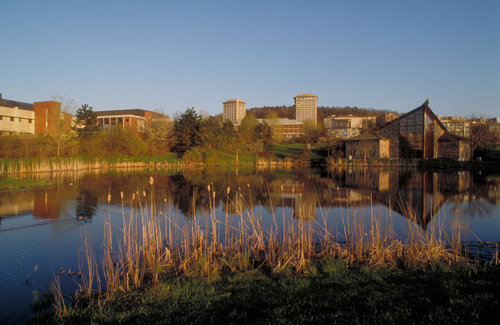 Student Population: 6,442 undergraduate, 507 graduate
Tuition: $35,278 (plus $12,854 room and board)
Acceptance Rate: 69%
Without sounding like too much of a scummy college tour guide, I highly recommend Ithaca College for all of your lesbian liberal-arts needs.
Ithaca itself serves as college town to both Ithaca College and our dear neighbor Cornell University. The area is bustling with eccentric people– street magicians, tattooed ivy league geniuses, aggressively talented Frisbee players– so being a gay dude or lady doesn't phase anyone. The best way I can describe the city's approach to the GSM community is "cheerfully apathetic." It's an excellent college town, very gay friendly, and safety for anyone– queer, lady, queer lady– is rarely an issue.
I've never heard of anyone being abused verbally or physically for being gay while on campus. There may be a few awkward questions from acquaintances, but I don't know of any aggression against gays. Of course if you're looking for people who feel strongly about gay rights, look no further than Ithaca College. Now Ithaca's website will tell you we have four LGBT organizations: one for bisexuals, one activism group, one for student athletes and one for anyone in the queer community. However, I always secretly count IC Feminists as a gay club, too.
If you don't want to exclusively hang out with queermos, IC has a club for everyone– Harry Potter alliance, theatre, music groups, a student-run TV station, intramural and D3 sports teams, student government, video game designing, religious groups, circus club. Whatever you're interested in, there's probably a group of people already really excited about it. Let your freak flag fly.
We also have an awesome LGBT center for counseling, activism, or whatever you need. Plus its director just received Planned Parenthood's top honor for educators. Did I mention Ithaca College is one of the nation's top 100 schools for LGBT students? Yeah, we're pretty swanky.
I can't speak to one specific dating "scene" on campus. A lot of gay ladies meet through the LGBT-specific groups (Prism and Spectrum are fairly social clubs) but I met my group of GSM friends through DJing at the student-run radio stations. You may also meet a bunch of people through your major—we have huge theatre, music, and communications departments. One of my favorite things about IC is there are too many awesome people, LGBT or otherwise, to keep track of.
The city of Ithaca itself is also gay-friendly. There's lots to do and it's safe unless you're a pot plant. It's a good place to be queer.

Baltimore, MD
by Rose, AS Contributing Editor
Student Population: 4,980 undergraduate, 1,842 graduate
Tuition: $40,680 (plus $12,510 room and board)
Acceptance Rate: about 20%
I am primarily a student at the Peabody Conservatory, a music school that is a part of Johns Hopkins, but in a different part of Baltimore from the main campus in Homewood. However, I spend a lot of time at both campuses, so here is my insight into what it's like to be queer at Hopkins:
On the one hand, JHU is a fairly liberal university which cares about its queer students. The Homewood campus has some issues with misogyny from certain students, but homophobia is generally frowned-upon across the various campuses, at least in my experience. You'd be hard-pressed to find many openly hateful students, and pretty much all the faculty and staff I have met have been supportive. There are also queer student groups on the various JHU campuses; out of them, I only have experience with DSAGA (Diverse Sexuality and Gender Alliance) at the main campus and the Peabody GSA, but they are both great. DSAGA, in fact, is huge, and they have great weekly discussions, regular trips to clubs in D.C. and lots of other great events. JHU doesn't have an LGBT Center or anything, but overall I've always felt like the various services on campus address the specific needs of queer students.
On the other hand, there aren't a lot of dating opportunities. Oh sure, the Peabody campus, like any other performing arts school, has a ton of gay guys. There's even a saying here about unattached freshman dudes – "If he's not gay, he's gay by May!" But queer girls are less common, and JHU in general does not have a strong "queer community" of its own. If you want to find one, you need to head off-campus – Baltimore has a fair number of queer establishments (especially in the Mount Vernon neighborhood) and in general is a large, progressive city with friendly people and lots of things to do. Baltimore isn't New York; you have to seek out the fun rather than expect it to come to you, which is why some people (wrongly) believe Baltimore is boring. If you take time to ride the Charm City Circulator and JHMI Shuttle to the city's various neighborhoods, though, you will find a diverse array of sights and experiences (though don't go into every neighborhood; Baltimore isn't the safest city). If that's still not enough for you, D.C., Philadelphia and New York are all within a few hours' drive!

Gambier, OH

Student Population: 1,600
Tuition: $41,090 (plus $10,020 room and board)
Acceptance Rate: 33.5%
The environment is pretty lesbian/queer women-friendly and feels very queer safe. There is occasional leering from some fraternities but most students are extremely accepting and supportive.
Kenyon is a small school. Even the heteros complain about the small dating pool and how incestuous most friend groups seem to be. The queer women's scene is no better. Most girls don't have a problem with it, but it's definitely something that you'll have to adjust to. But the dating scene is totally what you make of it and if you want to actually go for coffee with a person you think is cute, you can make it happen.
The social scene is super lively. Though Kenyon has Greek life, only a small portion of the population actually pledges, making frat parties inclusive campus events. Speaking of Greeks, there are a fair number of out queer sorority and fraternity members. For those who aren't inclined to attend an enormous keg n' dance party, there are TONS of bands to check out, active literary and book writing circles, smaller house/apartment parties, movie nights, pool tables, plays, and a cappella concerts, etc. More students attend the pre-game a cappella concerts and comedy shows than the actual football games. Because Kenyon is in the middle of nowhere, students have figured out millions of ways to stay entertained on campus.
There are three queer campus organizations. Unity House is both a student residence and an general GSA organization where the student managers lead a meeting once a week. The Queer Women's Collective (colloquially known as Qdubs or QWC) holds meetings once a week in various locations around campus. Membership is anonymous and there is a very strict "no discussing who was at the meeting outside of the meeting" rule, keeping it safe for women who are not out on campus to attend. It's mostly a social organization where meetings can consist of anything from pizza and board games to poignant discussions about what it's like to be a queer college student. Also, the leaders mandate a "keep your drama at the door" rule, making sure that you and your ex-girlfriend can both happily attend. Additionally, there is the Queer Men's Society, which functions in the same manner as Qdubs.
Definitely, definitely attend a Queer Women's Collective meeting. The queer ladies who attend range from Gold Star Lesbians to those who are still questioning and are extremely welcoming, warm, and friendly and love to see new faces at any point in the semester. Other not explicitly gay but very gay-friendly organizations are: ECO (lesbians love the environment), the women's Ultimate Frisbee team, Women's Rugby, PEAS, the Crozier Center for Women, and the Owl Creeks who are seriously the hottest all-girl a cappella group. Ever.
In Gambier, most of the residents are professors or associated with Kenyon is some way, making them fairly queer friendly. The closest "real" town is Mt. Vernon, which is about 10 minutes away by shuttle or car. Mt. Vernon is not queer friendly and has a large conservative Christian population. Columbus, which is and hour away, has a thriving lesbian scene. Seriously, the Short North is like a lesbian hot spot and it's marvelous.

Montréal, Quebec
by Carolyn, AS Contributing Editor
Student Population: 25,267 undergraduate, 8,301 graduate
Tuition: $3,652 to $16,690 depending on citizenship
Acceptance Rate:46%
The main gay group/ official presence at McGill is Queer McGill, which is a student-run organization that I have heard unaffectionately described as "a clique-y bunch of leftist exclusionists." The few times I went to meetings (not larger events, which, it should be noted, were much different), I got the sense that as a lesbian with a mostly unexciting gender presentation, I wasn't queer enough to stay. Queer McGill does do some awesome things — there are welcome discussion groups, regular coming out discussion groups, several large dance-, booze- and make-out-fueled parties, and an office (with books!) to hang out in if that's your cup of tea. But a significant number of queer people on campus seem to be unaffiliated, and I have no problem understanding why.


Generally speaking, McGill is gay-positive. It has: The Union for Gender Empowerment (even more books!), political working groups, a McGill Senate committee to advocate for queer and trans* students, faculty and staff, a sexual diversity minor, and lots of gender neutral bathrooms. And most of the time if you're being stared at for holding hands on campus, it's by another gay girl checking you out (and, there seems to be a lot of them. So that's a plus). Montréal is also pretty queer-positive, and has plenty of events, groups, and bars (check out Faggity Ass Fridays, a dance party; Project 10, a queer youth support service; or Drugstore, a mostly lesbian bar) to make up for whatever campus is missing.

Evanston, IL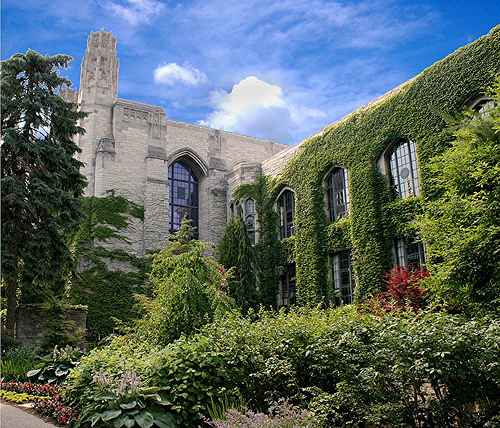 Student Population: 8,367 undergraduate, 8,108 graduate
Tuition: $13,864 per quarter
Acceptance Rate: 23% (2010)
The overall atmosphere towards to LGBT community at Northwestern is quite accepting, especially with our big theater department. There is an LGBT Resource Center, a Rainbow Alliance, Rainbow Week, a chapter of the National Lesbian and Gay Journalists Association, gender-open housing, Greek Allies and a Women's Center. Attendance at Rainbow Alliance meetings is very low, and the people who do go seem to be a bit of a clique. But I would recommend at least going to a few meetings at first to meet people. The new Guidance and Peer Solutions (GPS) program is a pretty good way to start becoming involved in the community by learning from an older student. And you definitely don't want to miss the Drag Show in the winter.
NU is very Greek, though, and I think to some extent, the structure of the Greek community (its dress code & social schedule in particular) squelches the lady gays a little bit. The gayish sorority, Alpha Delta Pi, is gone. Frankly, that sums up the condition of the lesbian community at large. Everyone means well but there aren't enough visible lesbians to make any sort of homo scene for women a reality.
To be honest, there is no dating scene. Just don't even try, it's heartbreaking. Join the rugby team, as we are getting gayer, need rookies, and are going someplace homosexual for spring break. I hear the soccer team's pretty gay too.
While Evanston is as heteronormative as they come, it is super close to Chicago, which means if you're willing to sit through the first awkward five minutes of a Chicagostraddlers meetup, you will be rewarded with a wonderfully diverse queer posse who will accompany you to derby matches, lady arm wrestling, chicken and waffles, Pride, FKA at Big Chick's, brunch at the Chicago Diner, and pretty much anything involving alternative lifestyle haircuts/flasks. Having a fake ID is strongly recommended, as you do not want to miss the WCR afterparties.
One last thing: take Lane Fenrich's queer history course. The man (gay, dean of freshmen, searingly brilliant) is just fucking magic; you will be a better homo for having taken his class. Also there's a secret Einstein's Bagel on the second floor of Pancoe (you're welcome) and apparently it's where all the hot lesbian science types get their breakfast (you're double welcome).

New York, NY
by Taylor, AS Tech Writer
Student Population: 19,401 undergraduate, 18,990 graduate
Tuition: $38,765 per year (2010)
Acceptance Rate: 29%
In retrospect I have no idea how or why I decided to go to NYU, just that it seemed like it would be sufficiently radically far away from Houston when I got there. NYU was definitely a unique experience, an amazing one too, but talking about queer life at NYU in some respects is just talking about life in downtown Manhattan. NYU doesn't have a campus to speak of, really; you're just mixed right in with the city. Obviously, life in downtown Manhattan is really, really gay, but unfortunately, that flavor of gay is often a one-dimensional, flattened-out portrait populated by shiny Manhattanite gay men. That said, DIY lady queerness was never very difficult . . . and we lady queers love to DIY, am I right?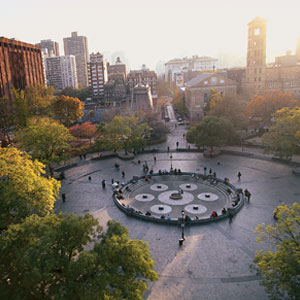 After my freshman year, I became super involved with NYU's LGBT office, and signed on as an LGBT Peer Educator. Assuming the program still exists, it was a really cool way to step up my game and plug into the community, and it really crystallized my queer identity. Through the NYU LGBT office I held exactly one batrillion workshops on issues ranging from basic identity stuff, to sex toys (demos and all, of course!), to trans-awareness and even queer Valentine's Day speed-dating. I had the chance to trade ideas with a diverse bunch of queers about identity politics on the regular (and take naps in the office, naturally). Having a vast spread of sharp gay minds around me at all times was invaluable, and obviously we threw great parties too.
The NYU LGBT office went to great lengths to be inclusive and raise awareness about a broad spectrum of LGBT issues, but at the end of the day, the school's stereotype remains: NYU is chock-full of gay boys and a bunch of straight women who inexplicably crave their friendship. It can be extremely alienating when every single fucking time someone at your school says the word 'gay' they mean 'this certain flavor of biologically gay male who looks like so and abides by these unspoken rules of gaydom' and you're like, "er, hey that word belongs to me too, but here you are defining it."
When I went to college as a naive not-out protoqueer, I thought that kind of 'gay' was good enough for me. Over time, I found the diversity I began to crave, and by the end I was part of a rollicking group of queers of all different stripes. Once you get your foot in the door, a whole world of queerdom opens up, but much like anything else in New York, you've got to take the initiative. While I initially didn't know how I fit into that 2D picture, getting heavily involved in LGBT activism early on opened up a nuanced world beyond that telltale New York sheen, and the city and the school are both teeming with a rich queer underground — full of gay ladies who will sleep with you, of course! And if anyone ever invites you to a party in Brooklyn: Go. Your people are there, lurking on the periphery, and they will embrace you with open legs.

Pages: 1 2 3 4 5See entire article on one page