Stanford, CA
by Zahra, AS Contributor
Student Population: 6,878 undergraduate, 8,441 graduate
Tuition: $37,380 (plus $11,463 room and board)
Acceptance Rate: 8%
Queer students have a good amount of visibility at Stanford. Stanford has an LGBT Community Resource Center (LGBT-CRC), where I worked for two years. It's a particularly welcoming space for women, transgender individuals and people of color. The LGBT-CRC is home to queer student groups, which reflect the diversity of the community. Some student groups include Queer Straight Alliance, Stanford Students for Queer Liberation, Biversity, Black and Queer at Stanford, Queer and Asian, La Familia de Stanford (Queer Latin@s).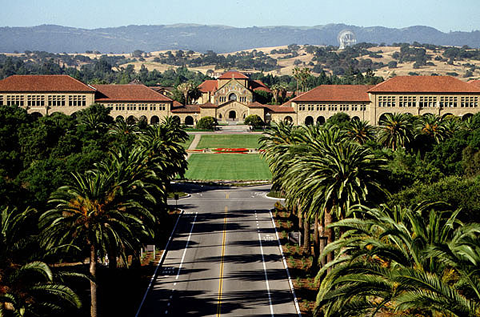 The Bay Area is really gay and Stanford's location near San Francisco means that no one really bothers you if you're queer. That being said, coming out here has its own challenges, including navigating the ins and outs of lesbian dating. Whether gay or straight, when asked about dating at Stanford, most students will probably roll their eyes and say that it doesn't exist. Stanford students tend to hook up or be committed to something longterm and serious. In theory, there are a lot of queer women on campus to date. However, everything does get narrowed down by who slept with who, who's out, who is best friends with whose ex, and—most importantly—who is actually attracted to who.
Stanford has a pretty decent social scene but it is a predominantly straight one. That's not to say that it's impossible to party as an out woman and have a good time—quite the contrary—but you will probably have to deal with more than a few men ogling you if you decided to go after a girl at a frat house. If you want to hang out with queer women, the best spots are the co-ops, non-greek row houses and smaller gatherings in dorms. We have a lot of fun and do pretty well for a bunch of overachievers. It's a "work hard, play hard" kind of thing.

Northfield, MN

Student Population: 3,156
Tuition: $36,800 (plus $8,500 room and board)
Acceptance Rate: 57%
St. Olaf College is a small(ish) liberal arts school located in Northfield, Minnesota. It's a Lutheran school, affiliated with the Evangelical Lutheran Church of America. For some people, the religious affiliation of a school can be a turnoff, given the overt politicization of the evangelical right, but St. Olaf is more than welcoming. The student congregation is listed as being Reconciling in Christ, meaning it accepts people of all sexual orientations with open arms. Outside of the religious part of campus, the school itself is extremely welcoming and accepting, with very few incidents of harassment. Northfield as a town is also friendly. The UU church in town has donated money to GLOW! in past years; there is also an active chapter of PFLAG that works with St. Olaf students.
St. Olaf has one specific club that can be classified as a "gay club." Gay, Lesbian, or Whatever (GLOW!) is run by five coordinators, who are almost always a mixture of identifications. The club itself, however, is less of a social organization and more of an activist-driven club. It sponsors events such as OutFront Lobby Day, Pride Week, Coming Out Week, and Ally Week.
Actual social interaction can be derived from a few places. One is the St. Olaf Queer Support and Outreach House (STOQSO), which strives to create a cohesive queer community. The house, located just a few steps from campus, is a 24-hour safe space for queer students. They also host workshops, movie nights, and even toga parties. There is also an emerging women-only group run through the STOQSO House called Lesbians and Bis, including Allies (LABIA). It sponsors movie nights, parties, and offers resources to women looking to learn more about different aspects of the queer community both at St. Olaf and abroad.
For new queers on campus, the best thing to do is get involved. The first GLOW meeting of the year is a good social event. Many openly gay students attend to meet the newbies even if they aren't active members of the club. And of course, being on the LABIA mailing list is a must. Other than that, be yourself and enjoy the community.
For more information about GLOW email glow [at] stolaf dot edu & for info on LABIA and/or STOQSO email barnes [at] stolaf dot edu.


Purchase, NY
by Riley K

Student Population: 4,200
Tuition: $14,320 (plus $10,646 room and board)
Acceptance Rate: 25%
SUNY Purchase is a great place for queer students. Purchase isn't a perfect place, and there's still homophobia on campus, but it is one of the safest, queerest spaces I've ever been in. I never second-guess myself when I'm out around campus–walking with whomever I like, behaving however we like, talking about whatever we like, with no consequences or funny looks. I'm not involved with the GLBTU at all, but I am deeply involved in the gay scene on campus because it's so easy to find, and so many of the students are queer that it takes no effort to find gay friends. Trust me, I didn't try, it just happened! Sometimes it seems like your dating pool has disappeared, but someone new is always around the corner. All it takes is hanging out with a different friend for a day and you'll definitely meet someone new. The oldest event on campus is our annual drag competition, Fall Ball, which has been the source of more than a few of my friendships. There's usually an apartment that hosts the occasional Queer Party as well, always with exceedingly fantastic themes.
Beyond that, you don't need queer events to find a queer scene–any casual gathering of students will do. If your freshman hall seems a little straight, just give it a few months and it will seem like half your dorm is queer. And everyone who isn't queer is an ally. Let me repeat: everyone you meet is either queer or completely okay with your being queer. When you get tired of the scene (as the student body is extremely small) you can leave campus and meet people elsewhere. The campus is rather isolated in itself, but once you drive 5 minutes into neighboring White Plains, you can just hop a train into New York City.

Philadelphia, PA
by Laura, AS Contributing Editor
Student Population: 39,000
Tuition: $23,642 to $28,906 depending on course of study
Acceptance Rate: 61%
The first thing you should know about Temple is that only freshman live "on campus." If you're looking for a big LGBTQ community that's cohesive and active on campus, you're not exactly going to find it here. There's the Queer Student Union which does a good job of showing movies and celebrating national Coming Out Day, but they tend to get the biggest crowd during the first couple weeks of the semester (which I'm sure has nothing to do with everyone scoping out the new freshman and transfer students). As far as the university climate, I'd say it's pretty easy to be out and getting easier as Temple takes steps (like the gender and sexuality survey conducted last year) to embrace all the different types of diversity on campus. I've had ugly experiences in student health services, but from what I hear that's not all that strange. The more you know! On the dark side, Women's Studies, as well as most of the other interdisciplinary departments in the College of Liberal Arts, was recently collapsed into another department. On the bright side, African American Studies made it out of the budget cuts unscathed!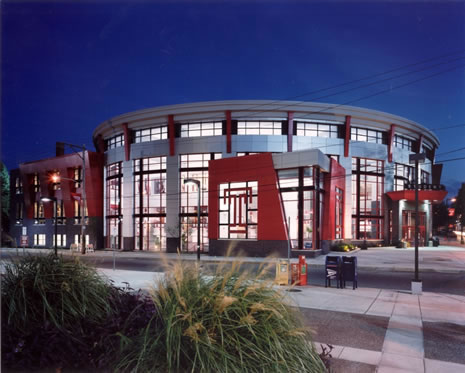 And now for the other 8 (eek!) to 22 (also eek!) hours of you day that you spend outside of school. The housing situation isn't all bad news. Lots of students opt for cheap apartments along bus lines in Center City, South Philadelphia, and Northern Liberties. With students from Temple, UPenn , and Drexel living throughout the city, the city is your oyster. There's lots going on in the gayborhood–Stimulus is a monthly party that is remarkably successful and diverse–but Philadelphia's gayness isn't limited to just the area around 13th and Walnut. It's a small city, but it's got a whole lot of queer per capita (caveat: Philly's also more hip per capita than most cities so be prepared to play lots of games of "hipster or gay?"). You're just as likely to run across a kindred spirit at First Fridays as you are at OutFest. If Temple's where you end up and you just can't handle another intensely sweaty underage night at Woody's, I'm sure the Philadelphia Autoteam would be thrilled to show you around.


Medford, MA

Student Population: 9,658 (5,150 undergraduate, 4,508 graduate)
Tuition: $40,664 (plus $12,202 room and board)
Acceptance Rate: 35%
The environment is super PC and supportive of LGBT students. The president's house and many of the frat houses flew rainbow flags for pride. Tons of resources for queer students, gay visibility and super liberal kids. I can only count a handful of times I've heard anything antigay all year . . . as opposed to the handful of times a day I would hear haters in high school.
However, all the happy gayness is very male-focused. There are a handful of pretty visible queer girls but compared to the boys we're a tiny group. If you want to meet girls you definitely have to put yourself out there and ask around to see if that chick with the fauxhawk is just a hipster or not.
As for the dating scene, the Tufts ourchart is very complex. Gay girls at Tufts are less likely to go for a random hookup and more likely to try to turn a drunken makeout session into a full-blown relationship.
The overall social scene is pretty varied but I would say that Tufts kids are generally very nice and there is less douchey behavior than on an average college campus. Some people claim it can get boring and complain about the parties but I think those people don't get off of campus enough or are stuck in one social group.
There is a QSA and a LGBT center! Tons of people attend at the beginning of the year. By the end there were probably about seven people. So there's that. But the discussions we had were usually very good and productive.
To meet people definitely show up to the first few QSA meetings AND go to girl's rugby parties. That's where the girls are (hope you're not scared of full body contact). There are usually some queer speakers on campus at some point and there is a big Coming Out Day celebration. Also take one of the classes that Tufts offers like "queer pop music".
The community is very accepting. Boston is lovely and there are lots of cute Harvard and MIT girls. Also there is a cafe called Diesel in Davis square (10 minute or so walk or 5 minute shuttle ride away) with Chai, gluten-free cookies and hot dyke baristas.
If queerfabulosity is at the top of your list, I'd definitely take a look at Tufts! Check out all the upcoming campus events.

New Orleans, LA
by Chloe, AS Writer
Student Population: 7,803 undergraduate; 4,819 graduate
Tuition: $43,434 (plus $10,820 room and board)
Acceptance Rate: 26%
When pondering how to describe Tulane's LGBTQ environment, the first word that springs to mind is "diffident." Tulane is primarily attended by upper-middle-class, white, moderate-liberal heterosexuals. But my peers responded to my coming out with nothing but support. Nobody thought it was a big deal, I've never been subjected to any kind of homophobia/hate on the Tulane campus.
Tulane has a GSA but I never joined or even attended a meeting–it was mostly men, and I prefer to spend my free evenings at happy hour, not extracurriculars. I only encountered a few other LGBTQ women at Tulane and it often seemed like there was no one else but me. Then again I spent three years in the Greek system, so there may be more lurking about in different social circles. The greek system is pretty fucking straight. Obvs.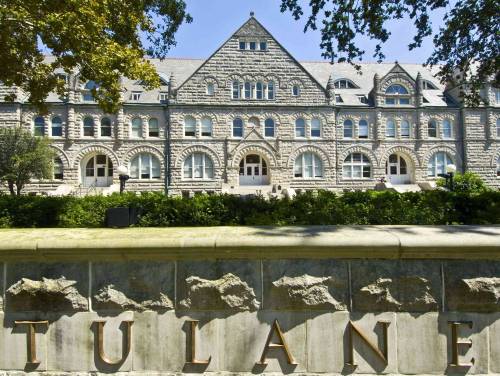 But the city of New Orleans — that's a different story. New Orleans epitomizes the mindset of "you do you." Want to be gay? You do you. Want to crack open a 40 while walking down the street? You do you. Want to commit a felony? You do you. Want to walk down the street nibbling on some girl's ear and chugging a 40 while planning to commit a felony? YOU DO YOU. Nightlife exists but can be hard to find– you need to put effort in. Lesbians can commonly be found at special nights several times a week, monthly grrrlspot events, the oh-so-bohemian bywater/marigny, ladies arm wrestling tournaments (SO AWESOME), and rollerderby games.
On a final note, my four years at Tulane were fan-fucking-tastic and I never would want to have gone somewhere else.

Pages: 1 2 3 4 5See entire article on one page