I was browsing facebook this morning when I noticed a friend had updated her status to "RIP Jack Layton". My immediate reaction: What the fuck? Jack Layton can't die. He's Jack Layton. And then I googled news-ed it.
I hesitated to write about this because I really hoped it was one of those internet hoax things, and that Layton would pop his head out somewhere, tired from his battle with cancer, but still alive and well, fighting the good fight. But he hasn't done any such thing, and even though I'm still in disbelief that I almost want to end this sentence with a question mark, I have to face the truth that Layton really is dead.
At the age of 61, Jack Layton died from cancer this Monday morning in his home.
Layton was the leader of the NDP, the Official Opposition party to Stephen Harper's Conservatives. On July 25, he took a temporary leave of absence to fight the cancer, so he could "fight for families in September", when Parliament resumes.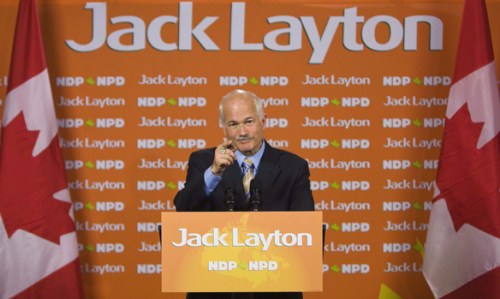 It feels like a punch in the gut, especially for people hoping to see a new future for Canadian politics, one coloured in orange.
Layton led the NDP in 2011's Federal election to a record breaking 103 seats in Parliament, making it the first time in the party's history that the NDP is the Official Opposition.
It was hard to not be moved on election day, watching a wave of orange NDP votes sweep the country.
Jack Layton did it. He rallied the country, gave hope to young voters, even got Quebec to eschew the Bloc. He made us feel like we had a voice. I had no idea Layton was that sick, but that's characteristic of him. He was always a fighter, always ready to give everything he had to Canadians. He sacrificed himself for us.
Before he died he gave his partner Olivia Chow a letter he wrote to Canadians in the event of his death. It's inspiring and well worth the read, possibly the epitome of what made Jack such a great leader.
To young Canadians: All my life I have worked to make things better. Hope and optimism have defined my political career, and I continue to be hopeful and optimistic about Canada. Young people have been a great source of inspiration for me. I have met and talked with so many of you about your dreams, your frustrations, and your ideas for change. More and more, you are engaging in politics because you want to change things for the better. Many of you have placed your trust in our party. As my time in political life draws to a close I want to share with you my belief in your power to change this country and this world. There are great challenges before you, from the overwhelming nature of climate change to the unfairness of an economy that excludes so many from our collective wealth, and the changes necessary to build a more inclusive and generous Canada. I believe in you. Your energy, your vision, your passion for justice are exactly what this country needs today. You need to be at the heart of our economy, our political life, and our plans for the present and the future.
To young Canadians. He's talking to me. Jack Layton was there for us, the students, the young poor people hopeful and terrified of a future that can sometimes seem so grim. I don't even know what to say because it feels like such a personal loss, and then I remember that it's everybody's loss. The world is less without Jack Layton.
Jack Layton was a hero. The thing about heroes though, is that they never really die. We take whatever strength they gave to us and use it to live our lives as better, stronger people. He will be missed more than I can say.
My friends, love is better than anger. Hope is better than fear. Optimism is better than despair. So let us be loving, hopeful and optimistic. And we'll change the world. – Jack Layton