Every Sunday Funday we've made more friends in the world than last week but this week all of our friends are famous, fabulous, or both. Plus, I wrote this edition with my new dog, so everything is right in the world.
Today a bunch of celebrities are doing things that may or may not affect your life, you lesbo. And the rest of us are living larger than ever.
So why not celebrate and eat some cake? Everyone's doing it.
(If you actually want to eat cake, just keep reading. It's at the end, like a pot of cake mix at the end of the gay and totally happy rainbow.)
If Gay Marriage Can Make it Here, It Can Make it Anywhere
Following the legalization of gay marriage in New York state, there's been a big wave of support rising in other states for gay marriage, fronted by celebrities, the HRC, and everyday people.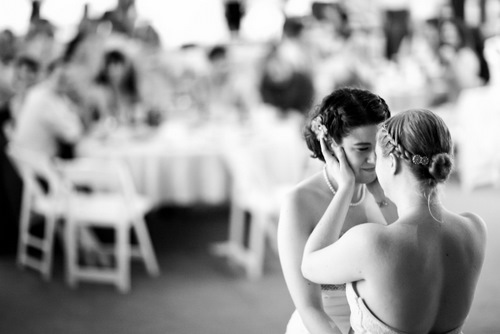 + Anne Hathaway wants gay people everywhere to get married, especially in her home state (or, rather, our home state) of New Jersey. (She also thinks she's dated a few gay guys, but who hasn't?)
+ A renewed effort to get gay marriage approved in The Pine Tree State (which is Maine you guys) kicked off yesterday with a focus on festivals. EqualityMaine worked to target communities in Portland, York, Brunswick, and other areas to hit art, music, and street festivals and gather petition signatures. They even got into the Bob Dylan concert!
EqualityMaine spokesman Timothy Rose said it best: "We are everywhere." Especially the coolest places, like the Bangor Bob Dylan concert.
+ The Human Rights Campaign's tour on LGBT rights finally hit Nebraska after stopping in Utah. Attitudes there toward gay people, and specifically gay marriage, are changing:
Opposition to gay marriage in Nebraska has lessened, a new study has found.
During an Omaha stop of the Human Rights Campaign's (HRC) 17-city On the Road to Equality bus tour, the group announced the results of a new survey conducted by the Greenberg Quinlan Rosner Research group.
A narrow majority (51%) of Nebraskan's oppose marriage equality, while 42 percent said they support it. But in Omaha, the state's largest city, supporters outnumber opponents. Fifty-four percent of respondents said they support giving gay and lesbian couples the right to marry, while 40 percent were opposed.
Illinois Catholics Get A Slap on the Wrist
Illinois recently broke its contract for social services with a Catholic charities network. They had worked with the charities on adoption and foster care previously, but because the organizations refused to recognize civil unions, the relationship is no more.
Catholic Charities had previously referred unmarried couples to other agencies – but then they started doing it to couples involved in civil unions. Because it was discriminatory practice, it could no longer happen in conjunction with the state government, so Illinois moved to end their contract in which the state supported the church. And the charities? They got angry. They insisted that they were exempt from the civil union provisions. And then they, of course, sued.
This Thursday, Sangamon County Circuit Judge John Schmidt considered the case and ruled in favor of Illinois' decision to end the contracts.
Hundreds Rally in Nepal for Rights
Nepal is in the process of writing a new constitution, so the queers came out to talk about some of their ideas. Around 500 LGBT people and their allies marched last week to demand equal rights under the new laws. They danced, chanted, and marched south of Katmandu.
The country has only recently began accepting homosexuality. This was the first gay rights protest outside of the capital.
It's Always Going to be Ladies' Night
Steve Horner thinks Ladies' Night is a form of "gender based discrimination." Nevada thinks that's bullshit. And they've got a new amendment to prove it: "The Nevada Equal Rights Commission's has passed an amendment specifically approving gender-based discounts; it will take effect in October and essentially throw out all of Horner's cases."
Openly Gay Lesbian Country Singer Gets Married
Chely Wright said "I do" in Connecticut yesterday, after a four-month public engagement to Lauren Blitzer, an LGBT activist. They met doing youth advocacy work in New York City and then they got married on the same day as Kim Kardashian. They're living the dream, guys.
Wright was the first mainstream country artist to out herself.
Madonna's Daughter Releases a Makeup Line at 14
Only Madonna's child is ready to talk about – and sell – beauty products even as a teenager. The thing is, I don't even think I could build a case as to why not she isn't the perfect candidate. Also, check out her Doc Martens.

Hardaway Says NVM, He Likes Gay People
Tim Hardaway, the basketball star who declared he was homophobic in 2007:
"You know, I hate gay people, so let it be known. I don't like gay people and I don't want to be around gay people. I am homophobic. I don't like it. It shouldn't be in the United States."
…has finally come around.
Hardaway is now opposing the recall of three pro-gay city officials in El Paso, Texas and has admitted he seeked counseling once he "opened his eyes." He is hoping to be proof that views can change – and that it's never too late.
Ellen DeGeneres Opens a Vegan Website
Wanna go vegan with Ellen? Okay. Well, there's a new website called "Going Vegan with Ellen," an offshoot of ellen.com, where you can learn the starting information for a meat-free diet and ending your relationship with animal products. So yeah, you wanna go vegan with Ellen. And now you can.
Pete Doherty's Tribute to Amy Winehouse
Amy Winehouse died and I was sad. But then Pete Doherty dedicated two of his upcoming shows to her and I was happier:
"I'm struggling with f***ing everything because I'm so bewildered about what happened to Amy. I was in bed when I heard the news of her death. Someone had to wake me up to tell me. I couldn't take it in and still can't. Coming to terms with what has happened is almost impossible. It's hard to think she's not with us anymore."
Sunday Funday Craft: An Envelope Clutch
Remember that time you couldn't find your cell phone so you assumed it was in your backpack and then you couldn't find it in there and then you were all, "oh my god where are my keys I lost my phone," and then you found it because it started ringing with a Nicki Minaj "Girls Fall Like Dominoes" tone in the middle of church?
This could have been prevented with an envelope clutch. I swear. They fit inside your backpack and they hold only the most essential of essentials.
You can learn how to make one at Jezebel. It looks easy, and really don't you have some extra leather laying around the house anyway?
Panda Eating Cake
This is a video of a panda eating cake.
How to Make Your Rainbow Cake
So here's a Martha Stewart recipe for rainbow cake, Y'know. For the future. Or right now. Whichever.
Ingredients
+ Vegetable shortening
+ 3 cups all-purpose flour
+ 4 teaspoons baking powder
+ 1/2 teaspoon salt
+ 2 sticks (1 cup) unsalted butter, room temperature
+ 2 1/3 cups sugar
+ 5 large egg whites, room temperature
+ 2 teaspoons pure vanilla extract
+ 1 1/2 cups milk, room temperature
+ Red, orange, yellow, green, blue, and purple gel food coloring
+ Lemony Swiss Meringue Buttercream
Directions
+ Preheat oven to 350 degrees. Brush six 9-inch-round cake pans (or as many 9-inch cake pans as you have, reusing them as necessary) with shortening. Line bottom of each cake pan with parchment paper; brush again and set aside.

+ In a large bowl, whisk together flour, baking powder and salt; set aside. In the bowl of an electric mixer fitted with the paddle attachment, cream together butter and sugar. Slowly add egg whites and mix until well combined. Add vanilla and mix until fully incorporated. Add flour mixture and milk in two alternating additions, beginning with the flour and ending with the milk. Mix until well combined.

+ Divide batter evenly between six medium bowls. Add enough of each color of food coloring to each bowl, whisking, until desired shade is reached. Transfer each color to an individual cake pan. Transfer to oven and bake until a cake tester inserted into the center of each cake comes out clean, about 15 minutes (working in batches if necessary).

+ Remove cakes from oven and transfer to a wire rack; let cool for 10 minutes. Invert cakes onto a wire rack; re-invert and let cool completely.

+ Using a serrated knife, trim tops of cakes to make level. Place four strips of parchment paper around perimeter of a serving plate or lazy Susan. Place the purple layer on the cake plate. Spread a scant 1 cup buttercream filling over the first layer with a small offset spatula so it extends just beyond edges. Repeat process with blue, green, yellow, and orange layers.

+ Place the remaining red layer on top, bottom-side up. Gently sweep away any loose crumbs with a pastry brush. Using an offset spatula, cover the top and sides with a thin layer of frosting (also use any of the excess frosting visible between the layers). Refrigerate until set, about 30 minutes.

+ Using an offset spatula, cover cake again with remaining frosting.