The Church of Latter-Day Saints can catch a lot of flak from the gay community, and for good reason. The church has historically been deeply anti-gay, and since it makes more annually than both Nike and the Gap, it's perfectly capable of making good on that dislike. And they have — they reported at least $180,000 of spending to make sure Prop 8 passed, which is likely only the tip of the iceberg in terms of the real amount. "Individual Mormon families donated millions — by some estimates more than $20 million — of their own money to the campaign."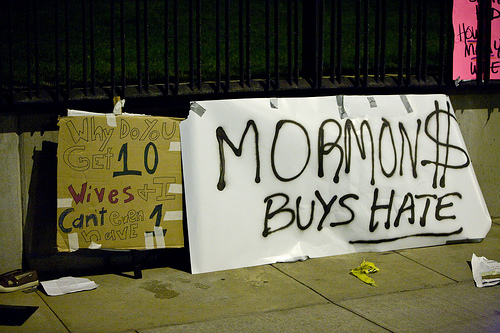 So what could possibly be redemptive about a religious group who allegedly uses Pavlovian "treatments" on students at Brigham Young University who are reported as homosexuals? Well, the fact that they don't have to be that way.
Joanna Brooks was born and raised Mormon, graduated from BYU and is still practicing today. But in this interview with Voice of San Diego, she talks about being "…liberal, accepting of gays and feminist. She's married to a Jewish man. She's not a fan of Republicans, and she won't vote for Mitt Romney, a Mormon running for president." She runs Ask Mormon Girl, a blog where she offers help and advice "from an imperfect source." A recent question:"I'm a Mormon mom, and I don't want my gay daughter to bring her girlfriend home. Am I being unfair? What about my beliefs?" Brooks' answer (in part):
There are other parents who have been down the same path, and they could be a terrific resource for you. Let me suggest you visit the LDS Family Fellowship website, at least as a starting place for reading the perspectives of other LDS parents of gay children… Let me tell you what I've seen: in families I know where the parents have told adult children not to bring a partner home for the holidays, I've seen gay children try to honor their parents' advice, until they find they can no longer bear the impossibility of choosing between the family they came from and the family they want to create, and they stop coming home. Sometimes siblings follow, out of solidarity with the gay child. Yes, sad to say, it's likely that you will alienate your child if you refuse to acknowledge her partner. That's a stark outcome.
But let's not go there for now. Let's make sure you have the support you need to process your feelings about your daughter's homosexuality. Maybe someday, when she starts getting serious with a particular partner, it might be possible for you to work out a middle-ground solution, like meeting in a neutral "third space" as a gesture of your desire to maintain a relationship, even if it is difficult for you. I know any gesture you make will be greatly appreciated by your daughter.
Compared to church officials who bussed in Mormon protesters from around the company to oppose the right of total strangers to marry each other, that's some radical advice.
What's behind her breaking with the LDS church on these issues? The tenets of her faith. Brooks says "A lot of what my faith gives me has fueled my politics. I learned to be compassionate, to work hard, to sacrifice myself for causes I believe in, to not think of myself as part of the mainstream but as a minority with a specific history and responsibilities." What a novel idea — using the experience of being marginalized as a member of a religious group, which virtually every religion has experienced at some point in its history, as a point of relation with queers instead of a reason to oppress them!
Aside from being an inspiring and influential individual, Brooks is a meaningful example that people on both sides of this 'culture war' can learn from. First, that not everyone in a group can be painted with the same brush, even if in some ways making sure that everyone can be and is painted with the same brush seems like the main goal of said group. And second, that being part of any organization or demographic doesn't doom you to side with it on every issue. Your faith is your own. In response to all those people who claim sanctimoniously that they have nothing personal against gay people, that they're only following the dictates of their faith: no. People like Joanna Brooks are proof that there is such a thing as true compassion and empathy alongside strong faith — and anyone can follow her example.