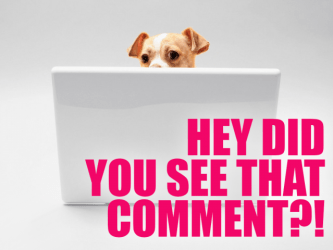 Hello and welcome to another edition of comments that make us lol. You guys, I needed some laughs (both out loud and sneaky in my head ones) this week. I'm really behind on my journal right now so I'm just going to tell you a few things. Thing number one is that it's really bad for your mental health to stay up late watching videos of Tegan and Sara. This is because you will find yourself forlorn at 3 in the am wondering why your life is not as rad, your haircut as fly, or your jokes as funny as theirs and why you aren't dating at least one of them. Don't do it, it's not fun. Thing number two is that I'm now completely caught up on seasons 10 and 11 of Degrassi. Thing number three is that I really think Romi and Adam Lambert look alike.
Okay now that I've got that out of my system, let's talk about what else happened this week. There were so many things! First–and in my humble opinion foremost–Unicorn Plan-it premiered. Sarah Croce is a fox, amirite? Lizz fashioncapped PLL, and Riese hilariously recapped the season finale of The Real L Word. Since no one can watch that show without being heavily intoxicated, we've got everyone's best hangover cures. Alice made you a pool party playlist, the Ethics of Lust took on interracial relationships, and Rachel and friends drank along with The Last Unicorn. Ever the crafty one, Rachel also made suntea. Yum. We discussed our favorite tv shows to watch on dvd and Katrina is trying to quit smoking. Don't forget to vote for your favorite couple for our wedding giveaway! With that, I'm going to pass the sharing stick on to Brianna, who has your ASS Group of the week.
I don't know what sports are or how to play them, but maybe you do and you want to talk about it. If that's the case, I suggest you skip on over to Autostraddle Sports Club, yet another one of Carmen SanDiego's many groups. I hear that sporting events occasionally include the participation of toned women who rip their shirt off? You could talk about that.
---
On Making Sense Of The Debt Ceiling Crisis, Sort Of:
The Really Putting It Into Perspective Award to Vinny: "he idea of a gravity tax is a disgraceful example of bleeding-heart liberals trying to take money from the hard-working, ground-bound Americans. The only SANE way to deal with it is to cut gravity instead! A 75% reduction in gravity would be far better for the country, and who cares if the jobless parasites the left cares so much about end up floating away? Only namby-pamby-lefties, that's who."
On What Do You Mean You Don't Know How To Make Suntea:
The Açai Award to Emily: "until you clarified that it was sun-tea, I assumed it was pronounced soon-tay-ah.
god, I'm such a fucking hipster.
a hipster that will soon be making suntea."
On Hangover and Out: Queer Girls' Advice On The Day After Drinking:
The And Lots of Febreze! Burnt Hair Smells Awful Award to Lora: "And if you burnt your bangs with a lighter, trim that shit up before your mom notices."
The Looking Out For You Award to theflyingdutchwoman: "This is highly relevant since i'm drunk right now and i might or might not remember reading this when i wake up"
On The Real L Word Episode 209 Recap: The Pieces Fall Into Place On Top of Each Other:
The Apostrophes are Fake and Crazy Award to Diane and Laura: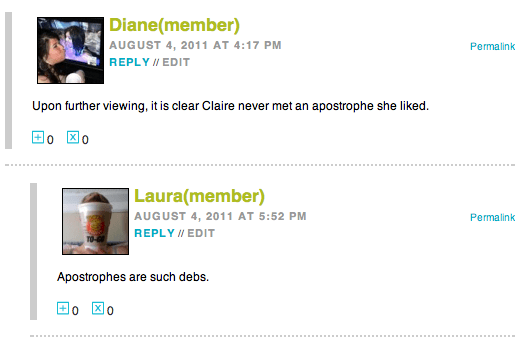 The I'm Not Gonna Lie Award to Paper0Flowers: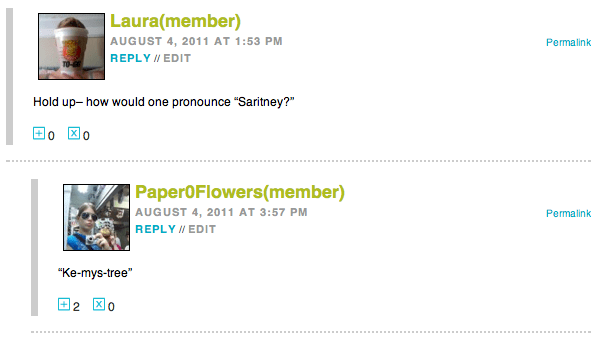 On Writing and Eating and Drinking:
The Word Award to Meer: "I don't ever eat while I write because my laptop was super expensive."
On How (Not) to Quit Smoking: What Will Occupy Your Lesbian Hands?:
The Cute! Let's Do It! Award to caitlinmae: "Dear Katrina-
I am so glad I met you outside that Rodeo Disco smoking cigarettes. Our cancerbeans gave us the perfect icebreaker. But what I recognized in you that night was the kind of soul who could write something as thought provoking and heartbreakingly true as this piece, and I want that person to be alive for a very long time. So cheers to your quitting, but double cheers to your reflections.
Maybe we should start a sparkler selling business for non smokers so everyone has an excuse to go outside and enjoy five minutes of conversation. You can still give a pretty girl a light, but the twee and marvelous outcome will be a stick spitting fire rather than smoke.
Think about it.
xoxc"
On Ten Years of Purgatory: A.K.A. Ages 20-29:
The You Could Teach Whitney a Thing or Two About Metaphors Award to anaphase: "Twenties is like jumping out of an aeroplane and making the parachute on the way down."