It's the dog days of summer, which means, according to every teen summer movie ever, we'll be spending these remaining weekends at bonfires on the beach, drinking and looking attractive while gazing meaningfully at the cute girl playing acoustic guitar on the sand, then sleeping late the following day because it's summer and we've got nothing but time time time. At least until we (who are of college age) go back to our dorms, where we'll split infinity bottles of red wine while talking about Adrienne Rich and art as a tool for social justice and whether the burritos in the dining hall will give us food poisoning. And then what will we do the next day? Text all of our friends from the beds we can't bring ourselves to leave about our splitting heads in between fits of vomiting, force ourselves to eat disgusting instant oatmeal at 3 pm, throw it back up, and then cry about it.
Is there a way out? Yes, you could just not drink the wine, but I mean besides that. Anyone (ahem) who has tried to Google "hangover cures??" can tell you there are a million. Weirdly, many of them are found in men's fitness magazines, which calls into question whether they are also good ideas for people who don't also inject a protein hemp shake into their biceps every morning. Of course, there are also some strategies aimed at women, but that can feel a little patronizing. "I know its no fun having to run off to the ladies every time a George Clooney-ish dude starts chatting you up, but if you want to still like him in the morning, you must be sure to fill up with plenty of water before leaving home." (Real quote!)
There's the tried and true hair-of-the-dog, which is… gender-neutral? Albeit sort of counterintuitive and, for those of us (ahem again) who can't even think about alcohol without starting to dry heave when they're hungover, not an option. There's always yoga (which we heavily endorse as solving all of your problems) and also some really crunchy-granola Healthy Happy tips for people who manage to remain good-hearted and kind to themselves, their bodies and trees after aggressively self-destructive decisions the night before. (Hint: the answer is apparently fish oil. Just… lots of fish oil. Forever.)
Possibly more pragmatic is the more elusive advice for what the f*ck to do at work the next day because hey, turns out it's Tuesday! There are meta-tips letting you know which of the other hangover tips work best! The internet, if nothing else, is rich with commentary on your poor decisions and what to do about them.
But in the end, none of it will ever be as useful as tried-and-true road-tested methods, passed along by people who care about you. Which is us. We're nothing if not experienced with self-destructive habits and picking up the pieces afterwards, and we would be loath to keep anything from you. Go forth armed with the wisdom of our entire team, and wake up happy.

If you find yourself in the position of predicting the living hell that will be your tomorrow, there are a few ways to help your future self thank your past self for doing all you could to help. And they only take a few minutes, so you'll be stumbling into bed in no time.
+ Water — Obviously. Drink an entire large glass of water. Drink the whole damn thing. Take another glass with you to your place of sleeping. If you wake in the night (you probably won't, I'm guessing) drink that water. Drink as much as you can without completely waking up and being unable to fall back asleep.
+ Pseudophedrine — This is not something I'm proud of advocating, but if you're not already on a lot of other weird medication and you don't have a bad heart or something, taking a sinus / allergy medication that contains pseudophedrine practically eliminates the possibility of a hangover. What happens — in unscientific terms — is that something in there will keep your brain from feeling like it's bulging through your skull. And the speed-like characteristics (or is it actual speed? I don't even know) will help push you straight through your usual morning routine, giving you plenty of time to rehydrate and get some calories into your body before the drugs wear off and you can feel your head again. Try to get the 12-hour, and take it before you go to sleep with abovementioned water. This has never not worked. (Disclaimer — seriously though, if there is any possible reason you shouldn't take this, don't take it! For real. Be safe, make good choices, etc.) 
Is it the next day and you didn't take any of my advice and now you feel like absolute shit?
+ Get directly into the shower. The hot water will make your head feel a million times better. Everyone feels better after a shower. If you don't have time for a shower, I feel like you're fucked.
+ Peppermint tea — To soothe your stomach. I'd recommend staying away from coffee until you've eaten something, but you can live life on the edge if you want.
+ Spaghetti — I don't know, I always want tomato products when I'm hungover.
+ Vitamin C — This is my answer to everything, I think. Eat an orange.
I was excited because I thought I had a lot of really groundbreaking and original suggestions regarding hangovers, but later realized that I just have a lot of strategies for integrating heavy drinking into an otherwise functional life. For instance, not allowing my friends to tell me about anything I did while blacked out so as to avoid paralyzing shame, and making my hair look like I've showered when I haven't showered. (Secret: if you have curly hair, Aussie's "Catch The Wave" mousse stuff is perfect. Comb your hair with wet fingers til it's damp, put this in, scrunch, and then stumble to work.)
It turns out that as far as being hungover goes, my only real insights are to drink at LEAST one glass of water before bed but also try to force yourself to alternate alcoholic drinks with water-drinks the night before, and also tea. I mean duh. Yogi Tea makes an excellent detox tea that tastes terrible, thus convincing you that you are definitely doing something that is really good for you, as does Republic of Tea. Will that actually help? I don't know. Does it make me feel less like an embarrassing drunk? Yes. Seriously though you should make sure your hair looks cute, because I think that's like 90% of what your boss looks at to decide whether you're still drunk or not.
The only way to get through a hangover is fried food. Like, your lunch should probably consist of soda, fries and a burger or something. That's all I can say. And lying down. Just lie down, even if it's under your desk at work.
I've had good results with this hangover smoothie:
Open a fresh coconut. Scoop out half of the "meat" inside and put it in a blender. Add ice, the fresh coconut juice, almond milk, a banana and agave to said blender. Blend. Drink. Thank me later.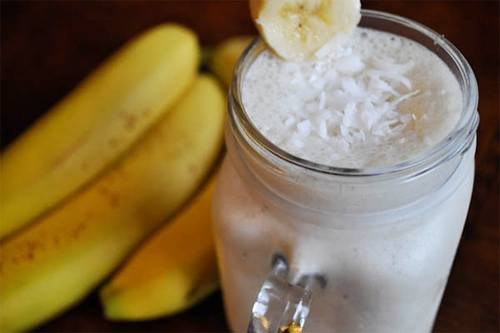 Have to go to work? That's a real tough one. If you can get a mid-day nap in somehow I suggest doing that. Also hangovers kind of look like bad allergies so sometimes you can pass it off as that. I think that the best possibility is to call in sick or call and say you'll be late and sleep in a little.
Always, always carry a spare contact case (and maybe your glasses) in your bag when you go out. Either you can use it when you stay over at a house that doesn't belong to you or you can switch to glasses during the cab ride home when your eyes are so dry you can't see straight. If you have perfect vision, then eff you.
The next morning, you need ice cold blue Powerade Zero, Tylenol, and a Nutrigrain bar. I recommend buying these things from a gas station the night before and popping them in the fridge before bed. Hangover ended. And if that didn't work, get yourself to a diner (see: Carmen's contribution).
Carry an eyeliner pencil. The answer to any problem is always more eyeliner, whether that problem is "I'm not confident enough to hit on this girl" or "I'm not confident enough to walk to the subway at 9 a.m. the morning after."
Shower immediately. Drunk shower as soon as you stagger home, if possible. Waking up fresh is waking up with a chance at truly defeating the pain to come. Then, upon waking and feeling your gut withered by alcohol, eat. Toasted bagels and carbs and warmth and crispiness are good choices. Then it's just WATER, so much of it. Put Emergen-C in the water and drink it because there are not only VITAMINS but ELECTROLYTES in Emergen-C which is great for hangovers. Vitamin B-12 is good because it gives you energy. Keep drinking the electrolyte water. Complain about the hangover incessantly to everyone until dinnertime. Or, at least that's what I do. Get some sleep the following night. Seriously, if you drank enough to be hungover then don't drink again the next night because you'll get strep throat or the flu or something awful.
I thought this was going to be an easy conversation to contribute to, since I frequently a) am hungover, b) wake up in strange places that never have access to public transportation, and c) find empty-ish beer cans in my bathroom at all times of the day. Like, one night I blacked out at my own house and came back into consciousness at the register of 7/11 buying $10 worth of taquitos (which, by the way, is 20 taquitos). I then questioned the validity of my own advice, as the fact that these things repeatedly seem to happen probably means that I am not good at dealing with them.
So what works? How does one cope with the general shit-showiness that those of us in our early 20s seem to be afflicted with? I used to eat a lot of Subway sandwiches, but honestly by this point, I've used Subway to fight off so many gnarly hangovers that it doesn't even taste like food anymore.
The best thing I've found that I can do is be prepared. It's always best to have your sober self take care of your hungover self, because god knows no one else wants to do it. Before you go out, fill a glass of water and place two painkillers by your bed (painkillers with ibuprofin are supposedly safer than those with acetaminophen if you've been drinking). These will be helpful when you inevitably wake up at 6 in the morning like a half-drunk half-hungover, VERY CLUMSY zombie. And while you're at it, leave yourself a couple of dollars for brunch when you wake up the second time. Your overnight guest will surely appreciate your consideration.
If your bad decision has meant showing up to your place of employment sans sleep and wearing the same uniform or outfit as you had on the day before, tell your boss that you locked yourself out of your apartment/house. They'll assume you're a hot/tired mess because you spent all night trying to break in and resigned to sleeping in your car or the garden bed. What's more an imaginary locksmith appointment will give you a reason to ditch work early for a shower and some sleep.
If honesty is your best policy, don't say a word. Your co-workers are probably too preoccupied with their own bad decision morning-afters to notice that you're still in yesterday's clothes.
Just go out and find the nearest lunch special. When I first discovered the lunch special at my local chinese restaurant, I ordered it every Saturday and Sunday morning until I ran out of money on my meal plan. (By the second month of the semester I had spent over 300 dollars at Spring Garden.) I loved the lunch special. I would order it alone, because you can order one alone, and I loved the can of Diet Coke. I would save fortunes because I believe in fortunes and love fortune cookies, and that made me happy. And sometimes, I ordered crab rangoon, but I'm a vegetarian, so I call it "cheese wonton."
Chances are, the lunch special is available to you between the hours of 11 and 3, or "fuck I need water and what happened last night? o'clock." I would work on finishing one all day, as if paying 10 dollars for breakfast / lunch / and dinner somehow made it more acceptable that I was continuously renewing the Darjeeling Limited from AU's library so I could watch it with a styrofoam container of MSG every weekend. I never felt bad. After all, my morning after was always under 12 dollars – and "lunch special" is actually Chinese for "you should acknowledge your hangover and buy this to cure it."
(Ed. note – THIS IS AMAZING) 
The Hangover – You are not throwing up. You feel nauseous, still kinda drunk and out of it.
The Cure – 1 cup of ice and 1 bottle of coca cola. (if there is ONE thing in this world that high fructose corn syrup is good for it's curing a hangover.) Pour soda into ice and drink. Then maybe drink another. The sugar will jack you up and get things in your body moving. The bubbles will give you wings.
The Hangover – You've been throwing up all morning. You can't even feel anything else because you're drowning in puke. Your stomach muscles are screaming out in pain and you can't stop crying like a helpless drunk baby.
The Cure – Puke it all up. DO NOT drink Coca Cola. You must:
1) Smoke some weed to calm your stomach. Nothing too high grade either. Get out your Tuesday night bud and start there.
2) Gatorade (orange or red). It's easier on your stomach than water and can be kept down better.
3) Saltines. Start with 2, keep going if you can keep them down.
The Hangover– You drank but you also did some other things…some substance-y possibly involving small baggies, a mirror, a tab or something else you really shoulda given more thought before you ingested/snorted/popped etc. so now your head is exploding, your nose won't stop running, you're puking: You Want To Die.
The Cure – You must remain calm. Find a happy space. Bring your kitten into bed with you. Put a picture of Eva Mendes by your face, whatever it takes to think POSITIVE.*
General Pro Tips:
1) Organic iced Ginger Ale. Time for the Big Guns to come out.
2) Fruit – opt for watermelon, cantaloupe, grapes – anything juicy and light
3) Take an Aleve. Yeah, your liver's been through the ringer but you're trying to survive.
4) A slice of bread. Do not get fancy. Save the jelly and butter for later. You can toast it if you want.
5) Water. Lots of ice water with lemons if you've got'em.
6) Take a cool shower. Lowering your body temperature will ease nauseous yucky feelings and help calm you down.
7) Delete the number of the person you called at 2:17am to get that stuff that made you so sick.
* gross tip for sniffling nose – take a little chapstick on your finger and coat the inside of your nose with it. it'll get you through a day of work without people asking if you have the flu.
Share your morning after tips in the comments!