Welcome to this week's edition of Movie Night, where we choose a movie based on any number of variables and feelings, create a themed menu to match, then spend hours eating these foods and watching these movies!
We're sticking with the unicorn theme tonight, via UNICORN PLAN-IT's world premiere August 1! UNICORN PLAN-IT, if you've been spelunking for the past few weeks, is Autostraddle's very first and only scripted, original webseries starring Sarah Croce, Ashley Reed and Haviland Stillwell! It's more or less one of the top five reasons these talented women were put on Earth, probably. UNICORN PLAN-IT is going to be all anyone's talking about for the next thirty years.
So we were thinking, How can we celebrate the premiere of UNICORN PLAN-IT a day early? And the obvious answer was this post. Happy unicorning!

THE MOVIE
The Last Unicorn
[ buy me ]
Plot Summary, from IMDB.com:
"From a riddle-speaking butterfly, a unicorn learns that she is supposedly the last of her kind, all the others having been herded away by the Red Bull. The unicorn sets out to discover the truth behind the butterfly's words. She is eventually joined on her quest by Schmendrick, a second-rate magician, and Molly Grue, a now middle-aged woman who dreamed all her life of seeing a unicorn. Their journey leads them far from home, all the way to the castle of King Haggard…"
Rachel:The Last Unicorn is the best movie EVER MADE except possibly for Disney's Robin Hood, at least according to my eight-year-old self. It's also really scary? I would like to say I bet that wouldn't be true if I watched it again right now, but I am not sure I can say that with confidence. It has everything you could ever want! Talking animals! Magic! Butterflies! A hapless wizard! A sass-talking maid! A winsome lass! A douchebag skeleton! A completely unnecessary and sort of annoying male romantic lead, like Prince Charming in Sleeping Beauty (who was only even in like one scene as I recall.)
No matter who you are, or where you come from in life, I refuse to give up my hope that watching a movie about SAVING THE UNICORNS and one unicorn in particular who is also a really pretty girl for some reason from an EVIL RED MONSTER and also a creepy old man will warm your heart and make the world a better place.
"I am no longer like the others, for no unicorn was ever born who could regret, but now I do. I regret."
– Unicorn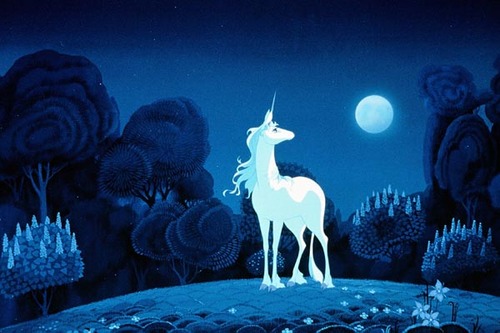 THE MENU
Vegan Ramos Gin Fizz
Girl Scout Mint Cookie
Vodka Vodka Tonic
+
Vegan Ramos Gin Fizz
by Rachel
I fucking loved The Last Unicorn like no one else has ever loved it, no matter what the rest of these assholes say, so I made an awesome drink. It is a veganized version of a Ramos Gin Fizz, and it is fucking delicious. Granted, I was missing key ingredients and am also vegan so items like "cream" and "egg white" were going to be tricky to work out, but you know what? It's fucking worth it to SAVE THE UNICORNS. Also, the result is white and foamy and creamy, which depending on whether you have watched The Real L Word or The Last Unicorn more recently, will either remind you of sperm or MAGIC.
Based on a bastardization of 'real' recipes and the advice of my awesome and cocktail-obsessed housemate Michael, here is the recipe I came up with:
Ingredients
2 oz. gin
1 tbs. confectioner's sugar
1 oz "cream" (I used soymilk, I think I would have used almond milk instead had I had it)
1/2 oz fresh lemon juice
1/2 oz fresh lime juice
4 dashes Fee's orange bitters (OKAY so this is supposed to be like 1 tbsp orange blossom water but who has that?)
1 oz soda water
Put all ingredients except soda water inside cocktail shaker, and shake for some insane length of time (based on the various recipes I looked at, this could be anywhere from 38 shakes to TWELVE MINUTES) and then pour out into glass. Pour in the soda water and watch the fizz happen. Garnish with lime if you're fancy. (I'm fancy, duh.)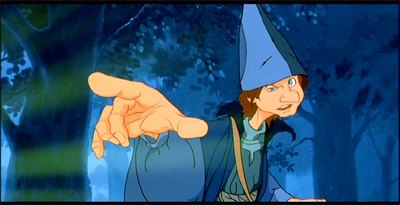 "She will remember your heart when men are fairy tales in books written by rabbits. Of all unicorns, she is the only one who knows what regret is – and love."
– Schmendrick
Girl Scout Mint Cookie
by Sarah Croce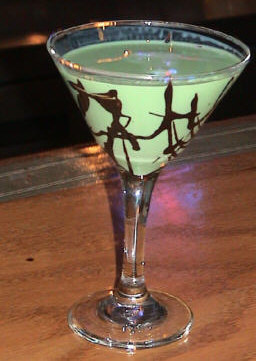 Ingredients
Vanilla vodka
Creme de menthe (green)
Creme de cocoa
Touch of vanilla coffee mate
Shake it in a shaker with ice. Decorate a martini glass with chocolate syrup and pour the drink in.
Nighty nighty. With another lady….

"I'm always dreaming, even when I'm awake; it is never finished."
– Amalthea
Vodka Vodka Tonic
by Riese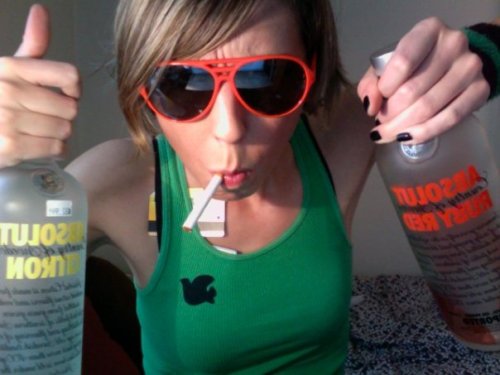 Ingredients
2 parts vodka
1 part tonic
Pour vodka into your glass as if you were pouring tonic into your glass. Pour tonic into your glass as if it were vodka and you have a sensitive stomach. If someone asks why there is so much vodka in your tonic, say "tonic is too sweet."
Ta-da!

Share any unicorn or animation-related recipes / memories / favorite feelings in the comments!