August 1st — otherwise known as World Premiere of Unicorn Plan-It Day — is fast approaching and everyone here is so excited, we can barely finish our grilled cheese sandwiches.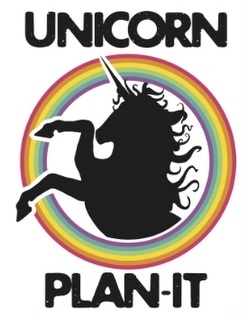 Refresher!
The show UNICORN PLAN-IT centers around an events planning office in LA, lesbian owned and operated. We have "J" (Sherri D. Sutton), the boss, her lover Harmony who is also a spiritual healer (Haviland Stillwell), and her employees, player Vick (Ashley Reed), emotionally promiscuous Keesha (Sarah Croce), and the lone gay boy (Amir Levi). The business and the relationship are at crossroads, so Harmony brings in a big piece of business — her former college "roommate" Bambi (Catherine Wadkins) is getting married, and the UNICORN PLAN-IT team has to get their shit together and plan it! We refer to everyone as Unicorns, because gay people love them, because they are magical and lovely, and also, they are really just lesbian horses. Obvs. Holler. UNICORN PLAN-IT…Get horny.
Who are they?
SARAH CROCE (actress, Girl Talk, Autostraddle's Miss April)
ASHLEY REED (writer, upcoming film HART'S LOCATION)
HAVILAND STILLWELL (TV/Broadway actress, recording artist)
Other actors attached (and more to be added!): Sherri D. Sutton, Amir Levi, Malcolm Devine, Rachel Paulson, and cameos from your favorite celesbians and straight people who want to be on the show!
We gave you a teaser video yesterday starring Ashley and her problematically-named overnight bag. Did you love it? Of course you did. Hey! How would you like some freebie free free free Unicorn Plan-It stickers? What about Haviland Stillwell and Ashley Reed rapping or singing on your outgoing voicemail?
HERE'S HOW TO WIN!
1. Become a fan of Unicorn Plan-It on Facebook! or retweet this tweet from Autostraddle about the August 1 premiere! or follow them on Twitter! SO MANY OPTIONS. Do all three!
2. Come back here and comment with:
a) a unicorn gif
b) an animated gif of Haviland Stillwell, Sarah Croce and/or Ashley Reed (You'll have to make this sucker yourself. Lucky for you, there are at least a billion videos and pictures of these ladies on the internet.)
The editorial masterbrains of Autostraddle will choose their favorite gifs and announce the winners sometime Friday-Monday, depending on how many gifs are left to judge.
PRIZES!
9 will win an official Unicorn Plan-It sticker mailed directly from Riese's kitchen
+
1 lucky beast will win an official Unicorn Plan-It sticker AND an outgoing voicemail message that will be sung, rapped or maybe even theatrically read by Haviland Stillwell and Ashley Reed!
So get busy with those gifs! I want this page to take 20 minutes to load, at least. While you're waiting on the contest results, you should play Robot Unicorn Attack. It's fun.
*Hey! This is really for real the only time we want you to abuse the gif code in comments. Please, on all other posts, keep your giffing to a minimum. Thank you!*