Celebrity, wedding and fashion photographer Robin Roemer and Stylist Sara Medd wanted to tell a story this year — a story of guarded identities, sexual intrigue, and Hollywood glamour in a secret girls-only world in the sky. All year you've heard about the real lives of the Calendar Girl Models. Now it's time to meet the characters they play in this one-of-a-kind full-color photography book that just-so-happens to also be a calendar.
With so many people using online or mobile calendars these days, we wanted to make something that would be more than just a way to mark the days; something that lasted well past the heat death of the universe. It needed to be as fancy and stylish as the narrative it contains while remaining affordable.
It wasn't easy to pull off, but nothing this good ever is, right?
It's December which means many of you already have your Autostraddle Calendars via Alex the Christmas Elf's Magic Postal Factory and have already seen Miss December in all her glory. Many of you do not, and therefore probably aren't quite as happy as Carly is in this photograph:
So let's get you up to speed …
Our December lady is Charlene Borja: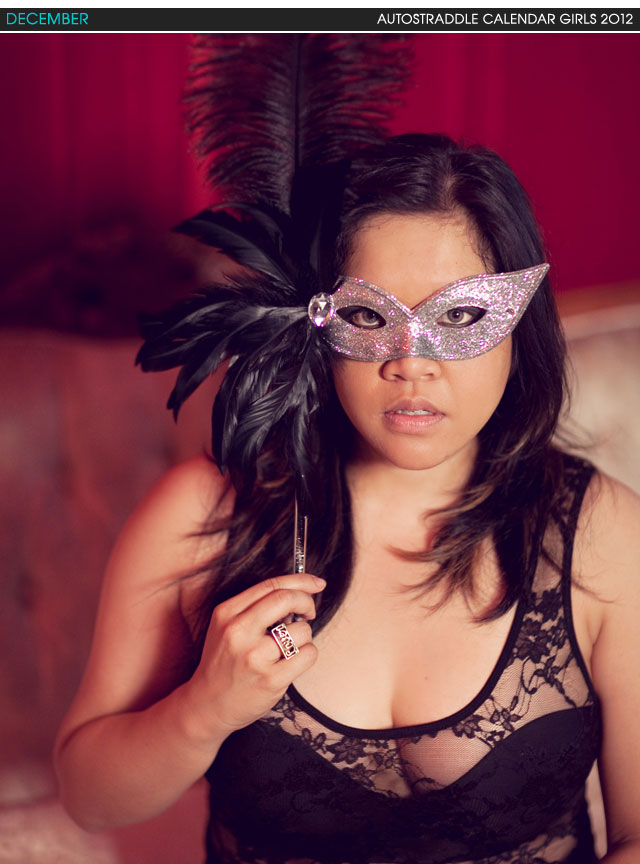 You might recognize Charlene from "Gimme Sugar" – a lesbian reality show that was once on LOGO back in 2009. But that was then and this is now. NOW Charlene is living the high life in London as the Casting Billboard Supervisor at Casting Networks, UK, which has offices all over the USA. That's counter-intuitive. Anyway, they are the leading online service for booking commercial and theatrical roles. In fact, 97% of all commercials in Los Angeles (that's where Hollywood is!) are cast through them. That's a lot of percents.
What does she do when she's not working? Well, she paints and plays the drums, trumpet AND viola among other things. You already know she throws a good party, but did you know she's a hopeless romantic with a thing for cowboy boots? Now you do. She's a Leo. Rwar! Also she's a gold-star. If you like her as much as I think you do, you should know that she wants a black pug for Christmas.
====
This is where we'd give you a video if we had one, but we don't. We're really sorry. The video editor who conceptualized the Calendar Girl Behind-the-Scenes Video Situation unfortunately has had a lot of things come up and wasn't able to finish out the year. BUT weren't these other videos so wonderful? They were! You should just watch them again!
+Kelli & Ashley are January/February
+Luna & Michelle are March
+Julie/Brandy and Stacee are April and May
+The Real L Word's Francine is June
+ Kali from Cali is July
+Maya & Brandi frolicked in the pool together for August
+Lily & Jessica were a double September/October month video!
+and Steffanie and Courtney were the beautiful girls we had for September
Another option is to watch "Gay in LA" (again), the fantastic debut single from WorkItLA.com which features cameos by Charlene as well as Miss June, Francine!
+
Also, now that we've got your attention, we wanna share some of the fun press the Autostraddle Calendar has gotten lately.
+ Autostraddle is featured as a great holiday gift in the December 2012 issue of Curve Magazine (with Jane Lynch on the cover). But what you'll really really wanna read is the awesome interview they did with Robin Roemer.
+ Our friends in Ireland, Gaelick, featured the Autostraddle Calendar and conducted an Autostraddle Calendar Giveaway!
"A is for Austostraddle – specifically their fabulous 2012 calendar featuring oodles of gorgeous North American leslies. If you thought the All-Ireland Champions' calendar was a good 'un, well hold on to your hats: This one is produced, photographed, make-upped, hair-did and modelled by and for lady-lovin' ladies."
Your purchase helps Autostraddle and it helps cover the costs of shooting the calendar
Special Note: As of December 2010, we request that the comments on Calendar Girls posts, unlike every other post on this site, be exclusively positive. These posts exist to celebrate women, so any shit-talking will get deleted. Direct concerns about the project or website as a whole can be directed to robin at autostraddle dot com or riese at autostraddle dot com!