Our calendar posts skipped a month, but don't worry, we have played catch-up and are prepared to make up for it with a double-month video and post. As usual, the calendar girls are talented, charismatic sexy mofos and we know you'll enjoy meeting them.
This is all in preparation for and leading up to the finale of this project: an actual 2012 Calendar that we are currently producing and will be selling soon in time for the Christmas season and the new year! We're super excited for this. Stay tuned!
If you missed any previous amazing Calendar videos, now's the time to catch up and meet the girls:
+Kelli & Ashley are January/February
+Luna & Michelle are March
+Julie/Brandy and Stacee are April and May
+The Real L Word's Francine is June
+ Kali from Cali is July
+Maya & Brandi frolicked in the pool together for August
Some background:
This is Round Three of Autostraddle's Lesbian Calendar Girls: talented, smart, charismatic, geeky and really-really-good-looking lesbianisty ladies. We make this calendar for you because you all really need to cut it out with your crushes on straight girls, this shit is out of hand, the last thing you need is 12 months of whatever Maxim & FHM come up with. REAL LIVE LESBIANS!
This year we're going to give you a video every month and just a few teases of what the actual photos will look like, so the Calendar will be chock-full of surprises. Are you excited? WE'RE EXCITED.
Our September lady is Lily
and October is Jessica: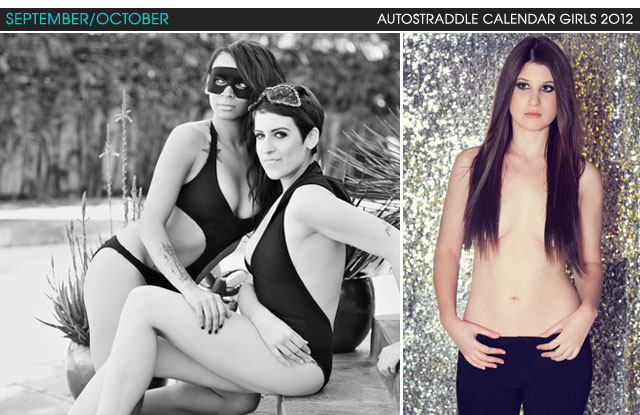 Lily, a San Francisco resident who lives in the super gay/cool Mission District, is a college student majoring in zoology and minoring in photography. We're a big fan of her photoblog, The Meow Meow because there's totally an animated gif of kittens in the layout but mostly because Lily takes really good pictures. After graduation, she hopes to pursue a career abroad in conservation ecology.
Jessica is a Virginia native who is now a Los Angeles resident of five years. Jess enjoys acting as a hobby and is often involved in random projects like our soon-to-come Real L Word Season 2 parody (we did the Season 1 parody last year). A lover of literature and poetry, she's currently a college student studying English Literature with hopes of one day being that college professor you may or may not have seen posing shirtless in a lesbian calendar photo shoot on the internet. Hot.
.
Here's Robin & Sara to explain a bit more about this year's theme:
The 2012 Autostraddle Calendar is our interpretation of the idea of a "lesbian image" without the traditional presentational definers of gender and sexual identity – when we (literally) strip away clothing, what do our naked selves communicate about who we are?
The 2011 calendar was about solo portraits of women who are brilliant, beautiful and courageous on and off camera; 2012 is about the amazing and vibrant community of queer women.
We sought to do something different this year by creating dramatic scenes and having the models interact with each other. We loved the idea of playing with identity in the form of masks, and the power that comes from choosing what to reveal and what to keep hidden.
Be prepared to see lots of skin this year in the 2012 calendar – but remember that it's what we choose not to show that sometimes gives the most away.
We photographed a group of beautiful and diverse queer women both poolside and on various studio sets in Los Angeles. We're excited for the monthly Behind the Scenes videos, where Autostraddlers can meet our sexy and inspiring calendar girls. (This being possible thanks to Videographer/Video Editor Kelli Griggs and Music Supervisor Stacee Coleman).
We hope you enjoy meeting the girls as much as we did!
Thanks to all of the amazing stylists, the production team members, and of course our brave and beautiful models.
We hope you love the results and look forward to purchasing your own 2012 calendar later this year in support of the project and of Autostraddle.com.
xoxo
Your devoted producers,
Robin & Sara
(Photographer & Stylist)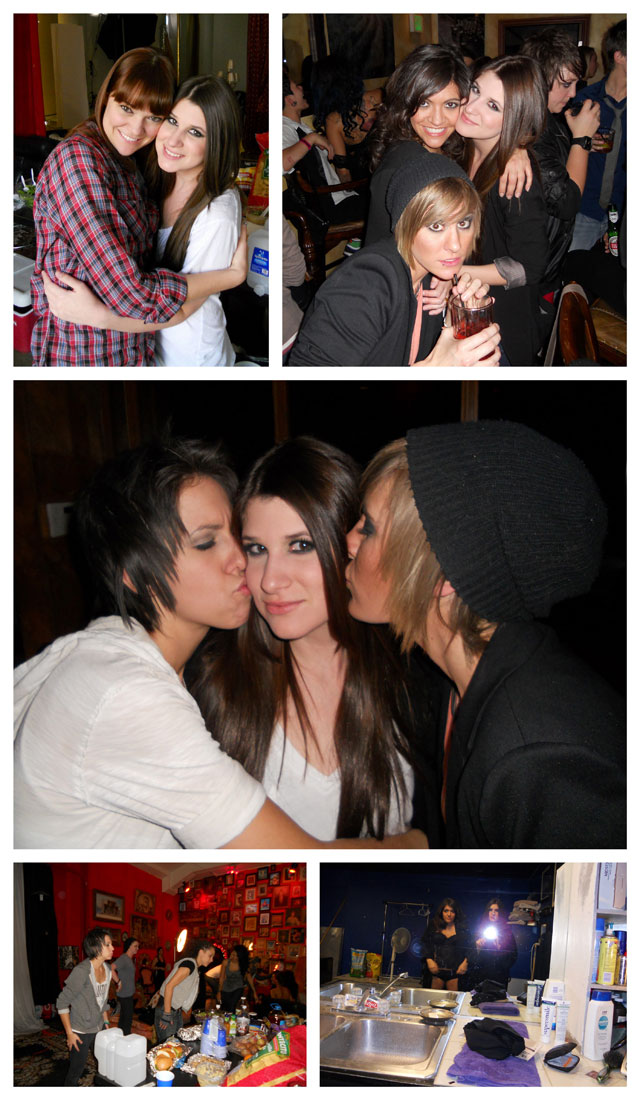 So here it is!
We present the Autostraddle Calendar Girl Behind-the-Scenes video for September/October:
Special Note: As of December 2010, we request that the comments on Calendar Girls posts, unlike every other post on this site, be exclusively positive. These posts exist to celebrate women, so any shit-talking will get deleted. Direct concerns about the project or website as a whole can be directed to robin at autostraddle dot com or riese at autostraddle dot com!