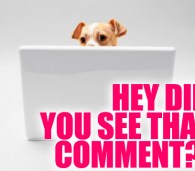 I'm gonna be honest with you, Autostraddle. I'm really tired and I just got re-obsessed with Callie and Arizona from Grey's Anatomy and I need to go catch up. You can still have an after-party, but I'm just going to be in my bed, okay?
Here is a list of things that happened this week:
+ We republished with permission from Jezebel tips on finding a therapist.
+ Chrismakwanunka (word I can't spell or pronounce) playlist! For your listening pleasure!
+ Okay, now this is cool. Join our Autostraddle WoW guild.
+ Don't worry, Crystal will never let you buy a bad pair of headphones ever again.
+ Rachel has chosen the next book for Autostraddle's read a fucking book club!
+ You have so much time to shop for presents for various holidays. Here is our gift guide. Buy stuff from our Amazon link.
I mean just kidding I love you guys. Tryna keep it fresh, you know? Also trying to see if anyone will talk about Grey's Anatomy with me. So feel free to have the after-party in my bed.
---
On 16 Holiday Songs That Don't Suck: Your Autostraddle Christmakwansuka Playlist:
The Quidditch Team NBD Award to Darling_Undo:
Eeee! I never heard the Dalek song. Amazing!! I'm going to play it at my Quidditch team's next holiday gathering, since we're all just that nerdy.
On State of the Civil Union: On Illinois and Gay Divorce:
The English Major Award to Bri:
A civil-union is kind of like fat free ranch dressing. It mostly looks the same as real ranch dressing, and kind of tastes like it, but it's definitely NOT ranch dressing. But it's also way better than no ranch dressing.
On Lesbian College Soccer Coach Outed By Partner's Unborn Child, Forced to Resign:
The Administering of Justice Award to terracottatoes, e: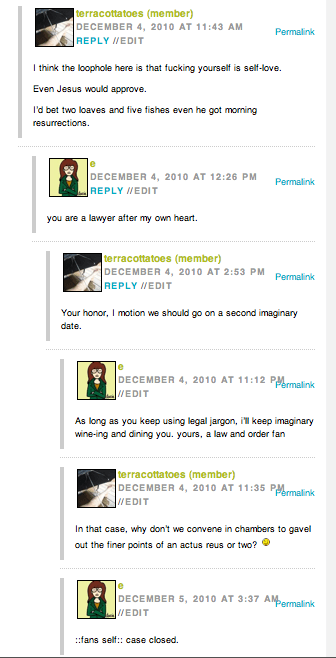 The Jesus Could Explain Some Other Things Too Award to fuzzy, petitekarma:

On It's Cataclysm WoW Guild Go Time: Let's Do This Thing, Autostraddle:
The SPEW Award to Petra:
This is seriously awesome and is making me want a new computer, so I could join your epic guild. But, I am worried it would cut into my valuable knitting time.
I can knit and watch hulu/netflix but probs not good enough to knit whilst gaming. I need more arms.
On 2010 Winter Fashion Styles For Various Shapes, Sizes, Gender Expressions:
The Inanimate Objects & Horses, Really Award to cat:
I'm currently so hot I'm considering divorcing my wife and marrying the air-conditioner instead (turns out they were right. Marrying inanimate objects relly does come next) and I STILL want that fuzzy hat/coat/tights/boots combination.
Damn opposite hemispheres. The internet is forever making me want things I can't have/
On DADT Hearings and Life Story Reveal John McCain is Bad For Unit Cohesion:
The I've Never Seen Monty Python But I Think This Is Funny Award to smartypants, Dani, e: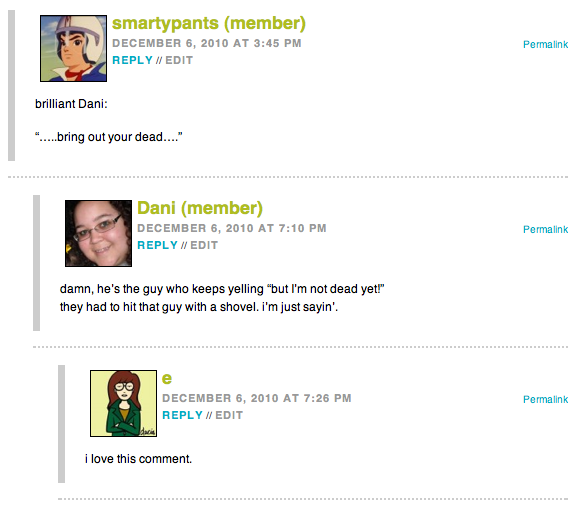 On Everything You Need to Know About Openly Lesbian Actress Amber Heard:
The OMGWTFLOLBBQ Award to Lottie:
OK, so this is a really random comment, but has anyone heard that Jodie Foster is going to be staring in a movie called "The Beaver"? I kid you not.
On The Prop 8 Appeal Hearing: OMFG What Happened:
The wasteunit Award for wasteunit to wasteunit:
This makes me both upset and elated. Upset because inequality is real sad. Elated because the phrase "SCOTUS smackdown" was used. Twice. Also, I often read SCOTUS as SCROTUM.
The Good Behaviour Rewarded With An Award Award to SomethingClever:
This is an excellent piece. Bravo Rachel! Since I know you feel strongly about tipping, I am going to mosey over to the autostraddle tip jar and tip in your honor.
The Dina V. Reason Award to Dina:
See, clearly you're not considering the precedent set by Douchebag vs. The People. It says that the status quo must be upheld at the cost of reason, logic, sanity, etc.
Also, the case Neener Neener Boo Boo Stick Your Head In Doo Doo vs. Nebraska shows that those in a position of privilege should never be made uncomfortable by the civil rights of others.
I mean, really, Jessica. And you call yourself a lawyer.
On Autostraddle Read A F*cking Book Club #2 – Let's Read The IHOP Papers!:
The What The Cool Kids Call It Award to wasteunit, terracottatoes, e: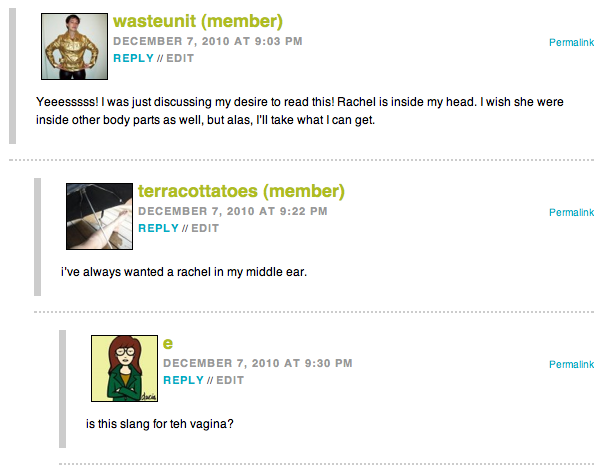 On Autostraddle's Ultimate Holiday Gift Guide 2010: What Your Girlfriend Or Otherwise-Inclined Pal Wants:
The Laneia's Angry Voice Award to Sally:

On 7 Best Internet Productivity Tools: Build A Better Online Life, Fix Your Problems:
The Freddie Won The Internet Award to Freddie:
I just used Instapaper to save the rest of this page for later.