The end of the year is a great time to look back at everything we've done and congratulate ourselves for making such a fantastic website. Come along on our journey!
---
Top 10 Most Popular 2012 Posts
Here are the most popular written-in-2012 posts of 2012, according to all the important numbers, specifically "page views" and "unique visitors."
1. The Autostraddle Hot 100 2012: The Hottest Queerest Women in All The Land, assembled by Riese and Intern Grace. May 25, 2012.
In 2009, we listed 100 things that are hot, like volcanoes. In 2010, we invited you to submit photos of yourselves if you were super-hot, in 2011 we invited you to submit photos of other hot lezzers in your life and this year we decided to really hit the traffic jackpot by inviting you to vote on the top 100 queer-identified woman-identified humans on the internet. I think this was successful because everybody likes looking at photographs, lists, voting for assorted celebrities and consequently arguing about the resulting lists of photographs of assorted celebrities. However, tallying the votes was slow water torture.
---
2. Epic Gallery: 150 Years of Lesbians And Other Lady-Loving Ladies, by Riese. September 22, 2012.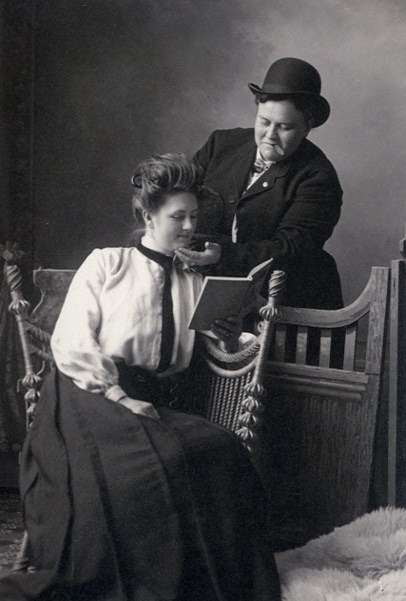 This was my massive pet project of the year and although I thought it'd be appreciated and enjoyed by a significant number of people, I didn't think it was going to blow up the entire internet. Because it took 4-5 months to assemble, I'd become so numb to looking at these images by the time I went up that I'd forgotten how magical each discovery had seemed at the time.
---
3. Jillian Michaels and Heidi Rhoades Become Two Mommies With Two Kiddies, by Riese. May 23, 2012.
I'm unsure why the Google Goddesses decided to bless us with prominent positioning in the Jillian Michaels Is Gay? search engine game, but they have  — our first post about her remains magically popular despite being not all that interesting, and this one also performed well. The convergence of the Hot 100 and Jillian Michaels Doing A Thing led to an enormous stats boost in May.
---
4. 50 Adorable Lesbian Couples Having Adorable Lesbian Weddings, by Carolyn. June 15, 2012
"Would it be weird if I made a totally swf gallery of all the adorable lesbian wedding photos I find on the way to the smut?" Carolyn asked. I endorsed the idea immediately, obviously, I mean have you ever been to So You're Engayged? It's the cutest website on the internet. It was also a great way to showcase lesbian-friendly wedding photographers. Like Robin Roemer, etc.
---
5. Texting Your Ex-Girlfriend In Five Easy Steps, by Lizz. May 22, 2012.
Lizz manages to get at least one solid list post out of every girl she dates, it's awesome, she's like a lesbian Carrie Bradshaw for the SEO Era. This one was definitely her best work because it made me LOL fifty times. It's always nice when a post makes the list for its writing rather than for its topic or its large photographs of girls! This one was so popular that somebody basically repackaged the whole post and published it in an Australian newspaper — online AND in print. Despite the writer attempting to frame the thing as if she'd interviewed Lizz on this topic, or something (obviously she hadn't), she didn't even link to us, we only knew about it 'cause an intrepid reader saw it and alerted us. Look!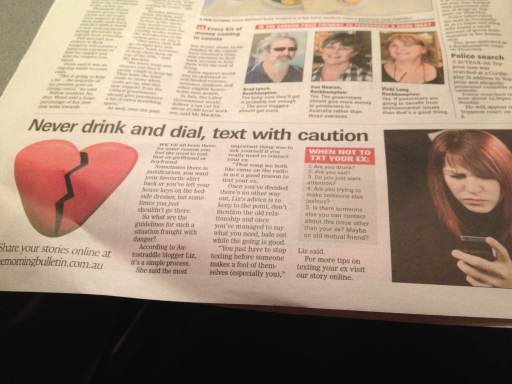 ---
6. 50 Queer Women With Outrageously Good Hair, assembled by Lizz & Riese. March 26, 2012.
Lizz proposed this and then, suffering from Extreme Gallery Creation Exhaustion, entrusted me to finish it up, which's basically par for the course anyhow as I have Really Serious Gallery Criteria which are often difficult to explain to anybody less crazy than me. Lizz asked us all to brainstorm who to include, which turned out to be a great way to find out which celebrities have bad hair by proposing their inclusion and getting shot down. Lizz is a supreme expert on all these things.
---
7. 15 Ways to Spot a Lesbian, According To Some Really Old Medical Journals, by Riese/Tinkerbell. June 17, 2012.
I got a book called Lesbian Lists from the library and used one of their lists to make this list. It took approximately fifteen minutes and look, it was the seventh most popular post of the year! GAH!
---
8. The 21 Most Lesbianish Cities in the US: The Autostraddle Guide, by Riese. January 24, 2012.
The annual lists put out by The Advocate and other magazines and websites of the most gay-friendly places to live have always really annoyed me. They're perpetually wrong, use bizarre metrics, forget women exist and appear to have been constructed by straight people. So I made my own! Obviously y'all had heaps of feelings about it and thus the Queer Girl City Guides were born. We've already done guides for about 40 major cities around the world! Jezebel cross-posted the list and somehow this resulted in the internet finding them responsible for any findings they disagreed with. I put "the team" as the author even though it was just me. Maybe 'cause it seemed ridiculous that one person would've done all that and I didn't want you to know the depths of my ridiculousness.
---
9. The Real L Word's Nikki & Jill: The Autostraddle Interview, by Jess. May 31, 2012
Actually we owe a great deal of this post's success to Nikki and Jill, who directed pretty much everybody who'd ever heard of them to read the interview — we had the exclusive on the gender of their then-unborn baby, SO. Nikki and Jill are really great, you guys, and have always been big supporters of Autostraddle who are eager to throw as much traffic our way as possible. Jess R got Really Busy this year so this was one of our only Jess Celebrity Interviews in 2012, which's super-sad. You guys should bother her on formspring with requests for who she should interview.
---
10. My Little Pony: Lesbianism is Magic, by Rose. May 30, 2012
Not gonna lie, when Rose pitched this I was like, what the living fuck are you talking about? Rachel, Laneia and I didn't know who of us would be best-qualified to take a first look at Rose's draft as we were all equally unfamiliar with the material. Luckily Rose fact-checks not only her own articles but often the entire internet, so we could trust that she had her little ponies in a row. This post was linked by a site called "Equestria Daily" and Rose was like, "Oh my God, I got linked on EQD! You have no idea how big a deal this is if you're a pony fan, lol." This was accurate. I had absolutely no idea! I feel like the nature of this website often leads to an unintentional (and frustrating) #hivemind and therefore I'm always extra excited when somebody steps forward offering to show us a world they're intimately familiar with that we've never seen. This world turned out to be a pretty fascinating one.
---
NEXT: The Most Popular Older Posts of 2012, Most-Commented-Upon Posts & More!
Pages: 1 2 3See entire article on one page