The Advocate's Third List of America's Gayest Cities got us thinking that somebody really ought to make a list for America's Most Lesbionic Cities, yannow?
A lot of our readers wanted to know where they could meet other readers, so we gathered a bunch of data — including our site's statistics — to put together this fantastic list which undoubtedly every soul on the planet will agree with 100%.  The Advocate's criteria this year included things like Veronicas concerts and Nude Yoga classes and somehow Grand Rapids made the Top Ten. This might be slightly more accurate than that.
The totally unscientific possibly dubious math breaks down as follows:
Autostraddler Population Statistics:
Based on numbers from Google Analytics, we looked at which cities/towns most Autostraddlers come from. But because clearly those numbers give large cities a huge advantage, we made a second list where we weighted those numbers based on each town's population size. This ended up highly favoring smaller towns and college towns, which is unfair, just like life itself. Both rankings (unweighted & weighted) were factored into each city's score.
Culture:
We distributed points for hosting Tegan & Sara concerts and/or Melissa Ferrick concerts, as well as for LGBT or Feminist bookstores, lesbian nightlife and LGBT-friendly colleges (per the Campus Pride Index and our LGBT College Guide — post and comments).
Political Climate:
We looked at who had inclusive ENDA policies, who had semi-inclusive ENDA policies, who allows same-sex marriage, who allows Civil Unions, etc. We used Lambda Legal as a reference for this section.
Other Lists:
Points were given to cities that ranked on The Advocate's list over the past three years as well as a recently published list by The Daily Beast, which was perhaps our best resource. The 20 Gayest Cities in America, which was created using the Gay/Lesbian Index developed by Gary Gates, a demographer at UCLA's Williams Institute, are rankings based on actual population statistics of same-sex couples! Novel!
Resources Included: The US Census, Girlports, Wikipedia , The Williams Institute, GO! Magazine, Federation of Ideas
 This isn't a perfect system, so be sure to respond with as much outrage and passion as possible regarding whether or not your city is on this list in the comments!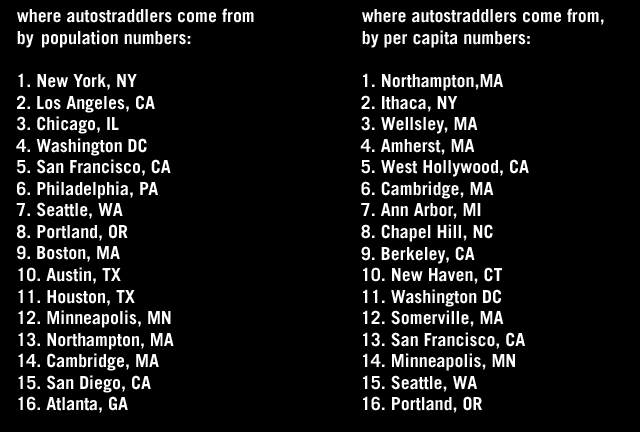 Oddly, Provincetown — widely hailed as like the best gay place ever — doesn't even rank on the top 500 for cities populated by Autostraddlers. What's up with that? We don't know, maybe it's because only 3,000 people actually live there, according to Wikipedia. Anyhow, we encourage you to visit Provincetown!
Clearly, not every city is on this list, but while putting it together we found ourselves super-disappointed by the resources out there for lesbians looking to live places. So, we're actively recruiting YOUR Queer Girl City Guides. These can be for any city in the world, including the ones on this list.
Email Laneia [at] Autostraddle dot com with a letter describing your connection to the city you wanna write about. She'll let you know if it's already been taken or not, at which point you'll be responsible for crafting a comprehensive guide addressing things like the degree to which the LGBT scene is G vs. L, the environment for queer families, the college scene, local events/festivals, activist groups, nightlife, trans-friendliness, etc. You'll also need to provide at least five of your own high-res photos (which you own the rights to), links to the places you talk about (and phone numbers/addresses when necessary), and whatever insidery details you've got.
These guides can absolutely be collaborative if you've got friends/family who wanna work on it with you.
Without any further ado…
+
Top 21 U.S. Locations Where We're Pretty Sure That You're Likely to Meet Some Other Lesbians
+
1. Northampton/Amherst, MA
Keywords: Smithies, Out for Reel Film Festival, Pioneer Valley Roller Derby League, Lesbianville, New England Trans United Pride March, Allison Bechdel, Rachel Maddow, Pride & Joy, Sid Vintage, Iron Horse
In Massachusetts, same-sex marriage is legal, adoption rights are LGBT-inclusive and anti-discrimination laws include sexual orientation and gender identity.
Northampton's got more lesbians per capita than any town or city in the entire country, and that's not even counting the transient students from Lez-Heaven Smith College or Mount Holyoke in nearby South Hadley. There are 40.31 same-sex couples per 1,000 households here. The birthplace of Rachel Maddow's career, this cozy politically progressive college town is home to its own lesbian dance club (Diva's), LGBT bookstore, LGBT newspaper and a sweet LGBT film series, Out For Reel. Amherst ensconces  U-Mass, Lezzified Hippie Festival of Education Hampshire College and, obviously, Amherst. Vegan restaurants abound. Plus, it's Massachusetts which means same-sex marriage is legal.
Meet local-like minded ladies in the Western Masstraddle meet-up group.
+
2. New York, NY
Keywords: Ginger's, Nation, Choice Cunts, Stonewall, GO! Magazine, Autostraddle, Eileen Myles, Dyke Slope, Cattyshack, Cubbyhole, Newfest, Logo, Women's Herstory Archives, Rodeo Disco, Ali Forney Center, The Center, Henrietta Hudson
In New York, same-sex marriage is legal and adoption rights are LGBT-inclusive. Employment anti-discrimination laws protect people on the basis of sexual orientation but do not include gender identity protections.
Autostraddle got born in New York and it got born in New York for a reason — 'cause the city is chock-full of dykes. New York City's got more gays & lesbians up inside it than any other city in the country and the diversity of the LGBTQ scene and the anonymity afforded by NYC's masses make it a prime location for one to spread one's newly-queer wings. Conversely, newly legalized same-sex marriage makes it a nice place to settle down. NYU, The New School, Barnard and Columbia are chock-full of lesbians, as is nearby Sarah Lawrence. There are resources/activity groups for everyone of every sexual proclivity, gender identity, political passion and yoga style preference.
Although Manhattan's West Village and Chelsea neighborhoods have become largely male-centric spaces, lesbians have made gayborhoods of their own in areas like Park Slope, Red Hook, East Harlem and West Harlem. Nightlife is always evolving as some clubs close and new nights crop up, from Cubbyhole to Choice Cunts to Lovergirl. However everything is super fucking expensive all the time.
Meet local like-minded ladies in the NYC Straddlers and the NYC Autostraddlers groups. AS Team Members who live here include Photographer Robin, Senior Editor Jess, Writers Gaby, Katrina and Jamie, and contributors Michelle and Bevin.
+
3. Los Angeles/West Hollywood, CA
Keywords: LA Gay & Lesbian Center, The L Word, The Abbey, The Real L Word, Truck Stop, Gimme Sugar, Ellen DeGeneres, Gay in LA, Silver Lake, Urth Cafe, Booby Trap, Girlbar, Ellen, Fusion: LGBT People of Color Film Festival, Hamburger Mary's, Dyke Day LA
In California, domestic partnerships are legal and the state recognizes the status of couples who were married in states where same-sex marriage is legal. Adoption rights are LGBT-inclusive. Anti-discrimination laws include sexual orientation and gender identity.
There are lesbians that loathe the fuck out of this city and there are those that love every inch of it's burning hot hub of lezzer lezdom and those in the latter group seem to have a pretty good time here. It never snows, there are girl parties nearly every night, and the place is teeming with creative women looking to collaborate with other strange geniuses. The city that birthed The L Word has been birthing power lesbians and stylish young dykes for generations. As the hub of the uber-liberal entertainment industry, Outfest and The LGBT People of Color Film Festival, The GLAAD Awards, The Power UP! Awards are all held here.
West Hollywood specifically has a population of about 39,000 and 1/3 of that population is LGBT, so there's a good chance your Coffee Bean barista and/or Hamburger Mary's waitress swings your way. Their lesbian nightlife tradition kicked off in the 1920's with the radical bohemian glamorous lesbian parties at WeHo's Gardens of Allah Hotel.
Also worth mentioning — Long Beach! It's about 30 minutes from LA and is often overlooked, despite having its own thriving LGBT community. There's Long Beach Pride, The Long Beach LGBT Center and the Long Beach Q Film Festival. Long Beach is actually 8.1% GLBs, which makes it the 10th most-LGB-populated city.
Meet local like minded ladies in the We Straddle LA, Bitch group. the city is stocked with Autostraddle Team Members, including Design Director Alex, Brandy Howard & Julie Goldman, Haviland Stillwell, Ashley Reed, Sarah Croce, Stylist Sara Medd, Contributing Editor Brittani and Contributor Chloe.
+
4. San Francisco/Oakland/Berkeley, CA
Keywords: Harvey Milk, The Lex, Michelle Tea, The Castro, Dinah in Color, Original Plumbing, Good Vibrations, The Frameline Festival, The Advocate, Curve Magazine, The Mission, Valencia, The Lusty Lady, The Crib, Queer Women of Color Media Arts Project
In California, domestic partnerships are legal and the state recognizes the status of couples who were married in states where same-sex marriage is legal. Adoption rights are LGBT-inclusive. Anti-discrimination laws include sexual orientation and gender identity.
Everybody knows that San Francisco is Queer Utopia (and especially trans-friendly) but you probably knew that even before  you saw Milk. The Bay Area is notoriously liberal and stocked with political activists, innovative writers and gender outlaws — in fact, LGBTQ culture is practically the dominant culture here, regardless of the fact that so many heterosexuals share the space. Seriously – so much queer shit to do.
However, 60% of San Francisco's same-sex couples are men. Meanwhile, Oakland is on the up-and-up when it comes to lady-queerness.  The Gay & Lesbian Atlas, using numbers from the 2000 Census, determined Oakland had the highest concentration of lesbian couples in the entire country. It's an affordable alternative to San Francisco with its own mixed LGBT dive bar (The White Horse), a lesbian-owned bookstore (Laurel), its own pride, its own monthly gay dance party (Hella Gay) and a Black LGBT Film Festival. Queer collegians or academics can be found at San Francisco State, University of California-Berkeley, Mills and Stanford, among others.
You can hold hands with anyone you want, just remember to recycle!
Meet local like-minded ladies in the Straddling by the Bay group. Team members living here include Editor-in-Chief Riese, Intern Bren, Writer Annika and Contributors Marni, Fitforafemme and Kelsey.
5. Cambridge/Boston/Somerville, MA
Keywords: Machine/Dyke Night, The Bay Windows, Edge Boston, Boston LGBT Film Festival,  Bisexual Resource Center, Keshet for the Jewish LGBT community, Queer Women of Color, Queer Asian Pacific-Islander Alliance, LGBT Youth Alliance, Fenway Health Center
In Massachusetts, same-sex marriage is legal, adoption rights are LGBT-inclusive and anti-discrimination laws include sexual orientation and gender identity.
In the 19th century, people used the term "Boston Marriages" to describe the middle-to-upper-class educated ladies who lived together as couples in the city after graduating from one of the city's many Universities. Nowadays, ladies who wanna marry ladies can just do so and they can use the term "marriage." This area has the largest lesbian community nationwide and is one place where gay ladies outnumber gay men. Cambridge is home to 41 LGBT-owned businesses, and the bounty of LGBT-friendly schools in the area are a huge draw: Simmons (all-girls), Brandeis, Harvard, Emerson and MIT.
Meet local like-minded ladies in the Autostraddle Social Club – Boston Chapter. Also, Contributing Editor Lizz lives here!
6. Chicago, IL
Keywords:  The Reeling Film Festival, Boystown, Andersonville, The Center on Halsted, The Deaf Lesbian Festival, Big Chicks, Watra Thursdays, Early 2 Bed, Towertown, Out in Chicago
In Illinois, civil unions are legal and employment non-discrimination policies are sexual orientation and gender identity inclusive.
Chicagostraddlers are perhaps Autostraddle's most passionate meet-up group and, along with San Francisco, Boston and New York, was one of the first cities to develop a lesbian "scene" in the post-World-War-I era. The first gay rights organization in the US was founded here in 1924.
Northwestern University is in nearby Evanston, and our LGBT College Guide Northwestern U Reviewer promises that "if you're willing to sit through the first awkward five minutes of a Chicagostraddlers meetup, you will be rewarded with a wonderfully diverse queer posse who will accompany you to derby matches, lady arm wrestling, chicken and waffles, Pride, FKA at Big Chick's, brunch at the Chicago Diner, and pretty much anything involving alternative lifestyle haircuts/flasks."
7. Seattle, WA
Keywords: OutWest Bar, Lesbian Resource Center, Babeland, Dan Savage, RE-Bar, Capitol Hill, Neighbours, The Seattle Lesbian, The Stranger, Ingersoll Gender Center, The Dorian Society
In Washington, domestic partnerships and out-of-state legal same-sex marriages are recognized. Non-discrimination policies are LGBT inclusive.
Seattle! Where computer software, coffee and grunge music were born! A lot of people live in Seattle and a lot of those people are lesbians — 12.9% of the city's residents identify as LGBT. Seattle's dedicated lesbian bar is called Wildrose, its completely-devoted-to-LGBT-film cinema is called The Three Dollar Bill Cinema (it hosts both a Transgender and a Gay & Lesbian Film Festival annually) and its Roller Derby League is called Seattle's Rat City Rollergirls. The city's also super trans-friendly — The Ingersoll Gender Center has been holding peer-support meeting for trans, genderqueer and otherwise gender-variant folks at least once a week since 1976.
Meet local like-minded ladies in the Seattlestraddle group.
8. Portland, OR
Keywords: Bitch Magazine, Vaseline Alley, Portlandia, Rose City Gay Freedom Band, Triangle Productions, Portland Lesbian & Gay Film Festival, Hawthorne Boulevard, Alberta, Q Center, The Milwaukee Tavern
In Oregon, same-sex couples may join in domestic partnerships and employment non-discrimination policies are LGBT inclusive.
Portland is super queer. It's quirky, liberal, laid back, and home to a lot of trees and mountains and bodies of water and beaches and wineries and bookstores and farmers markets. Home to AS's Tech Editor Taylor and the 8th-most Autostraddler-populated city in the country, The Rose City is more than just the name of that sweet Portland Queer anthology Gabby has a story in. In 2008, it was the first big metropolitan city to elect a homo to be their mayor!
Meet local like-minded ladies in the Pdx Autostraddlers group.
+
9. Washington DC
Keywords: The DC Center, OutWrite, Capital Trans Pride, National Gay & Lesbian Task Force, GLSEN, Family Equality Council, National Equality March, Gertrude Stein Democratic Club, The Real World DC, The HRC, DC Radical Fairies, Tongues Afire, Rainbow Youth Alliance, BiNet USA, National Center for Lesbian Rights
In Washington DC, same-sex marriage is legal and non-discrimination laws are inclusive of sexual orientation and gender identity.
I feel like there are about twenty different DCs and one of them is hella gay (though nobody says "hella" there). I mean, there's the politics and the activism, and also American, The University That Birthed Two Autostraddle Writers, Katrina and Carmen, the latter of whom describes American as "dyke paradise."  Clearly it headquarters a lot of political activism groups and events, as well as a vibrant Gayborhood in Dupont Circle. The first-ever Dyke March happened here in 1993. [Sidenote: a 2007 DC Public School Survey of High School students found 13.2% of young women identifying as lesbian, bisexual or unsure, which is kinda a lot.]
Meet local like-minded ladies at the Baltimore / D.C. Autostraddlers group.
+
10. Austin, TX
Keywords: South by Southwest, Austin Gay & Lesbian Film Festival, Foodies, Lipstick 24, Rusty's, 'Bout Time, Softball Austin, Out Youth, Allgo, Gender & Sexuality Center, Book Woman
In Texas, there is no legal recognition for same-sex couples or LGBTQ-inclusive employment non-discrimination policies. 
Texas's government may treat gays abysmally, but Austin is a countercultural liberal breath of fresh air best known for its indie music scene, awesome BBQ and the annual South by Southwest music/film/interactive festival. I mean, there's a special Yoga class for Genderqueers, The Texas Gay Rodeo Association, The Kings and Things Drag King Group, and an active "e-mail based social network" called Foodies that organizes regular lay-dee get togethers. The lesbian social scene is "lively" and residents find queer life uniquely blended in to the dominant Austin culture in a super-special way.
Meet local like-minded ladies in the Austin Straddlers group.


Next: Cities 11 through 21
Pages: 1 2See entire article on one page