I remember first meeting Nikki Weiss and Jill Goldstein via my television set back in the summer of 2010. They were the perfectly glam engaged couple seen planning their Malibu wedding… and not much else. Well, boy has a lot transpired since Season One of The Real L Word! Over the last two years, they have filmed and edited their own mini-episodes (known as Flip Friday) for fans who wished to see their favorite RLW couple continue their regular lives, post-Showtime. As documented in the nearly 80 episodes of Flip Friday, Nikki and Jill have since married, become close friends with Cori & Kaci (of Season Two) and are now expecting their first child together, due on their second wedding anniversary, October 9, 2012. They've also remained loyal and steadfast Autostraddle fans, even reading from an Autostraddle Real L Word recap at their wedding and doing a Flip Friday with Riese & Alex.
Nikki & Jill's love story dates back to 1984, where they met at (where else?) CAMP!, when Nikki was dating Jill's older brother for a few summers.  Nikki grew up to be the founder of Nikki Weiss & Co, where she represents leading directors in the commercial and feature film world while Jill's background in marketing and advertising on Madison Avenue helped her transition into a full-time career as a commercial treatment writer. Jill's writing can also be found in her Curve Magazine fitness column and in scripts for various award shows.
I chatted with the fab couple about camp, their impending major life change, finding an anonymous sperm donor, the upcoming election, their Real L Word comrades, whether they would do Reality TV again and how Nikki would fix the Oprah Winfrey Network and our favorite guilty pleasure, Smash.
Are you prepared for all the life changes that are about to happen?
JILL: It feels as if it comes out of nowhere! We were just discussing that last night funnily enough. . . We're putting the house on the market, we're moving and we're having a baby. There's so many changes happening concurrently. Nik had a moment in the kitchen last night where she jokingly asked me, "how did I get here?"
NIKKI: What happened to my gorgeous bachlorette house and my convertible car?! My whole life has changed! You just don't see it coming. But I wouldn't have it any other way now! We literally put the house on the market yesterday, I'm having heart palpitations but it's exciting.
[yframe url='https://www.youtube.com/watch?v=UQsNiQBo2jQ']
Do you plan on finding out the sex of the baby beforehand?
NIKKI: Well, at the time of the Curve article we didn't know the sex of the baby because it was before the 12th week but we DO know the sex of the baby now! You're generally not able to find out the sex until the 20th week. Well, fortunately for us our baby is really well endowed so we found out at our 12 week ultrasound!
Oh! Do you want to make it an Autostraddle exclusive?
NIKKI: You can have the exclusive on the baby boy.
That's so cute!
NIKKI: We're so excited I can't even tell you. There is so much "girl" in this house so we are really excited to have a boy. He is gonna understand women so well… we are gonna put a nice gentleman into the world.
[yframe url='https://www.youtube.com/watch?v=G1C5D0Evs04′]
Nikki, did you ever have the desire to be pregnant?
No, I can't say I ever had the desire to carry but I've always had the desire to parent. It really wasn't until I met Jill that I wanted to parent with someone else.
And Jill did you always want to carry?
JILL: Yes, it wasn't on constantly on my mind throughout my twenties when I clearly wasn't ready for it, but it was always something I knew I would do one day, or hoped I would do one day.
NIKKI: You just didn't know you'd be doing it with another lady! [laughing]
JILL: True! Nikki was perfectly fine with me carrying, so it was kind of a no-brainer decision.
NIKKI: But I thank her every day, Jess. I'm like, "thank you for doing this for us" because I can't imagine what it must feel like to lose control of your body, really. Especially for somebody like Jill who is so athletic and so in control of that. It's so important to her. I just thank her every day.
Were you very strict with your diet pre-pregnancy?
JILL: Not strict per se, but I have very healthy eating habits in general… And nothing really changed too much, I just consume a little bit more now.
NIKKI: During the first trimester this child was eating bagels like it was going out of style.
JILL: Well, I was so nauseous! But I didn't have to change many eating habits. I think I was in pretty good shape going into the pregnancy because I was healthy beforehand, it's just a matter of thinking bit more carefully about what you're eating because you are eating for someone else now and need to have x, y, z in your diet everyday… this amount of calcium and this amount of protein… so you do need to  be more responsible about what you're putting in your body and how often.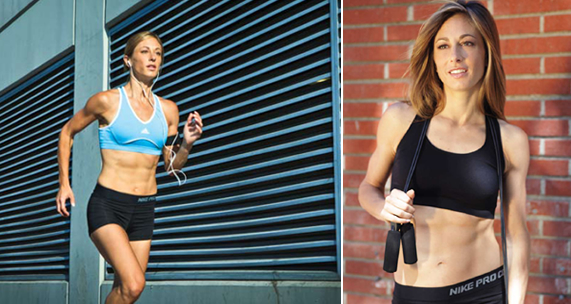 Did you have any pre-pregnancy anxiety about how it would effect your body and workout regimen?
JILL: The honest answer is yes. Obviously, fitness is very important to me and I enjoy it so much, so it was a big proposition to decide that for the next 9 months  my workout regimen  is going to take a bit of a backseat while I give up control of my body. I basically had a conversation with myself where I decided that I'm taking  the next year of my life and becoming totally and utterly selfless, making it about something and someone else. It's definitely been a shift  — I'm watching my stomach grow every day and view that as beautiful now versus wanting to get a more defined six pack.  What I consider to be beautiful has changed. But because I enjoy fitness, I spoke to my doctors at length and am working out under their care…  I think pregnancy is a very easy time to just say "eff it" and let it go but I want to be healthy and fit so I still exercise as often as I'm allowed to… it's just at a different intensity and frequency now.
NIKKI: She's still got rockin' arms and sick legs. She looks gorgeous.
[yframe url='https://www.youtube.com/watch?v=8P8H6NNCv_Y']
Pages: 1 2 3 4 5See entire article on one page