Let's lighten it up a little and talk about camp! I know you two have a special connection to camp since that is where you first met when you were little kids.  What are your best memories from camp growing up?
NIKKI: Oh my god, so many! We talk about it all the time. Jill and I still sing the songs and do the hand claps. It's so bizarre that we have the same memories. Some of my favorite  include the surprise scooter pies that we would get for dessert and color war when they split the camp into teams for a week.
JILL: At the time when I was 8 years old and Nikki was 12. I thought she was the oldest, coolest person on the planet. Nik and her friends knew everything. Back when she was going out with my older brother she would treat me like her little sister during lunch hour… We'd have rest hour after lunch where we'd write letters home and I remember Nik used to come to my bunk to see me and we'd write letters home together. I loved her attention.
NIKKI: I don't know if you guys know this but my mom has saved everything I've done… being an only child… she has saved all of the letters I sent her. We have one that Jill sent to her and another which was her brother's break-up letter to me, which we ended up reading at our wedding — from like 1985! It pretty much read: "Dear Nicole. I want to break up with you. Last year and the year before that you were nice but this year you're not." I mean…..
JILL: The best line of that break up letter was, "I know if I went out with other girls I'd have a good time."
NIKKI: And then he ended the letter "see ya!" I was devastated!! I wore his ID bracelet for three summers, he was my boyfriend, we held hands, you know!? I was devastated. But I still kept Jill as my little camp sister.
I can't believe you read it at the wedding. That's hilarious. I want to talk a little about your writing for various award shows. Which shows did you write for this past year?
JILL: The last shows I  worked on were in 2010 and 2011. I did red carpet shows at the American Music Awards and The Independent Spirit Awards. This year my work has been focused on writing for Commercial Directors, for NBC where I work closely with their branded content department and for Curve Magazine with my fitness column.
Is there anything we would recognize?
JILL: A lot of what I write is behind the scenes. I'm sort of what they call a "ghost writer" for directors. Directors put together written and visual presentations, called treatments, when they are working on a presentation for advertising agencies and I help them create it. I have a background in advertising. The only thing you might ever see publicly as of now are my fitness articles. But I pitch ideas to NBC often so one of these days, fingers crossed, I will get something produced on television.
We'll get into The Real L Word in a little bit, but what are you guys watching, reading or listening to these days? 
NIKKI: Well, in scripted series we love Nurse Jackie. Jill loves Scandal as well. And I'm in a love/hate relationship with Smash.
Smash is such a guilty pleasure.
NIKKI: It is. I wish the writing was better. I wish the casting was better. There's so many things but I have high hopes for season two.
How would you change it if you were the showrunner?
NIKKI: If I was the showrunner, I would definitely recast the husband and son of Debra Messing. That is so difficult to watch. I mean look, I'm sure the actors are wonderful. I'm just talking about their roles on the show. And then I also would recast Anjelica Huston's love interest because that relationship is too implausible to watch. There's a lot of cliche dialogue. But I love Megan Hilty. And I think art imitates life with Debra Messing and her costar because they both actually left their spouses to be together. Did you know that?
I knew that they were dating. I was sort of under the impression that Debra Messing and her husband had split up and then she started dating Will Chase.
NIKKI: They say that in the press, but you know…
JILL: I entertain a lot of Nik's shows and I get to watch mine — mostly when she falls asleep at night. (laughs) I think Modern Family is truly the best show on television. It's just so smart and so funny.
NIKKI: And we both entertain the big, big, big, guilty pleasure  —  Jersey Shore.
JILL: Oh, gosh, yes, embarrassingly so.
NIKKI: I loved Vinny so much. I was really surprised by his choice of lesbians in bed though. I think he could have done much better [laughs].
What do you make of that whole thing? I don't believe he slept with those girls.
NIKKI:  I don't think that he did either.  But I think that was just fun for the show.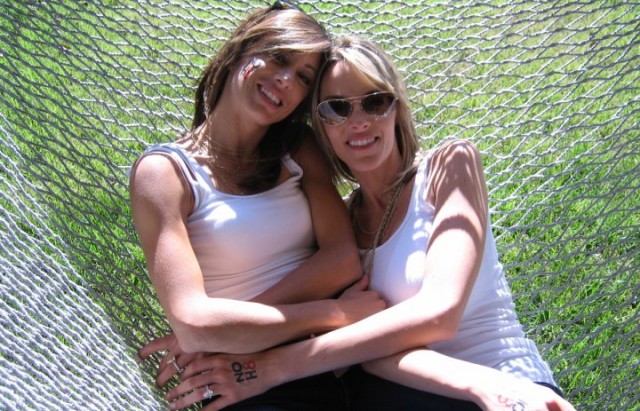 Do you guys watch Girls? 
NIKKI: Yes! And I meant to say something about Girls. Jill and I have a hard time with that. I feel like I'm watching Napoleon Dynamite. I want it to be maybe more Sex in the City than it is. Maybe I'm out of touch.
JILL: I like it… I haven't actually seen the last few episodes but the writing is so honest and so in your face it's impossible NOT to find it funny. I mean, she is so clever and the things that they discuss are so raw, which I think is what's so appealing about it. She's unapologetic for who she is and it's fantastic.  (to Nikki) I think maybe you have an issue a little bit with the style of it.
NIKKI: No, I don't have trouble with the style. I think I struggle with…I feel like it's forced. I'm probably the only person on the planet that feels like this and, you know what, I should try to watch it again.
I remember reading in an interview with Lena Dunham that the show is about the girls who moved to New York thinking it was going to be like Sex in the City, but this is the real experience. 
NIKKI:  Right. Yeah.
And I think that the style of the show reflects that. You know, just like completely de-glamorized. 
NIKKI: I haven't given it enough of a chance. I really haven't.
Check out Tiny Furniture if you haven't yet…
JILL: Listen, I tip my hat to her. I mean she is young and so successful. The fact that she's writing, directing and producing and staring in  a show on HBO at what… 25?  It's remarkable. You know, I'm rooting for her. I think it's a huge accomplishment and a rare one.
[yframe url='https://www.youtube.com/watch?v=mJNipxx3dmk']
When you were deciding about whether to go on The Real L Word, was it a consideration about how that might negatively impact your career? 
NIKKI: Yeah… I had a lot of reservations about it and chose not to have my clients on film. There was one commercial shoot that I got access to go to with our cameras and it never made it on the screen, which in hindsight I'm very thankful about. You know, I tried to keep my work life separate, which it ended up being because you never really saw any of it.
Would you do reality TV again? 
NIKKI: If I was producing it I would. (laughs) But no, we have no aspirations to be on the show again. I would never do a reality show again unless I was producing. There's no way. I would never give up editing control to someone else again. (laughs)
Pages: 1 2 3 4 5 See entire article on one page