It is a truth (that should be) universally acknowledged that dipping foods into other foods before you eat them is awesome. Hummus! Spinach artichoke dip! That five-layer dip my aunt makes that has cream cheese in it! Straight sriracha! All good choices. One of the perhaps lesser-known but really delicious dips/spreads of the world is ma'hammara, alternatively spelled muhammara and probably several other ways also. It's creamy and rich while being naturally dairy-free, mostly. Some recipes use yogurt, which sounds good too (and sort of tangy and super tasty). All you need is a food processor, a bunch of walnuts, and some stuff that is probably hard to find if you don't have a Middle Eastern market. Sorry!
MA'HAMMARA
originally via Is that my buréka?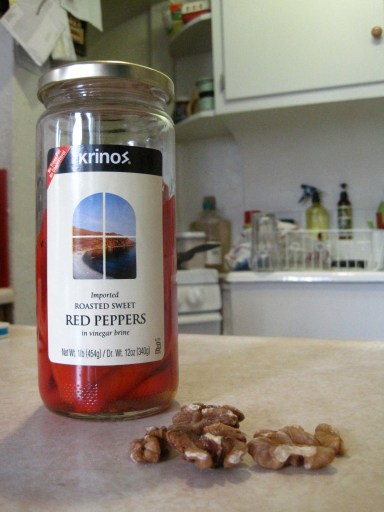 Ingredients:
3 large red peppers (these can be fresh bell peppers that you roast yourself, or roasted peppers in a jar or can.)
2 – 4 cloves garlic
1 c walnuts
1 small pita or 1 – 2 slices whole wheat bread
juice of half a lemon
1 – 2 Tbsp pomegranate molasses (if you can find it) or balsamic vinegar
1/2 – 1 tsp salt
1 – 2 tsp sugar
1 tsp harissa paste OR 1 fresh red chili seeded OR 1/2 tsp paprika + 1/2 tsp chili powder (aka something spicy)
1/2 tsp (or more) cumin powder
8 Tbsp extra virgin olive oil
1. Okay, disclaimer right up front: I cut a lot of corners when making this! The original recipe I looked at (linked to above) espoused a much more complex system of combining these ingredients. Feel free to do that. I am a simple lady who has limited patience for putting things in and taking things out of her food processor, so.
1a. Tear up your bread into small pieces, and put it and your garlic into the food processor. Process until it's crumb-y. Add your walnuts and process more until stuff is mostly broken up; there are small chunks but not very large chunks of walnut. Add your peppers and spices, and process until again, there are small chunks but no large chunks of pepper left.
2. If you haven't already added your liquids ("spices" is interpreted variously by different people, and I want to respect that), then I would put in your lemon juice and pomegranate molasses/balsamic vinegar now. Run the processor again, and as it's running, drizzle in your olive oil. (Don't you feel like you're on a Food Network show when you do that? I do.) If you're feeling like you don't need the full amount of olive oil, that's ok I guess, you do you. Just know that it shouldn't be dry or crumbly at all, but spreadable and full of delicious liquids. Olive oil is good for you, also.
3. The original recipe says to let this sit in the fridge for at least two hours. That seems like a good idea. I definitely ate about half of my batch with a piece of pita as soon as it was finished, and that was also a good idea. Up to you. Either way, once you're ready, this can be a dip for bread or crackers or vegetables, or a baller sandwich spread! The world is your walnut-based oyster. I recommend drizzling a little more pomegranate molasses on top if you have it, because really what the hell else are you going to use pomegranate molasses for, and also it feels fancy.