With the debut of Snow White & The Huntsman lurking ever-closer on the big bright horizon, a surge of Kristen Stewart-related media has overtaken the internet. We have been accumulating these tidbits over the past few weeks and now I'd like to present some of this information and imagery to you so that we can all experience it together, as a family.
Let's begin with the cross-dressing ELLE Magazine shoot that made our tumblr explode last week:
Yup, that's Kristen Stewart dressed as a boy, and also as a girl! You can re-create this look at home, see:
Kristen Stewart and Kristen Stewart are really cute together, aren't they?
If you'd like to engage emotionally with the entire shoot, you can purchase the magazine at your local newsstand, or visit kstewartfan.org. Needless to say, whomever conceptualized that shoot is a genius who deserves some kind of Feminist Porn Award next year.
Anyhow, you know who else is cute together? Kristen Stewart and Charlize Theron! Interview Magazine, that crafty vixen, featured both women on its cover this month, accompanied by an intensely homoerotic photoshoot:
The Interview interviews are worth a read — both Kristen Stewart's and Charlize Theron's. Stewart's interview focuses primarily on her history of working with women, playing strong women, and acting for female directors. Stewart talks about working with out lesbian director Rose Troche on The Safety of Objects, bisexual rock star Joan Jett on The Runaways and of course Charlize Theron on Snow White & The Hunstman. She also speaks to the experience of being a generally awkward person unable to do that "sound-bite, be-candidly-funny thing."
+
Last night, Kristen Stewart attended the Los Angeles premiere of Snow White & The Huntsman, wearing both costumes from her Elle shoot at the same time: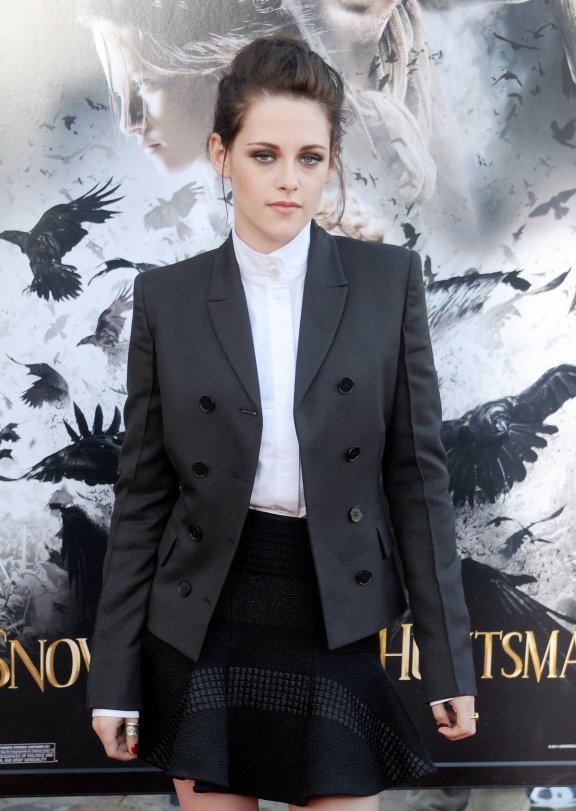 In the spirit of Ellen Page/Drew Barrymore circa Whip It!, Kristen Stewart and Charlize Theron have become quite the twosome. Regardless of Kristen Stewart's actual sexual orientation, she seems incapable of not developing homoerotic sexual tension with her female co-stars, and she and Charlize have definitely taken this to the next level.
+
For the second part of this post, I would like to share some videos with you. First I'd like to draw your attention to a fabulous interview from 'The Question Box," which Carmen posted in the Sunday Funday on May 13th, 2012. Now, moving forward!
1. Kristen Stewart and Charlize Theron on El Hormiguero on May 17th:
+
2. Kristen Stewart, Charlize Theron and that guy on Moviefone's "Unscripted":

+
I will now conclude this post with the trailer for Snow White & The Hunstman, as that is ostensibly the sub-topic of this post. The film debuts this weekend. I'd like to see it. It's gotten pretty good reviews.