Girls have endured their fair share of unfair suffering over the course of horror history. If they're not choking on their orgasmic death-gurgles as they lay finally floppy and passive beneath the man that murdered them, they're cast as bloodthirsty, sexually deviant monsters. Either way, a bloody end is probable. Female indulgence — be it perversely sexual, unlawful, or against society's norm, is punishable, in the average horror flick — by death. These ancient, misogynistic rules for the Scream Queens of the past should not still be in place for the Final Girls of the future. But there is one activity in the world of gore and splatter that is a failsafe for any female character meeting her gory, shrieking demise:
The Lesbian Experimentation Kiss.
A lesbian kiss is the one route to disaster for any woman, the bolt that slides across the cage in which her hell-bound soul will be imprisoned forever. From the moment she gives in and ducks towards her best friend's glossed, ruby-red lips, she has lost the game, and will not survive.
Allow me to take you on a journey through the horror film industry's most lethal lesbian kisses. As I examine each girl's decision to plant one on the fairer sex, I pose the following, burning question: Why does Kissing her bestie get her killed?
Carmilla, The Hunger, and the Vampire Kiss
The origin of the doomed lesbian kiss dates back to 1872, with the release of the early vampire novella Carmilla by Joseph Sheridan Le Fanu. In this tale Carmilla, an alluring temptress, preys on young, impressionable women, draining them slowly of life as the two form an "abnormally close bond." The tale has been adapted for the screen numerous times, the most famous of which is Roger Vadim's Blood and Roses. In this film, and in many of the other adaptations, Carmilla's kiss is the final nail in the coffin for one of the women.
A film that takes its inspiration from Le Fanu's Carmilla is a classic for any lesbian film connoisseur: The Hunger (Tony Scott, 1983). The film earns its stripes for casting a young David Bowie as the 'kept husband,' then gives us the iconic seductress that is Catherine Deneuve in the role of Miriam, a wealthy, powerful vampire that lures happily married Sarah (Susan Sarandon) to her death with an irresistible kiss.
The film is a classically fitting tribute to the early Hammer Horror depictions of the lesbian vampire as a 'rich, decadent woman who seduces the young and powerless.' [Zimmerman, Daughters of Darkness]. Miriam is the archetypal bloodsucking seductress. She 'embraces her female victims, using all the power of her seductive wiles to soothe and placate anxieties before striking.' [Creed, The Monstrous Feminine].
Miriam knows her kiss is the precursor to death. It is her queerness, both sexual and monstrous, that inspires her contempt for the regularity of heteronormative society, which is why she drives herself between Sarah and her husband, and why she is incapable of maintaining a relationship with a man (or a woman), without draining them of their life. As Barbara Creed explains, Miriam 'seeks revenge on society, particularly the heterosexual nuclear family, because of her lack, her symbolic castration.' It is for this reason, Creed argues, that her female lovers cannot withstand her jealousy over men and — unfortunately for Sarah — inevitably pay the ultimate price.
The Babysitter and the Truth-or-Dare Kiss
Fast-forwarding to more recent times, we have the Netflix-released, satirical spin on the classic 'Devil-worshipping cult' story: The Babysitter (MCD, 2017). In this table-turned take on a formulaic story, the 'hot girl' takes control, standing in the role of the villain as opposed to the victim. To quote an iconic part of the film:
Allison: Look at this sh*t. That would go viral so hard. I mean nobody's done human sacrifice.
Sonya: People have always done human sacrifice.
Allison: Yeah but like, not in America with hot people.
The lesbian kiss, between Bee (Samara Weaving) and Allison (Bella Thorne) is the result of a 'Truth or Dare' game, played between a group of rebellious high school kids. Bee gets the dare to 'kiss everyone in the circle,' including Allison. She makes a show of the kiss for the benefit of her male onlookers.
The 'Truth or Dare' kiss is a common facet of the horror genre, intended to convey a sense of sexual perversity amongst characters that excuses their eventual demise. Lesbianism is still enough of an underrepresented trope in modern cinema that a girl-on-girl kiss, particularly one as overtly sexual as this one, is a taboo. Although in this instance there is clearly no real romantic intent behind this for either one of the kissing girls, they're putting on a performance for the men around the circle in the hopes of arousing them. As a consequence, the kiss changes our view of them into manipulative, dick teasing, man-haters; through the camera's male gaze, the spectator is lulled into an unconscious desire to see them perish for their transgression.
Thelma and the Repressed Feelings Kiss
Disrupting the flow of misogynistic, formulaic girl-slashing horror, comes the critics' darling Thelma (Joachim Trier, 2017). Thelma is brought up in a religious household in the bleak countryside of Norway, where she slowly builds up a well of suppressed emotion in a Carrie-like fashion. At university, she is freed of the chains of this upbringing, and these emotions (along with her buried lesbianism) surge out in uncontrollable acts of psychokinesis.
The catalyst for Thelma's progressively more destructive powers to emerge is unsuspecting Anja, a classmate whose ease and openness about her own sexuality is a source of maddening frustration for Thelma, who falls for her when an agonising build up of pining leads to a passionate kiss.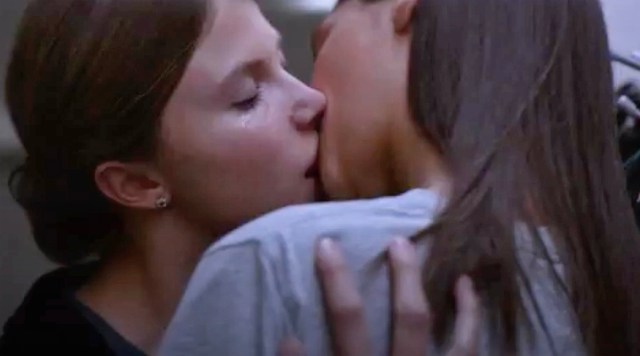 Anja's sudden obliteration from the world is the result of Thelma's 'Repressed Feelings Kiss;' again, this is a common trope in horror, symbolic of a character's inability to contain her multitude of conflicting and powerful emotions. The kiss represents both Thelma's final indulgence of her sexuality, and also the climaxing instant wherein she can no longer suppress her powers.
It is therefore possible to draw comparisons from Thelma to the stereotypical witch, often represented in horror films as a young woman on the verge of a sexual awakening, as in Carrie (De Palma, 1976), or Black Sunday (Bava, 1960).
'Historically and mythogically, the witch has inspired both awe and dread. In ancient societies all magical powers, whether used for good or evil purposes, inspired the deepest dread amongst the members of the community.' [Creed].
Like these iconic witches predating her, Thelma's psychokinetic powers are unwillingly triggered by the unearthing of, and subsequent attempts to re-bury, her sexual desire. It's not malicious intent that seals poor Anja's fate, but Thelma's oppressive backstory, turning her into a bubbling volcano, poised to erupt at the first press of a woman's lips. The accidental nature of this particular kiss of death is perhaps why, unlike the other examples, Trier allows viewers to draw a conclusion of ambiguity in relation to Anja's ultimate fate.
Jennifer's Body and the Succubus Kiss
Together, the badass film director Karyn Kusama and equally badass writer Diablo Cody worked to manifest a scene that is now arguably known as the most famous lesbian-horror-make-out-session in history.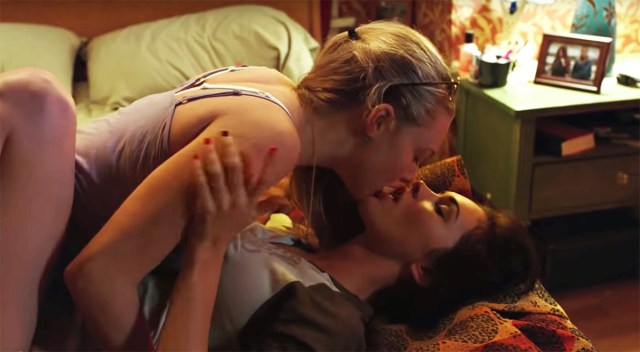 The plot of Jennifer's Body (Karyn Kusama, 2009) has elements of The Babysitter, with its devil-worshipping, cult-sacrifice centre (this time orchestrated by crazed indie band frontman Nikolai, played by Adam Brody) — except there's a literal supernatural element, as poor Jennifer (Megan Fox), the sacrificed non-virgin, turns into a boy-eating demon.
The nature of Jennifer's monstrosity holds similarities to the legend of the 'vagina dentata' — man's fear of a vagina with teeth, a myth that dates back centuries. Whilst Jennifer's vagina is not (as far as we know) lined with sharp teeth, her mouth does split open unnaturally wide to reveal rows of vicious fangs to consume the men she preys on. Replacing Jennifer's ordinary mouth — once used for such innocent activities as eating regular human food and kissing — this new demonic mouth is more like a secondary vagina — a vagina dentata — through which the male flesh enters, and is promptly devoured.
'The vagina dentata also points to the duplicitous nature of woman, who promises paradise in order to ensnare her victims.' [Creed].
It's for this reason that the kiss Needy and Jennifer share is the signifier of Jennifer's downfall. Her mouth is no longer the body part of a teenage girl; it is only coincidence that the snarky, mean-girl comments falling from her bloodied lips were just as cruel before her demonic possession as after. When Jennifer, perhaps in a final attempt to reclaim what she once was (a sexual being, Needy's best friend) kisses Needy and is then rejected, the demon in her reacts, recoils, and takes her over completely. Whether the kiss was a product of Jennifer's need to control her less attractive friend, or a culmination of some secret Sapphic desire, we will never fully know, as the real Jennifer Check, following this scene, never truly emerges.
Lesbian Vampire Killers and the Indulgent Kiss
Whilst this isn't a serious contender for the proposed theory, it is worth mentioning this British parody-horror, because creator Paul Claydon evidently picked up on the inherent homoeroticism of classic Hammer horror cinema, and created a (moderately offensive) homage. As you can no doubt tell from the title, the lesbians of this cheesy slapstick are not long for this world after indulging in one another. Jimmy (Matthew Horne) and Fletch (James Corden) are the two buffoons drafted by the cliché, God-fearing vicar of a small town to rid the Parish of the evil lesbian bloodsuckers.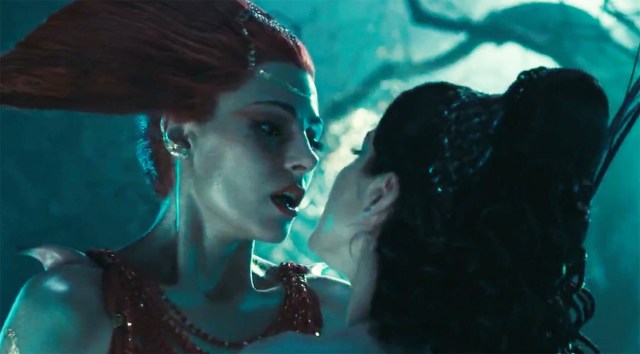 Again, the parallels drawn between lesbian and vampire are startling; as Creed explains, 'the visual association between biting and bloodied lips, sexual intercourse, and death provides a central motif of the vampire film.'  It is no wonder, therefore, that the female vampire, being inherently sexual because of her monstrosity, leans towards the fairer sex. Due to the connotations lesbianism has amongst the general public (hypersexual, indulgent, performed for male pleasure) the vampire woman's Sapphic inclinations are an outpouring of her queerness: her monstrosity. She is doomed simply because of her lesbianism, as were the dozens of lesbian vampire characters she parodies in past horror classics.
Bury Your Gays
The Fatal Lesbian Kiss is evidently a problem to this day, and its existence is a disturbing reminder of the perpetuation of the 'bury your gays' trope, as described by Haley Hunan: 'Works using the trope will feature a same-gender couple and with one of the lovers dying and the other realizing they were never actually gay, often running into the arms of a heterosexual partner.'  Representation of LGBTQ+ sexualities is becoming more of a norm in current media, however the existence of the Fatal Lesbian Kiss is a sign that despite demand for the queer community to be shown on screen, the way it's done still allows for a homophobic reading. For the future horror filmmakers out there, let this be an eye-opener, and let it be you that paves the way in the genre of rampaging male aggression and women-torture porn for non-discriminatory, positive representations of lesbian or bi-curious characters.