Hello, everyone! My dog was in a food coma for about three hours last night because of how much meat I gave him from the dinner table. Things have been so hectic with the holidaze of it all that we managed to miss a couple stories – so here's all the news that would've been fit to print this week.
Let's Start a Riot
Trigger Warning: Rape / Sexual Assault.
We're mad as hell and we're not going to take it anymore – and you can just ask the thousands of women worldwide rioting for their safety and freedom. When Swedish teens (no but really, these girls are 13, 14, and so on) were spotlighted by creeps on Instagram as being "sluts," hundreds took to the streets in a fiery and well-deserved rage. In Delhi, India's "rape capital," protests are breaking out following a violent gang-rape. And feel free to quote me on this, but hopefully they also raise hell over the Uttar Pradesh's Ambedkar Nagar rape victim who was then raped – again and again – by the law officials handling her case at every turn.
Meanwhile, the Good Man Project is dealing with collective feminist backlash on the Internet for, well, justifying and excusing rape – which seems contradictory to everything they were supposed to stand for!
Whatever, The Pope Sucks
The Pope continued his descent into total and complete irrelevance this week when he used his Christmas address to celebrate Jesus' birth and love with a shit ton of hate! Pope Benedict XVI spoke to the Vatican for the holiday and called same-sex marriage a "manipulation of nature," among the slew of other dumb shit he spit out of his old mouth. Amen.
;
In addition, less than a week ago, the Vatican's semi-official newspaper, L'Osservatore Romano, compared gay marriage proponents to commies in order to party like it was 1949.
Westboro Is Going Down
Say what you will about the Internet, it's still shaping up to be a great place to completely humiliate the Westboro Baptist Church. Today, you can revel in the joy that is this motion to ban funeral picketing on the White House petition portal, as well as adding a signature for the sake of us all.
Of course, you could also just sit back and bask in the glory that is WBC's money being rerouted towards LGBT equality:
Black Lotus Communications, which "prevents malicious traffic from reaching" websites, such as a Denial-of-service attack (DDoS), has announced their decision to donate revenue made from the Westboro Baptist Church (WBC) to charity. […]

"We have received overwhelming support for donations to be given to various groups supporting the Newtown community, veterans groups like the Wounded Warrior Project, and LGBT groups like The Trevor Project," said Jeffrey Lyon, Certified Information Systems Security Professional with the Black Lotus team, to Wikinews. Lyon also says The United Way may be the first charity to receive their donation. "We've not [yet] made a formal decision," Lyon noted, but the company "supports all of these groups and will give very serious consideration in ensuring that our donations have a strong impact."

The announcement comes after the internet activist group known as Anonymous called on the companies that host and protect the Church's website to discontinue providing services to them after the Church announced their decision to protest funerals of those killed in the December 14 shooting at Sandy Hook Elementary School in Newtown, Connecticut.
Gay Marriage Updates: The Cute, The Christian, and The Sorority Sisters
+ Festivus! The White House had its first gay proposal caught on camera this week – right in front of a great Christmas tree! What a great photo op for a Marine Corps Captain and his partner.
+ Laura Leigh Semon lives the dream every day now that she's married to her former AEPhi sorority sister.
LAURA
She slept with a million exes in Florida. I stayed in New York and just missed her, like a loser. That's when I finally started to accept that I had found love with Sam. Who cares where or with whom! We got back together, one last time, and that was that.
SAM
When I love, I love fiercely. I was a mess and Laura cleaned me up; then Laura was a mess and I cleaned her up. And now we're just boring and happy.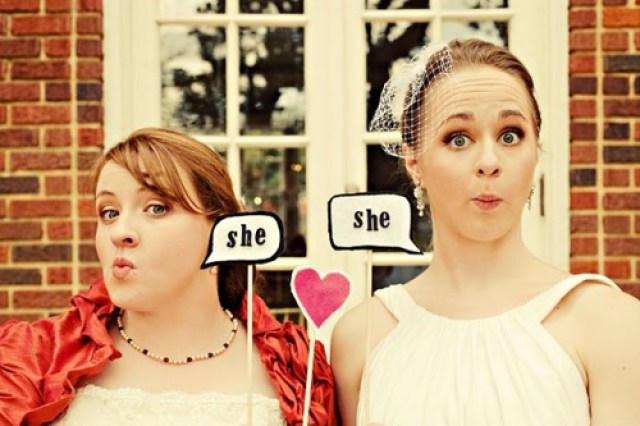 + C.S. Pearce wrote the ultimate guide to crushing Christian homophobic arguments, and for that I love her. This We Believe: The Christian Case for Gay Civil Rights sounds exactly like what I should have bought my relatives for Christmas in an act of extreme political passive aggression.
+ The court of Sao Paulo has guaranteed same-sex marriage rights by forcing notaries to deal with them – without the courts.
+ Richard Adams made history almost 40 years ago by legally marrying his male partner and then being like, "Hey, Government of Colorado! Recognize us, will you?" The unsuccessful lawsuit that followed was the first of its kind. But on December 17, the history-making homo passed away at the age of 65.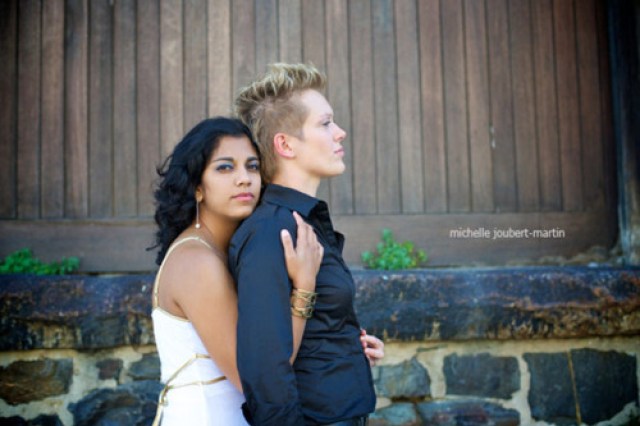 Queers In Every Nation
According to a Gallup poll posted on December 17, Americans have, surprisingly, embraced logic and compassion. Most Americans polled support gay adoption rights, inheritance rights, and health insurance benefits – but they're pretty undecided about Boy Scout leaders.
Also: I wasn't kidding.
Obama's potential decision to nominate Chuck Hagel for Secretary of Defense rendered lots of conversation this week, especially following his apology for his homophobic past. But does Obama really need him? PolicyMic says yes. In Atlanta, a lesbian's suicide is a call for more prevention work in the LGBT community. In Washington, DC, Catholic University followed the road of tolerance, affirmation and love by denying recognition to an LGBT student group.
Meanwhile, Feministing revealed this week that trans* people are still labeled as "disordered" in the DSM-V.
Michelle Obama's Best Look Thus Far
Connie Fleming made a Presidential appearance as the First Lady Candy's fifth issue.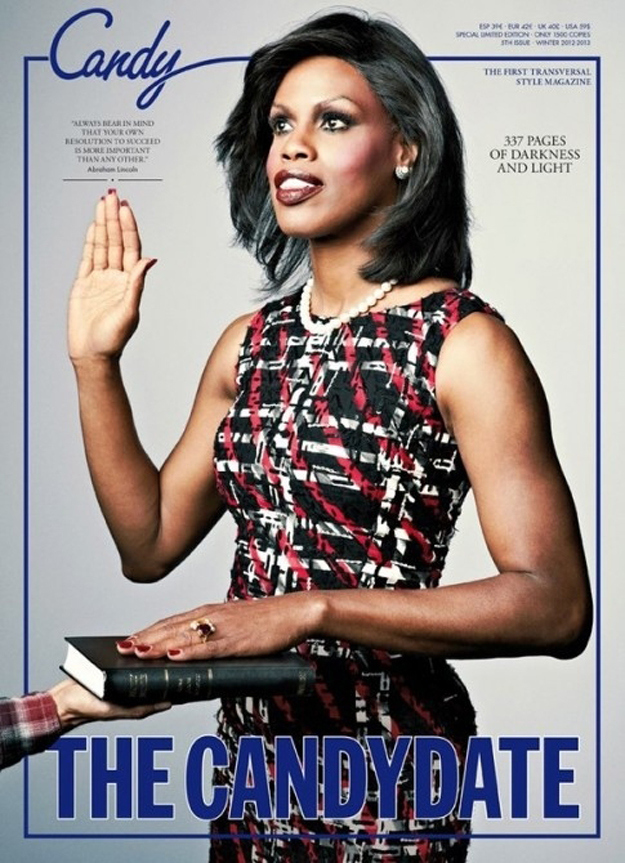 Touching Boobs Has A Really Great Secondary Purpose
That is, besides touching boobs:
A little squeeze may be all that it takes to prevent malignant breast cells triggering cancer, research has shown.

Laboratory experiments showed that applying physical pressure to the cells guided them back to a normal growth pattern. […]

The study involved growing malignant breast epithelial cells within a gel injected into flexible silicone chambers. This allowed the scientists to apply compression during the first stages of cell growth, effectively squashing the cells.

Over time, the squeezed malignant cells began to grow in a more normal and organised way.

Once the breast tissue structure was formed the cells stopped growing, even when the compressive force was removed. Non-compressed cells continued to display the haphazard and uncontrolled growth that leads to cancer.