Is love a lie? PROBABLY, but these couples charmed the heck out of us this year anyway.
---
The seemingly unlikely pairing of retired soccer star Wambach and noted Christian mommy blogger Glennon Doyle captured our imagination almost immediately. They tied the knot in May, but remained super cute and charmingly supportive of one another all year long.
---
https://www.instagram.com/p/BYeHFuphGH0/?taken-by=ellenpage
Anyone following Ellen Page on social media can tell that she's obviously got it bad for this adorable dancer. For obvious reasons, my favorite kind of relationship is one that results in copious Instagram collaborations.
---
Kehlani and Shaina Negron

This has been a huge year for Kehlani, and it's been particularly refreshing watching her open up in interviews about her sexuality – positive bisexual representation is still all too rare in the current media climate. Kehlani was particularly candid about her relationship with tattoo artist/painter Shania Negron and posted a lot of cute photos of the pair together. As of this writing, they seem to have deleted a lot of social media postings including one another and I'm not 100% sure if they're still together, but I am including them here because they look(ed?) so damn incredible together.
---
Maisie Richardson-Sellers and Clay
Get you someone who looks at you the way these two BEAM at each other.
---
I will be the first one to tell you I don't know a lot about sports people, but this year basketball superstar Sue Bird not only came out as gay, she also announced her relationship with soccer champ Megan Rapinoe. I imagine that they spend a lot of time gazing into one another's eyes while doing hundreds upon hundreds of jumping jacks.
---
Perhaps you read Heather Hogan's thoughtful profile of these two on this very website, or you fell in love with them through their excellent show Take My Wife, or maybe you went to see these two hilarious weirdos on their Back to Back comedy tour! Somehow, despite working together pretty much all the time (my personal relationship nightmare), Cameron and Rhea have emerged from 2017 with a #1 comedy album, excellent haircuts and an adorable social media presence.
---
In the year of our lord 2017 I watched True Blood for the first time and was aghast at all of my friends who spent years telling me to watch this horrible show. Does Tara ever get a fucking break? She does, apparently, because Rutina Wesley came out in possibly the gayest Instagram post of all time – also announcing her engagement!
---
Gigi Gorgeous and Nats Getty
Riese's favorite couple of 2017™ have been so adorable lately that news that they were around a baby once threw the internet into an uproar. They did not have a baby together this year but they did take this cute-ass photo on a boat.
---
I asked Gaby Dunn if she would like to make a statement about being in an article about the best celebrity couples of 2017 and she offered, "just that I am blessed and everyone should get a soft butch." She would also like to let you know about Ellen's Instagram account, where you can look at more pictures of her.
---
These two creeps have been stalking and glaring around Los Feliz for the better part of 2017 and even went as far as to adopt a (very cute) dog together. I may or may not have made a Google map detailing all the places they have been spotted purchasing green juice, and may or may not have dragged NSFW Editor Carolyn to almost all of those places on my last visit. This was also a notable year for Kristen because she gave us the following gift: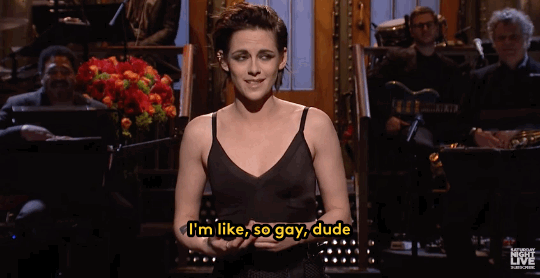 ---
Listen, there's no ACTUAL proof these two are actually dating but there's also no proof these two aren't dating and I believe that if you will something hard enough, you can actually manifest it with your brain. I have high hopes for these two UNCONFIRMED LOVEBIRDS in 2018 (and if for some reason it doesn't work out, Janelle, Mara Wilson would like for you to call her).
For a thorough glimpse into all the extremely telling evidence that Janelle and Tessa are together, please enjoy this Twitter thread:
ok so it was not an awards show, it was the 2015 MOCA gala, but they a. went as dates and b. wore COMPLIMENTARY OUTFITS!!!!!!!!!!!!!!!!!!!!! pic.twitter.com/9MRY9rwBkQ

— jaye "elizabeth debicki is 6'3"" hunt (@hayejunt) October 9, 2017
---
Every year forever. No question.
---
These two nerds look deliriously happy around each other 100% of the time to the point where it's actually rude. This was a depressing year on almost every level, but then Lauren and Samira shocked us all with their goddamn Funfetti-themed wedding and somehow, it gave us hope that everything just might turn out OK after all.