Feature image via Cameron Esposito's Instagram
Cameron Esposito and Rhea Butcher's names have been in the air every day of 2017. Maybe it's the residual swooning from their critically acclaimed comedy, Take My Wife. (And the save-the-show campaign that followed when Seso, the streaming platform that hosted it, folded.) Maybe it's the launch of Esposito's new beloved podcast, Queery, the first episode of which featured an intimate, candid interview with Butcher. Maybe it's their celebrated co-podcast, Put Your Hands Together, which is recorded in front of live audiences at the Upright Citizens Brigade. Or the release of Rhea's debut standup album, Butcher. Or Rhea's spot on the Variety's 2017 Comics to Watch Out For list. Or maybe it's the way they haven't shied away from speaking out against the Trump administration and standing up for their queer community.
Actually, it's probably all those things — plus co-headlining a first-of-its-kind cross-country stand-up tour called Back To Back that found a queer married couple sharing a bus and a stage in 20 cities. It was an enormous success. Sold out theaters, countless fans posting pictures with the comics across all social media platforms, and now a live recording of their show, Back to Back: Live, which has been sitting in the #1 spot on the iTunes comedy chart since it landed over a week ago.
With so much success, it's not surprising that Butcher is launching a ten-city spring solo tour called Close to Home. (Tickets go on sale today; you should buy yours immediately if you want one!)
I had a chance to chat with Cameron and Rhea on the eve of their album release about what they learned on tour together and what's next in their plan for global domination.
---
Heather: I think you're the first queer married couple to go on tour and share a stage together. What'd you learn during the process?
Rhea: We did 20 cities in 29 days. 17 of those were on the bus, which was a whole new lifestyle. We got to meet a lot of people, talk to a lot of people, look in a lot of people's eyes, shake a lot of hands — and hear people's stories. That's an experience I'm still trying to process. We have shared our lives with these folks and I was so surprised by how willing they were to give that back to us.
Cameron: We have toured together for years, and I toured by myself before Rhea. This was our first tour together after Take My Wife, after Queery and after Rhea releasing her first album. It feels like our visibility has changed a lot. It was wild to play theaters together, to be in that bus together. It felt really special, like the beginning of a new thing.
Heather: I know so many people who went to see the show, and saw hundreds more talking about it on social media. It seemed like a common thing people were feeling was just overwhelming gratitude that you were carving out a space like this for them in this tumultuous time.
Cameron: Maybe that's the shift I'm talking about. A shift away from a stand-up tour to a new environment, an experience. In this moment, especially, there's a feeling of needing a place to go that's supportive and affirming. There's a need to know that when you're going into a space, the ideas that are going to be presented, even if you don't agree with all of them, they're not going to psychologically harm you.

We went to see Mary Lambert recently, we went to see Tegan and Sara recently, we're going to get tickets to see St. Vincent. We go to see these things too because we also want to be in a space with people like us where we know we're going to feel good.
Rhea: A lot of people told us this was their first stand-up comedy show. Comedy is a joyous thing but it's a potentially turbulent thing, like Cameron was saying. Most of those people didn't want to go to a stand-up show because they didn't want to hear their identities being made fun of, or they just didn't want to hear people get made fun of, in general. The world is hard enough right now. And that's not who we are.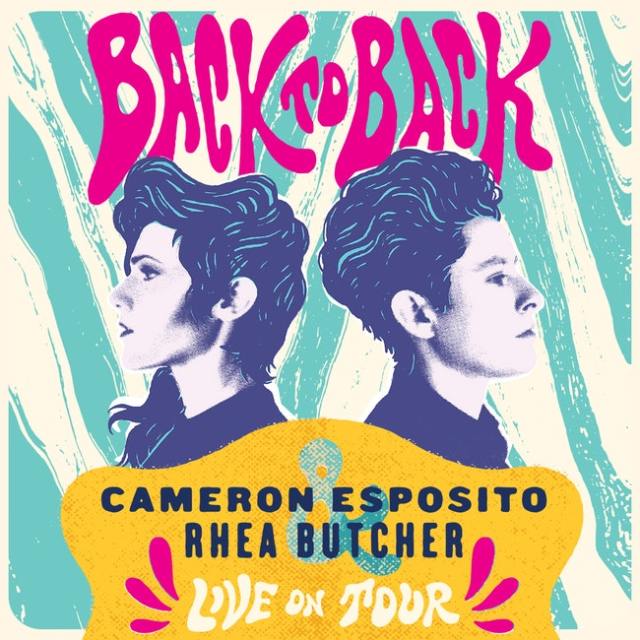 Heather: It's interesting that you say that because while this year has obviously been brutal, there's also this sense more recently of power dynamics shifting as we, as a culture, are forced to confront the systemic and systematic abuses of men in powerful positions in politics and in Hollywood.
Rhea: Right, so we're either going to be taking down the people in power, or we're going to be doing the old thing. One of the reasons we're so proud of this tour is it's a new thing!
Cameron: We are in a time when Hollywood is realizing marginalized voices can drive dollar signs, and that is very exciting. The movie Girls Trip is a huge watershed moment because it made major money, and of course it did. Look at that cast. They were always going to make a great movie. What I'm hoping is that people notice that Rhea and I are able to take a bus and sell out shows, that people will continue to notice the work Lena Waithe is doing, and Issa Rae is doing. How many people are out there talking about Master of None, about Insecure and Fleabag. It is happening. The work is here and already done.
Rhea: Cameron's right. We don't need a seat at the table, we need to build a new table. If someone's telling you whether or not you're allowed in the space, there's still a power dynamic in play. That was what a big part of our tour was. Someone can say to us, "Oh, your audience is only queer people and that's not a big enough audience." So we're like, "Okay, we'll do it ourselves. We'll make our own system."
Heather: I love that. And it worked. Your tour was so successful.

Rhea: And hey, if our album does well [note from the future: it does!], give us a special!
Heather: Did you learn new things about each other on tour?
Rhea: I think we're honestly always learning from each other. I'm newer to stand-up than Cameron. She's been doing it ten years longer than me. But we've started to influence each other.
Cameron: I feel like the time frame in which I have done comedy professionally, which is the last 15 years, the changes that have happened for women in comedy and for queer people in general, I might as well have been doing stand-up with a time machine, traveling through eras. Rhea started at a time when it was already really different for women, because of my generation, and the generation above me with people like Tig Notaro and Sarah Silverman; they had shows and were already successful.

I started with no boss level women, except maybe Joan Rivers, but she was so far above everything else. But when Rhea came up there were already boss women and mid-level successful women. Even though we're the same age, we're different generations of comics. I learn a lot from Rhea because she'll get up and talk about stuff that keeps us fresh. Without her, I could get stale very quickly. It's good to have someone challenging me and keeping me in touch with realty.
Rhea: I'm grateful I have Cameron in my life because I'm not able to bend all the way to be like, "Oh, it's easy now." And obviously it's not easy, but because of her there is a less resistant path for me.
Heather: Do people interact with you differently since Take My Wife?
Rhea: Yes, definitely. Most people watching the show were already aware of us. And while the show is fictional, it's also highly realistic.
Cameron: We wanted it to be shot in a tight, close, real way — and we have the podcast we do together and I talked to Rhea on Queery — and I think one thing that's a little intense is people being like, "I have the same sheets as you!" And I'm like, "Oh wait no, this is a set." So yes those characters have our names, and we have the podcast, and we have social media — but we also have a whole other private life.
Rhea: It's nice to be close to people, and surreal to be important to people. Like I said, I am still processing so many of our fans opening up to us on tour. But there's obviously a gap between what we're showing and who we are that I think Take My Wife makes trickier. Although, to be fair, we did have some of our own stuff on that set.
Heather: You've both been so outspoken this year, every step of the way when fighting against Trump. Do you feel pressure as activists or is that something that's just natural for both of you?
Cameron: I started doing this job because I almost wanted to be a spokesperson. I just never saw anybody who I thought was speaking for me, so I felt like, "Okay, I will speak." I don't have to be the voice but I will use my voice. What's been interesting is how fast the conversation is evolving, just in terms of the language we use, and how fast this administration has been able to unravel so much of the work we've spent lifetimes building. I never took a poli-sci class, a gender studies class, a women's studies class. I went to college where that wasn't offered. So I'm wading through this, constantly trying to learn, and I hope people will be patient as they realize I am committed to getting it right, to not throwing away my platform, to speaking up for us, and to amplifying the voices that need to be heard. I'm not an expert. I'm just a human who cares — a lot.
Rhea: I never ran for student government, I wasn't involved in politics in high school or college. I did take gender studies and women's studies in college. That's what they were called then, at least, which I think means I'm old. I'm grateful to have that base of information I can lean on because I know when I'm being gaslighted. And because I want to say things I believe in the right way so they can be heard. You know, I'm not a political comic. I'm political because of who I am.
Cameron: This is why stand-up is such a gift. You don't have to get it all right. You're working with the audience to create something, together.
Heather: What's next for both of you?
Cameron: I hope you get to see the second season of Take My Wife and we have some other TV projects. I'm writing a book that I've been trying to write for two years. We're shooting a movie together. Hopefully doing this tour again in 2018 — and now we know how to live on a bus, so now it will be more successful, emotionally.
Rhea: I'm going to run for president.
Cameron: You haven't told me this. I kind of wanted to be president. This is so stressful. We're going to have to co-headline the presidency.
Heather: I know a great way you can save money. After she watched Take My Wife Riese spent quite a few hours making a collage of Rhea's face. It'd make a nice campaign poster.
Rhea: Oh, I know exactly the collage you're talking about.
Cameron: Me too, I hung it in my locker. Wait, though. That's what they call it, right? "Headlining the presidency?"
Heather: Absolutely. And, look, if you can survive in a bus together, you'll do just fine living in the White House.
Buy Back-to-Back: Live and tickets for Rhea's Close-to-Home tour today!