So you want to be where you are not. Me too. The academic year is starting back up again, and while I love doing what I do, I'm also wistfully thinking about the honeymoon my fiancée and I plan to take (but not until after she passes the bar, sigh). I figure, with summer coming to a close, I can't be the only one thinking about getting away. Here's some technology to travel easier, from planning to execution. And we're starting with my number one fave:
BaseTrip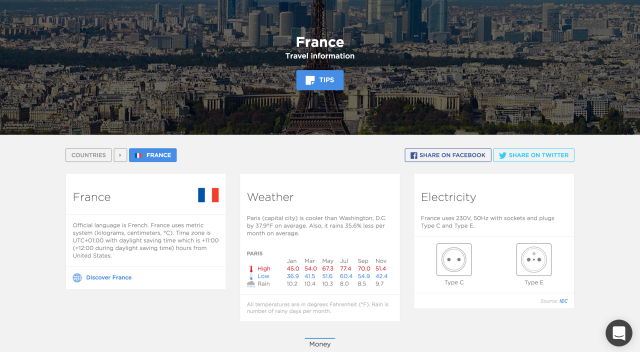 The BaseTrip website is magic. Seriously. Pick the country you're from and the country you're going to, and it'll give you TONS of useful information. Things you'd think to ask, like general weather questions, how expensive things are compared to where you're from, what the electrical sockets look like and what the visa requirements are. Things you might think to ask depending, like emergency numbers, what kinds of things are illegal and what sort of permits you need to drive a car. Things you'd NEVER think to ask but seem like really useful information to know — when hunting season is and what signs denote an area where people are shooting, for example, or what sorts of natural phenomenon you might need to be aware of if you are hiking or camping. I checked the information for France because I know it pretty okay, having lived there a short time, and all the information makes sense to me. Then I checked on a few other countries and it's really fascinating to know all these things? Like, even if I'm not planning on going. Highly, highly recommend. It's super cool. And it's also FREE.
---
Hopper
Hopper tells you when to fly and when to buy for the best deal on a flight, which is perfect for me personally because I cannot be arsed to shop around. This app claims to save you up to 40%, but obviously that sentence says "up to," so I tried this out for you. I'm watching a flight I need to book to speak at the Books In Browsers conference in San Francisco later this year. The app PREDICTS it'll save me $55 per ticket by watching this flight, which frankly sounds good to me. I would like to have fifty-five more dollars than I otherwise would. It's going to send me a push notification when prices drop, so I don't have to expend any actual effort. This also sounds good to me. And if it sounds good to me, it probably sounds good to you too. Saving money with little effort is pretty cool. Quick warning, though, they do charge a booking fee if you choose to book through Hopper. But I'll take the notification for certain.
Hopper is free for both iOS and Android.
---
BringFido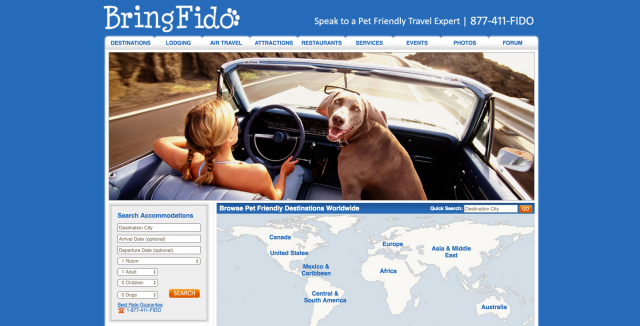 I know to whom I am speaking, here. I am speaking to a population well-known for its love of pets. Dogs and cats. If you're taking a road trip or even flying with an animal, BringFido compiles a bunch of resources you might need. While it's heavily leaning toward the side of dog lesbians, there are great resources for both sides of the divide. Pet-friendly hotel accommodations, for example, or a handy guide breaking down air travel rules for people traveling with pets by airline. There are quirkier asks as well, like a list of Dog Beaches, Dog Friendly B&Bs, and yes, even a Dog Event Calendar on which I learned there's a haunted tour in Wilmington, NC that allows you to bring your dog. You learn something new every day.
---
TripCase
I have to try really hard to be organized. My natural state is chaos whirlwind. If you are also like that, TripCase reduces the effort required to be organized about travel. Each time you book something, whether it's a flight or an AirBNB or a haunted tour on which you can bring your dog, you email it to TripCase using the email you signed up with. It keeps it all in one place for you, and all in a handy app on your iOS or Android device. And as you're on the go, you can add places you stumble across and like for future itineraries. Plus it has this neat feature where you can follow other people's trips, so if you're picking someone up from the airport and their flight is delayed, TripCase has got you so you don't spend one million hours at the airport.
---
CityMaps2Go
I have two words for you: Offline. Maps. I do not have the money nor the inclination to travel internationally with my data plan. And while I'd rather grab a tiny, pocket-sized book of city maps, I have to admit — CityMaps2Go does have its advantages. Like being searchable, zoom-able and customizable so you can add things you run across and places you want to go or are booked to stay. If you grab the free version for either iOS or Android, you get one free map download. If you're a more frequent traveler, consider the pro version, which is $6 for Android and $10 for iOS. Just remember — while the app doesn't need to connect to the internet after you download the map, make sure you're connected to download the map initially. And also make sure to turn off your data and data roaming while you travel so the app DOESN'T connect to the internet where you don't want it to and cost you a bunch of money.
---
Tile
https://www.youtube.com/watch?v=C-B7EzSZKgo
I'm not at all saying you are likely to lose things or that things are more likely to get stolen while you're abroad (that sounds like something people say to fear monger, actually). But the hardship is much grander if you lose your wallet or passport halfway around the world in a place that might not be super familiar to you. Enter Tile. They make two different styles of tracker that make it easy to call your passport and make it ring. Wallet, keys, you name it — attach a tile to it and make it ring. And if you lose it, ask to be notified when it's found. When any other tile user comes near it, you'll get a notification with its last known location.
Only one con here: batteries are not replaceable, so these have a life of a year only. I feel weird about that. But it might be worth it to you to be able to phone your passport on your big international journey. Tile Slims are $30 a piece, and Tile Originals are $25. The app will notify you when it's time for a replacement.
Well that's all for my favorite travel technology of the moment — what about you? Where are you off to, and what tech are you using to make your life easier?