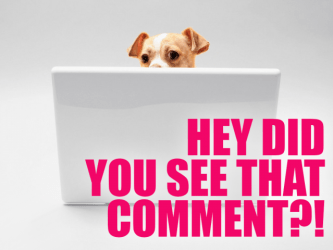 DON'T ASK DON'T TELL IS DEAD!!!
What, other things happened this week? Oh, yes they did! Here are ten fantasy novels that have gay people in it and
here are YA novels that don't have gay characters in them. Here is a playlist for your bad day, and here is a kit to help you move to NYC/a big city.
Laneia helps you feed yourself your kids , and Deanne Smith is back to help you figure out if you're on a date!
ASS Group of the Week:
Hey! Hi. Season 3 of Glee premiered this week. Did you watch it? Did you read the recap? Of course you did. Why aren't you talking about it in the AutoGleeks group yet?! Rachel L made the group and wants you to share your feelings.
---
On NSFW Lesbosexy Sunday Is Thinking Ahead:
The Over-Easy Award to Evidux: "Anyone building any form of end of days shelter needs to have their money confiscated in exchange for an iron skillet which they can then proceed to beat themselves in the face with."
On Flip People Off In All of the Ways:
The In Your Window Award to idotry: "These will come in handy (get it? Handy?)"
On Didja Hear the One About the Prolific Lesbian Burglars Thwarted by a Lion!!?:
The Leash Law Award to Roxy2: "is it out of the question that they decided to steal the lion?"
The This Is Why We Love You Guys Award to Andi, katiebug, kaythen, and bookbound:
On You Need Help: Requisite Crush on a Barista:
The Truth Award to Lora: "Ugh… this is why I'm trying to force myself to like coffee. I feel like I'm missing out on so much gay."
On Women Today Are More Drunk Than Ever:
The Pick-Up Line Award to NewTexan, softly, Marika:

On Bachmann's Anti-Gay Fervor Contributes to Mid-Campaign Crisis Thing:
The Sanitize Award to Cat N: "That packing plant should probably be thoroughly sanitized, and any meat she came into contact with should be destroyed. The last thing we need is a derpes outbreak."
On How To Live With Kids: Food And Cooking:
The Self-Sufficiency Award to idotry, AG:

On 22 Reasons Why I'm Not A Hipster:
The How To Get The Ladies Award to Tswizzle, Jules: