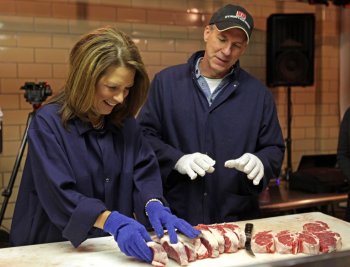 We are officially at the point in this bizarre campaign when absolutely every word that comes out of Michele Bachmann's mouth is probably total bullshit. Amazingly enough, her former supporters are pulling their heads out of their asses, checking the weather, and running vigorously away from her collapsing campaign. The most recent USA Today/Gallup Poll shows
Bachmann plummeting from 10 percent in August to a measly 5 percent this time around
.
This morning, Bachmann plowed gamely forward with her campaign, however, visiting Amend Meatpacking Company in Des Moines, where she strolled through a room of hanging carcasses and then proceeded to put on blue gloves and slice some meat for the photographers. She waxed poetic about Obama's excessive regulation of the meat-packing industry, which is a pretty ignorant thing to say (surprise!), as anyone who read Fast Food Nation could tell you.
Tonight, instead of watching Glee with the rest of America, she'll be attending a Tea Party rally in Homer Glen, Illinois. Bachmann isn't slowing down.
She seems unfazed by the abysmal past week of her campaign — starting with the backlash to her outrageous and catastrophically irresponsible claim that the HPV Vaccine causes mental retardation (Lizz is writing a separate post about that, so I won't get into it here) which inspired even Mary Matalin (Bachmann's co-star in the triumphant documentary film From the Heartland) to declare that Bachmann "is in perilous danger of branding herself batty."
See also:
But let's get into the gay stuff, shall we?
Relevant to your interests is The Minnesota Independent reporting that questions about gay rights "plagued" the candidate during her trip to California last week, most notably in the form of a Madonna Flash Mob conducted at a Bachmann event to protest her stance on LGBT issues and her Friday night appearance on The Jay Leno Show. Bachmann was just as surprised as we were when Leno popped the question —
Leno: "That whole 'pray the gay away' thing, I don't get that."
Bachmann: "When I heard that I thought it was a mid-life crisis thing, 'pray the gray away.'"
Nobody laughed, by the way. However, more important to note is that Bachmann didn't deny that the clinic practices reparative therapy, she merely deflected.
Leno: "To me, when I was a kid, they used to try and teach me to write right-handed, you're left-handed, that's the hand of the devil.… to me that's the same thing if you're gay. Gay marriage, why be against that? I've been married 31 years, first wife, very happy. Two gay guys get married, how does that affect my marriage?"
Bachmann: "The whole thing is, with clinics, whatever issue anyone has, we don't discriminate, if they come into our clinic and somebody has an issue our therapist deal with whatever the issues are… and that's it, it's an ethics issue… we don't discriminate with people's issues."
I wonder if they'd discriminate against someone who came in wanting to embrace their homosexuality. How would they handle a trans client going through transition and wanting advice on coming out trans to friends and family?
Leno: "I'm surprised that the Tea Party gets bogged down in these social issues –"
Bachmann: "Well they really don't to be honest with you, the Tea Party is about fiscal conservatism and having government get its act together."
Leno: "It sounds like two gay people wanna get married that's their business, that doesn't concern us. I mean, why is that even an issue?"
Bachmann: "The family is foundational and marriage between a man and a woman is what the law has been for years."
Leno: "I tried it myself, it works great for me."
Bachmann: "There you go."
Leno: "I gotta admit, that's a part I don't get, I know gay families that are married, they have children, and they're wonderful people, it doesn't seem like — why they shouldn't be allowed to be happy. But I'm not gonna change your mind on that one."
On Monday, Bachmann said she was "very surprised [by the Leno interview] because we had had a pre-show interview and that wasn't at all what I was told we were going to be talking about."
So, let's recap: Michele Bachmann doesn't deny that her clinic practices gay conversion therapy, despite previously denying that her clinic practices gay conversion therapy and in line with evidence that her clinic practices gay conversion therapy. Bachmann's home district in Minnesota is hosting not one but TWO lawsuits from LGBT students who were excessively bullied in school (Bachmann balked at efforts to create a "zero tolerance" bullying policy) yet when asked about anti-gay bullying last week, Bachmann dismissed the question altogether with "that's not a federal issue." Michele Bachmann has said in the past that homosexuality is "a sad life," "part of Satan,"  "personal bondage, personal despair and personal enslavement." Michele Bachmann has said this:
"It isn't that some gay will get some rights. It's that everyone else in our state will lose rights. For instance, parents will lose the right to protect and direct the upbringing of their children. Because our K-​12 public school system, of which ninety per cent of all youth are in the public school system, they will be required to learn that homosexuality is normal, equal and perhaps you should try it. And that will occur immediately, that all schools will begin teaching homosexuality."
At what point, exactly, can we add her anti-gay sentiments to the pile of crap even her own people aren't buying anymore? At which point will she do her cause more harm than good? You know how in school they told you if you smoked pot you'd try to jump out the window and fly and when you realized they were lying about that, you thought "hm, I wonder if they were also lying about cocaine!"? Maybe that's what will happen here.