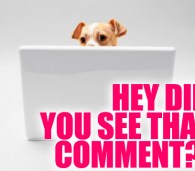 Dear readers and little squirrel friends,
Happy Chinese New Year. Happy Friday. Happy birthday if it is your birthday. I eat too much.
Love,
Snow Pea
This week on Autostraddle we had a brand new columnist! Sebastian, aka xxboy, is here to talk to you about gender, transitioning, sexuality, politics, all the things you can think of! If you're feeling low, DeAnne Smith is here with a quiz to see if you have Seasonal Affective Disorder , which you probs do if it's winter where you are, and also apparently if it's summer. We also have an open thread for anyone who is stuck inside during the snowpocalypse (is that still happening?). Riese brings you 15 boys we loved when they looked like lesbians and also Johnny Depp who everyone still loves, and how NOT to dress for success which is basically my life.
---
On Focus Features Picks Up Black Lesbian Film "Pariah", Loves Gay People:
The Diversity Award to FelonKeller:
Fantastic news about Pariah. I saw the short several years ago and it was so poignant and well-done that I still think about it. Also good news about the Lesbian Space Alien movie, that's really a demographic that could use some visibility. bee borp
On No One Wants Teenage Lesbians to go to Prom Ever:
The Spear Britney Award to rebel_visionary:
I thought I was Britney Spears at prom… Bleach blond extensions down to my bum, curled, crimped, straight. And a denim gown. oh yeah.
would you hold it against me?

On What The F*ck Are You Eating?:
The Mean Girls In Every Thread Award to L., p, ash-catch-them, Ann:

On NSFW Lesbosexy "Sunday" Thinks Sex Is Funny:
The Sugar Daddy Award to Grace_B, Cait, TLC DEMON:

On Champlain High Avoids Drama: Lesbians Will Walk as a Couple at Snow Dance:
The e Award for e to e:
at first i thought that the pandas were frozen in ice and i freaked because PANDAS IN DISTRESS and also i thought it was some sort of metaphor and kept reading to figure out that metaphor and then realized that the pandas aren't frozen, just adorable and now i just want skittles and a break from my literature classes.
On DeAnne Smith and the Seasonal Affective Disorder Quiz:
The Canada Award to Leah:
This is why people in Canada are so happy in the summer. The rest of the year is mandatory depression. Next career: therapist in the prairies
On New Kids on the Block's Jonathan Knight is as Gay as He Ever Was:
The Words Matter Award to meagan:

On Chick-Fil-A's Anti-Gay Damage Control Even Sloppier Than Their Sandwiches:
The Take That! Award to Smiley:
Welp. I'm a Christian. And I'm a gay lady. I hope they enjoy my gay lady lips all over their food.
On Illinois Gets Civil Unions, Life-Threatening Snow Storms:
The Ergo Award to Dina, Marika: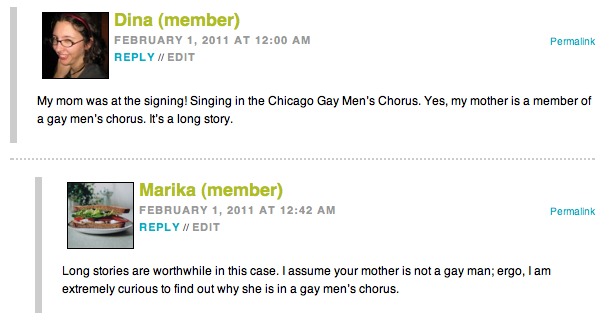 On 15 Boys We Have Loved (When They Looked Like Lesbians):
The Who Doesn't Love Jack Sparrow Award to cancellous:
I feel like Johnny Depp is still at the peak of lesbian appeal.
The Life In The Winter Award to Catherine:
I got up for my 9am, fully expecting Boston College to have cancelled my classes for the day. Nope! The trudge to campus was unbelievable. I was almost disappointed that nobody was waiting at the front gates to congratulate me and give me a cup of hot chocolate.
The Harry Potter Award to Jenin:
Also, Harry Potter Marathon begins now.
On How to Not Dress For Success: Top Ten Fashions For Being Alone In Your Apartment:
The We Are All Made Of Kittens Award to Lissi, Grace_B, giwtrah: