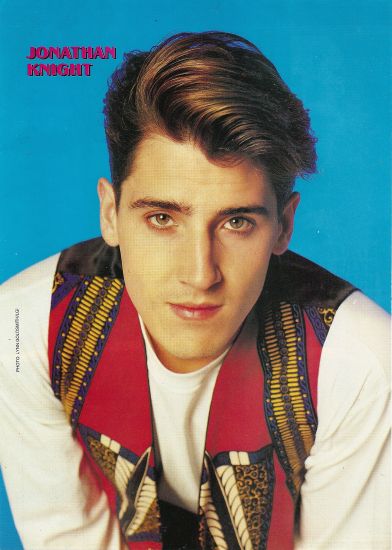 Last week, Tiffany, who you may or may not like more/less than Debbie Gibson and may/may not have seen perform at your local shopping mall in the late 80s/early 90s, accidentally "outed" New Kids on the Block's Jonathan Knight while appearing on Bravo's "Watch What Happens Live" to promote her upcoming Syfy movie with Debbie Gibson. Host Andy Cohen asked her if she had anything "romantic" with any of the New Kids on the Block, to which she replied that she'd dated Jonathan Knight, "the quiet one, the shy one," adding that "he became gay later" and that "he was so much fun — we used to do facials together, he was so easy to talk to."
Jonathan is not upset and responded via Twitter, saying: "I'm so devastated. How can I not remember getting facials???????" and when Tiffany expressed distress over the incident on Twitter, Knight tweeted again: "Tiff, please don't lose any sleep over it! I know you weren't being mean and I found it to be funny!"
Unfortunately for Jonathan, things have changed since the innocent 80s/90s. Now you're not gay until your gayness provides significant web traffic towards at least 50 major websites.
Then this week Jonathan Knight OFFICIALLY came out…again! This time he did so in a blog post. Jonathan Knight is gay. Jonathan Knight is gaygagygayagygaya. Surprise!
"I have never been outed by anyone but myself! I did so almost twenty years ago. I never know that I would have to do it all over again publicly just because I reunited with NKOTB! I have lived my life very openly and have never hidden the fact that I am gay! Apparently the pre requiste to being a gay public figure is to appear on the cover of a magazine with the caption "I am gay". I apologize for not doing so if this is what was expected! My belief is that you live your life by example, and not by a caption on a magazine! If there ever has been any confusion about my sexuality, then you are someone that doesn't even know me!"
"I love living my life being open and honest, but at this time I choose not to discuss my private life any further! My fellow band members don't discuss their private lives with their loved ones and I don't feel that just because I am gay, I should have to discuss mine!"
We didn't report it because you know: DUH/whatevs/REPEAT. But then we realized this would be a good excuse to make a post composed entirely of New Kids on the Block music videos.
+
The Right Stuff:
+
Please Don't Go Girl:
+
+
I'll Be Loving You (Forever)
+
+
Step By Step:
+
In other coming out news, Natajah Burton, author of the new "tell-all memoir" A Low Down Dirty Shame, is saying she had an affair with Rihanna (which would be absolutely fantastic, but we're hesitant to give this story too much space until it's been at least mildly confirmed) and according to BroadwayWorld.com, The Facts of Life's Geri Jewell, the first person with a disability (cerebral palsy) to have a recurring role on television, comes out and discusses her Hollywood experiences & sexuality in I'm Walking As Straight As I Can.