"Currently sitting in a doctor's office where the physician just told me that two ladies can't transmit 'STDS.'"
I read this text about three times before I could comprehend it. But there it was, staring unblinkingly at a person who had recently experienced the bisexual-of-late-stage-capitalism conundrum of asking herself "how do I avoid Amazon in buying dental dams?"
The message was from a friend in her thirties, relating a bald statement from her new primary care. When she disbelievingly challenged the physician, he told her that he, too, had brought up this "question," (and who calls tangible protection a nebulous, esoteric question?) at conferences, and no one had come up with a conclusive answer.
As many people reading this already know, this blatant disregard is not an isolated incident. When I reached out to queer friends and acquaintances to ask after their experiences with the exclusivity of sex-ed, and if their physicians had been anywhere near as dim on the concept of queer sexual health, a cavalcade of stories emerged. Premature misdiagnoses of HIV, total ignorance of the how (and, insultingly, the implicit why) of non-penile sex, and proclaimed discomfort or outright refusals to prescribe PrEP peppered my inbox. An overwhelming number of friends had never heard dental dams, gloves, finger condoms, or artificial lubrication discussed by their primary care, or, like me, had any idea how to use or where to find them until a sexual partner introduced their use.
These partners, generous and worthy of appreciation as they may be, should not be regarded as the catch-all. They should not have to be relied upon as the only way to correct years of absent information, and reveal the heterosexism behind purposely, obtusely hurtful misdirection. And as bemused and saddened as I may be by my own personal revelation, I have to recognize that the little fire stoked by such casual malice is nothing new: other people with much more insistent drives to action have felt this, and have made it their mission to inform, educate, and liberate the queer body.
Much could be said about sex educators, for so many different reasons — there is no way to accurately generalize about a field of persons who bring their own particular biases and agendas to informing, theorizing, or experimenting in navigating bodies for pleasure and safety, especially in a time where any work in or adjacent to sex is precariously legislated and criminalized. However, right at the time I received this text, the importance of such professional pursuit was made incredibly clear by the discovery of two American sex education empires of days past.
Because of a day job working in film archives, I stumbled across two VHS tapes: Latex and Lace (1987), and Party Safe, a vertical cut of Ellen Spiro's DiAna's Hair Ego: AIDS Info Up Front (1990). My objective in viewing these tapes was merely of a quality checking nature, but boy did I ever hit the pause and rewind for these two.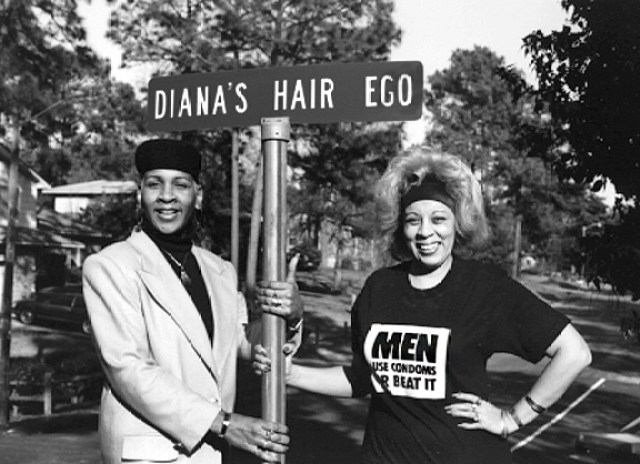 Latex and Lace, a short film made by the San Francisco Institute for the Advanced Study of Human Sexuality, opens with interviews of various women about the reasons for them to want more pleasurable, safer sex, and the difficulties they've had in convincing partners to accede to the bare minimum. They pass a microphone around and have what appears to be a genuine, spontaneous conversation about overlapping struggles ("he wants me to give him a blow job to get hard enough to put the condom on! He can get himself hard!"), and frustrations ("I'm bisexual. Of course I need to have this talk over and over until anyone gets it"). After the women air some of their grievances, laughing and shouting in agreement or disappointment, they then proceed to a "safer sex party."
At this party, the same women who were interviewed appear to swap stories and skills surrounding safer sex, including demonstrations of double penetration with condom-ed dildos, sex-toy cleanup, and a dental dam 101 that far exceeds the paltry two or three flavors offered at my local Babeland (much love to them, please stock non-flavored dams!). Harnesses which clip dental dams in place for easy security and disposal, dental dams made with external condoms and safety scissors when the original product isn't available, and Saran wrap and gloves used to administer lubrication all receive dedicated attention and demonstration.
One party attendee proudly produces her homemade dental dam face mask, an apparatus she's fashioned in order to have safer oral sex that keeps herself and her partner securely protected, while leaving her own hands free for whatever they might want. These hands are then adorned with latex gloves — another rarely promoted, but incredibly simple addition to a safer sex practice.
What makes this film so revelatory, that is, the enthusiastic demonstration of uncomplicated ways to protect vulva-centric sexual health without cost to pleasure, is also what makes its existence and re-discovery disappointing. According to the American Sexual Health Association, one in two (50%) of sexually active people will contract an STI by age 25, and one in eight (12%) of people ages 14-49 have a form of genital herpes. According to Johns Hopkins, 50 percent to 80 percent of U.S. adults have oral herpes. Something as common as herpes is spread by physical contact with a person's herpes sores, and it seems needless to say, but this is not exclusive to a woman's physical contact with a man's herpes sores. Heterosexual structure has no relevant place in this. The sores don't give any sort of a damn about identity — they're manifestations of equal opportunity viruses and they could probably have their own corporate float at Pride if they wanted it.
If Johns Hopkins, the American Sexual Health Association, the Center for Disease Control, and the National Institutes of Health can all agree that genital and oral herpes are extremely common, and many individuals pass the virus unknowingly, why oh why, on Gillian Anderson's Green Earth, have so many health professionals disregarded basic safer sex training and resources? Why should the advice of ill-informed health professionals be considered more important to the health of a queer body than the ex-ed (explicit education) films of the now-defunct Institute for the Advanced Study of Human Sexuality? Despite far more thorough information and demonstration, these films were given a much smaller opportunity to be taken seriously, due to what bi sex educator and collaborator on Latex and Lace, Dr. Carol Queen, calls the crossing of "an artificial boundary of 'professional propriety.'"
As Queen further elaborates, this demonstration of such things as dental dams is actually one of the ways that educators can "prove to [us] that they know what they're talking about," unlike the obliviously harmful claims made by my friend's doctor employed in a trusted university health center. Nowadays, there are ways to more easily search out this type of education, once one gets a lead. Some of my favorite incredible social media mavens including Autumn (@speakingofsex), Zoe Ligon (@thongria), Eva Bloom (@whatsmybodydoing), Coriama (@kocomeow) and many more, but even so, many of them lack the stamp of credibility afforded by a private or public practice, mostly for their participation in more accessible and harnessable ways of distributing knowledge.
Party Safe and DiAna's Hair Ego demonstrate the importance of another such liberator at a time where social media was unavailable: salon owner DiAna DiAna, whose own personal revelation on the devastating effects of HIV/AIDS propelled her to make her salon a haven of safer-sex education, contraceptive information, and grassroots-propelled transparency about all forms of intimacy. DiAna's Hair Ego, which documents the formation of South Carolina AIDS Education Network (SCAEN), traveled the film festival circuit in 1991, garnering awards for its candor, humor, and obvious importance of its subject. However, Party Safe, which documents DiAna and partner Dr. Bambi Gaddist traveling throughout the United States, throwing "safer sex" parties in a similar, but less physically direct, theme to those of Latex and Lace's, has received far less traction.
In the latter documentary, DiAna and Gaddist bring games, workshops, and explicit conversations right in the living rooms of their hosts. As they travel from Chicago to D.C. to LA, their participants engage with various levels of shyness and enthusiasm. A few choice excerpts showcase the gentle, effective directness with which DiAna and Gaddist treat a curious grandmother and her grown daughter, and the unashamed space they create for asking questions and comparing sexual experiences. Lingerie, toys, erotic board games, and complete openness visibly transform the attitudes of their participants, with clear indications toward the ripples their knowledge will affect.
In 2017, beloved filmmaker Cheryl Dunye (of Watermelon Woman fame) revisited DiAna and Gaddist in South Carolina on a road-trip motivated by a similar re-discovery. After reading about the new HIV/AIDS crisis, Dunye sets out to investigate from a grassroots level, meeting DiAna and Gaddist at DiAna's salon to find out why Black queer communities in the American South are still at such a high risk for contracting HIV. As DiAna and Gaddist explain in Dunye's REMIX (2017), even though they have been hard at work for 30 years cultivating a sex-positive approach to safer sex, the majority of health professionals are still not taught to focus their practices on queer communities in a post-national crisis era, especially when the public face of HIV/AIDS exchanged White gay men for poor communities of color.
As DiAna attends to Dunye in the salon chair, she expresses both her frustration and her hope in continuing to educate herself and her community. The fight for public knowledge of safer sex practices clearly is in no way over.
Regardless of whether medical professionals steeped in Western practice catch up at a reasonable pace to the dictates of all queer bodies, communities will continue to find ways to educate themselves. Even in asking for stories of mishandled sexual health education, I received anecdotes encouraging the awareness of organizations such as Callen-Lorde, APICHA, Planned Parenthood, and the Institute for Human Identity, along with other such individual referrals of those professionals looking to engage in thorough conversations of reworking the American public health system toward real inclusivity. Even more encouraging to my mind is the work of such inclusive curriculae as the Unitarian Universalist OWL program for young congregants (all faiths welcome!), and the recent win in the Colorado State legislature which mandates consent-based sex education in all public schools — a bill shaped and argued by, among others, young queer and trans student advocates.
Although the Institute for the Advanced Study of Human Sexuality has since been stripped of its degree-granting powers, its alumni, including Dr. Queen, Annie Sprinkle, William R. Johnson, and Sharon Mitchell continue such work with steadfasts like Good Vibrations, the Adult Industry Medical Health Care Foundation, and sexual health-based research and educational outreach, and DiAna and Bambi are still hard at work.
Unfortunately, there is a wide gap between the number of financial and professional resources available within said organizations and the number of individuals who still need comprehensive care, and queer bodies often fall through the cracks simply for lack of better words, pictures, or capability to imagine the "correct" questions we so desperately need answered. As in many situations, the wide and nebulous reaches of the internet can assist, but when you don't know what you're looking for on the most discrete level (for example, what am I at risk for?), even an empty Google search bar poses an obstacle.
Taking the example of the safer sex parties of Latex and Lace and Party Safe, I'd like to use this space to encourage the explicit conversation of what practices we use to keep ourselves healthy in all aspects of queer life, and perhaps even the intentional, extensive personal documentation of what we share and discover. This doesn't necessarily have to be through a safe-sex party, a highly aesthetically curated sex-ed social media account, or an ex-ed film of your own devising (and right to do with it whatever you may want), but why consider any of them out the bounds of acceptable sex education and research?
Just as the recent move toward de-stigmatizing mental health upkeep promotes conversation and transparency in diagnoses, forwarding the idea that mental health is an equal part of physical health, open communication about sexual health is integral to anyone even considering what sex might mean for their body. There is, of course, a mandatory level of consent and respect to which we can be highly attuned in this sharing, but as with all apparently shameful topics, the more we talk, write, and record, the less daunting something as simple as buying a dental dam might become. What might we be able to do if we continue to more carefully record, preserve, and distribute our learning, and not just pass knowledge through the intimate, sometimes deeply guarded connections formed through sexual and romantic relationships? Would we be more fully capable of fortifying ourselves from the hearsay enforced by unknowing, dangerous cis-hetero cross-sections of our bodies?
In this saving and distributing of knowledge, especially at an amateur, community-driven level we continue work that has been started and re-started over and over. Hopefully, with the aid of a new dedication to preservation, we and the baby queers in our midst will have to play less catch-up as we all become better allies to our own bodies, creating protection against the doctors who have sometimes done less work to understand our communities and our bodies than we have.