A Prairie Homo Companion is a regular column that celebrates the Canadian prairies, canola fields and big skies, and the paradoxes of being a fine-ass lady prairie homo.
Header by Rory Midhani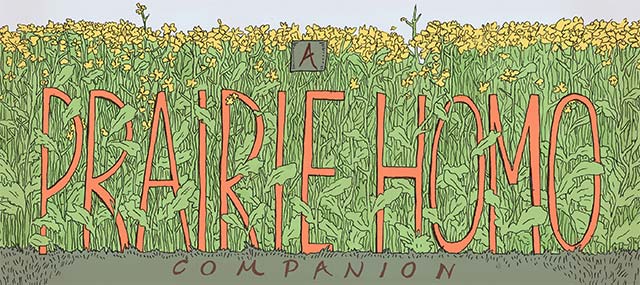 This is the last A Prairie Homo Companion that I'll be writing from Edmonton for a while. This prairie lady will be off to New York for a summer publishing internship. I'm excited, terrified, jumpy, stressed, completely in awe, full of anticipation, thankful, and all of the other feelings. I could probably write out a feeling I'm feeling for every letter of the alphabet, but that would be boring. Instead, I'll look back on some of the things travelling has taught me.
I wasn't one of those kids whose parents took them on exciting trips all over the world. For the first twenty years of my life, travelling meant getting in the family car and driving the four hours from the prairies to the Rocky Mountains. I loved it, but as soon as I was able to work, save up money, and apply for scholarships to go on foreign exchanges, I couldn't wait to see, well, everything! In the past three years, I've lived in no less than three cities in three different countries. It has been a bit of a whirlwind, and I like to think all of this travelling has taught me a few things, or else what would be the point? So here's a list of 10 things I've learned as a prairie homo in the great wide world:
1. There are a lot of people in the world. A lot.
2. Most of these people are like you in a lot of ways. If they disagree, it's probably because they're scared — of you, of difference, of new ideas and cultures.
3. You don't know anything. I don't mean that literally. You've probably learned (or slept through lessons) on algebra, handwriting, and books. Maybe you've learned how to make your grandmother's chicken pot pie. Good for you. You're so great. You're so smart. You're so knowledgeable.
Got it?
Now forget it. Sometimes your cultural framework and the experiences you've accumulated through your years of living aren't enough to help you to understand a new culture, and everything will seem weird and scary. You'll feel like you're two years old and just learning about things like speaking English and tying your shoes, except there won't be a mother or a kindergarten teacher to give you a gold star (no pun intended) when you finally figure out how the metro system works or how to properly socialize with people in a new environment.
4. Don't judge the new country and the new people just yet. Right now you're in the initial stage of Not Knowing Anything. Instead of judging, listen. Open your eyes,  your ears. Open your nose to new smells and your door to new friends who might enter bearing gifts of pizza and beer and port, and then everyone will make out and by the end of it you'll feel fully integrated into the new culture: a sense of community created through kissing. Or does that just happen to me and my friends?
5. You get to know your travelling companion very, very well. Do they stress-pick their nose while waiting for the train from Lille to Paris? Are they gay? Do they not pack enough underwear and wear the same pair twice in a row by flipping said underwear inside out? Are they ridiculously awesome and fun to be around all day every day? Are you gonna be bffs? Do they share your taste in museums? You guys, there's a special, magical kind of intimacy reserved for travel partners. If you're not sure whether or not you're compatible with someone, the quickest way to find out is through travelling with them.
6. You learn a lot about yourself. Not to get all Eat, Pray, Love on you (although I'm proud to say I do think Elizabeth Gilbert is an insightful and funny writer and has amazing blonde curls to boot), but I think travelling is one of the best ways to learn about who you are. I mean, when you're away from your friends, your family, your dog, and most of your clothes, all you have left is you! And if you're like me and many of the people I've spoken to, you'll realize just how fucking awesome you are because hey, you can live in a foreign country on your own and survive! You can handle that confusing foreign paperwork with instructions written in a language you don't use everyday! You can figure out that subway map, find that grocery store, and fucking feed yourself! And people besides your friends back home do in fact like you and wanna hang out with you because although you may be as weird as you think you are, everybody else is too. All over the world. The world is packed full of weirdos. You're not the only one. It's wonderful.
7. People are nice. Before I left for Europe everybody (okay, mostly my mom's friends) cautioned me about people who would try to rob me, kidnap me, etc., and I nodded and took notes. Our whole lives we're taught not to talk to strangers, not to trust unfamiliar people and places. The newspapers, the Facebooks, and the televisions are bursting with stories of bad guys and all the horrible things they do in the world. Though it's true of course that life is not fucking fair, and horrible things do happen, what I've learned from travelling is that, contrary to the six o'clock news, most people are, in fact, really nice.
Throughout my travels, people I've just met have let me stay in their houses, cooked for me, and shown me around. The good thing about being queer is in most places, other queer people welcome you with open arms and don't hesitate to introduce you to their city's queer scene. It can feel like the Here/Queer column comes to life and takes the form of an awesome new friend. Whenever I read too many depressing news stories, or just read too much about Canada's Prime Minister Stephen Harper and feel like crying, I think back to all the wonderful, friendly people I've met throughout my travels and my faith in humanity is restored.
8. You can't control things. I'll admit, change freaks me out. I spend far too much time planning everything I can. I'm that girl who writes everything on her iphone calendar and journals all of her feelings so I can analyze them, figure myself out, and thus hopefully magically predict my future! Unfortunately, life doesn't allow for this, and at no time is this more apparent than while travelling. I had a moment sitting in my dorm room while on exchange in France, when I realized I had no idea how I'd spend the next few months following the end of term. Would I go back to Canada? Travel? Which countries would I go to? Would I find a job? Would I have enough money to survive without a job? Where would I live? Who would my friends be? Would I be sleep with that girl in that other country again? Would I ever see her again? I couldn't come up with any answers, and I felt alone, out of control, and 100% freaked out.
Life is unpredictable, it's true, but life while travelling puts unpredictable in capital letters, each letter highlighted and surrounded by sparkles. Travelling is real life on fast-forward and, like a fast amusement park ride, left me feeling dizzy and nauseous. I was forced to learn to be okay with the question marks, the uncertainties, the dizzyingly high speed of life, and I found that often, things turned out much better than I could have made them if I were, in fact, the puppet master of my own life. And that was magical.
9. There are a million and one ways to live a life. I come from a moderately-sized city and thought I'd witnessed quite a bit of variety and multiple viewpoints, but when I travelled I learned how much more there was. I learned that in other places, art and writing are valued way more than they are in Edmonton. It's not art and writing aren't celebrated at all in Edmonton, because they are, but in Oxford there are literally bookshelves in the bars and libraries under the sidewalks. I visited the former homes of writers like Virginia Woolf and Shakespeare and thought "Wow! These geniuses did normal-people things like live in houses and eat in kitchens and stuff!"
Feeling so close to the history of art and literature made me feel supported and inspired. No, I was not a weirdo for being so passionate about writing and taking English Literature in University. I wasn't stupid for not taking something more "practical" like engineering. I felt loved, supported, and lifted up by all the millions and millions of humans throughout history who've written stuff, and painted stuff, and composed stuff, and acted stuff. Sometimes being an artsy-fartsy gay kid in the prairies can feel lonely, but it's hard to be lonely when you're surrounded by more art history than you could've ever imagined while cramming for an Art History 101 final.
10. Life is beautiful. You're so lucky to see everything you've seen. Be grateful.