Because you deserve to be the best dressed homo in the office. Read previous posts here.
Header by Rory Midhani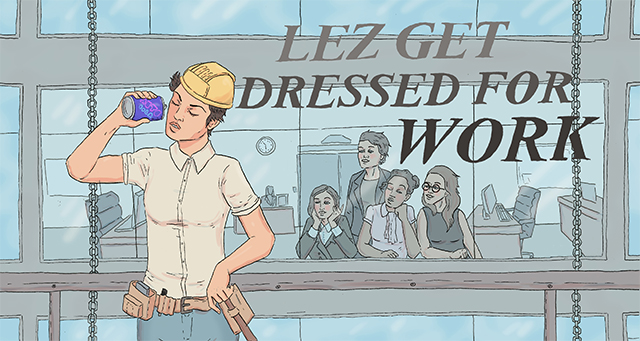 ---
A lot of people spend a lot of time and energy trying to look like they just rolled out of bed: perfectly messed-up hair, flannel thrown on just so, and maybe a little bit of smudged eyeliner, depending. Going to work is pretty much the opposite. Unless you are a morning person (what does that feel like!) you are probably familiar with the exact minimum amount of time you need to make yourself look professional; and likewise, the maximum amount of seconds you get to spend in a blanket cocoon with your eyes closed (omfg I'm so tired right now).
Today I had one of those days where I really stretched out that staying in bed time. When I finally crawled out of bed like an old homeless hamster, putting on clothes that weren't my pajamas just felt bad, so I wore the closest things to pajamas I could justify: my softest nice skinnies with my Madewell silk boyshirt, untucked, and suede booties. I wore a gold bow tie necklace and between all those things I somehow managed to look like I'm a professional grownup, I think. This is a close approximation:
Wearing this outfit reminded me of something: you know how I keep telling you guys to tuck your shirts in? A lot of you responded to that advice by saying you'll never feel comfortable tucking in, and I totally feel that. Actually I personally do it like 50% of the time. I'm not all that tall but I have a long torso, so it's a rare shirt indeed that is long enough to actually tuck in. Also there are days like when I have my period or I ate a lot of pizza the night before when the thought of tucking it in really just makes me want to cry, so.
If you're of the non-tucking persuasion, just pay close attention to where your shirt falls. If it falls above the top of your pants, wear an undershirt and tuck that one in. Actually even if it appears to meet your pants perfectly, wear an undershirt and tuck it in: you want to be able to lift your arms without showing off your tummy to all the ladies (this is work, not your women's studies class). If it hangs down past the top of your pants, and you like to wear belts, make a note of what the bulk of the belt does to the way the shirt falls. If you can see the shape of the belt through the bottom of your shirt, maybe don't wear it, and put on pants that don't need a belt. (That's just a pet peeve of mine. I hope it continues to be implied that you should do whatever you want that is also work appropriate. But really I feel like you shouldn't be able to see a belt shape under your shirt.) Also, in general, you should probably be wearing an undershirt with your button up because guess what? That gapping problem? It happens to mostly everyone I've ever seen in a button front to at least some degree.
Last week I suggested getting things tailored if you're one of the majority of people for whom off-the-rack clothing doesn't fit perfectly, though I know that's not very helpful advice since what we all want is to have this be as easy and cheap and painless as possible. This can be especially difficult with button ups, with their attendant gapping problems. A friend of mine suggested actually sewing the parts of the shirt that are gapping and then pulling the shirt over your head like a popover. But if you've given up on button ups, that's totally fine and reasonable! Let's talk about what else you can wear to work.
One of the reasons button front shirts look professional is because they have nice collars. There are plenty of regular shirts with nice collars, too. American Apparel in particular, although they are in many respects an eyebrow-raising institution, makes a lovely Silky Collar Tee that I may or may not have in two different colors (hey, if you love something, buy it twice, right? I got mine at a thrift store!). You can tuck or untuck, and it also looks amazing with high-waisted pants situations, which is a really good look if you're femme and into being a little bit retro and also showing off your curves.
Maybe you don't want to shop at AA because of your good politics. Collared tees are totally a thing that are relatively easy to find with some dedicated googling. Look, I'll even get you started:
If the peter pan silky tee thing is too femme for you, Topman has some great polo shirts that, if buttoned up all the way, have the equivalent effect. You guys honestly I really don't like polo shirts, but something about when Topshop does it make its okay to me. I'm going to have an entire post about shopping in the men's section some day, so please hang tight. If none of the above appeals to you, you could always also go for a striped top of high-quality material, which doesn't necessarily have to have a collar because it already looks so fine. Did you know that stripes are a neutral? It's true.
Next week, let's talk about ways to queer a suit. Hint: it's not actually going to involve wearing a suit.
Header art by Rosa Middleton.