Sex is hot. And also, kinda funny. Like, much much funnier than it looks on bad teevee or in porn movies where people are all at the pool like, "hey what's up let's do something serious/naked on the pool table later" or "let's smear pancake batter over each other's nipples and lick it off as if that isn't the stupidest/funniest thing of all time ever." People are naked and rolling around sticking their fingers and tongues in each other. That's really funny.
But here's the thing: like EVERYTHING ELSE ON THE INTERNET, it's difficult to track down fantastic links about lesbian sex that isn't straight porn, let alone FUNNY lesbian sex. So kids, the ball's in your court.
Do you have any funny/embarassing/ridiculous sex stories to share? SHARE THEM IN THE COMMENTS!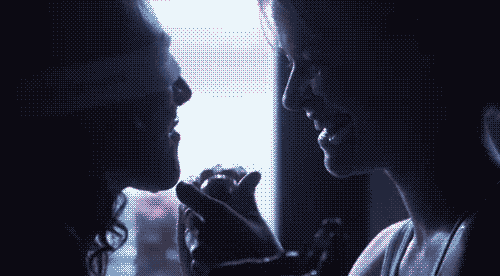 The Effin' Dykes Guide to Cunnilingus: "Cunnilingus – You're Doing it Wrong." (@sexyisforeverybody)
I Am Becoming an Illegal Pervert: "Have you ever heard that thing about how a guy reaches his sexual peak in his late teens, and a lady reaches hers in her mid-30s? Well, I'm pretty sure that's true because I am a 33 year-old lady and am quickly becoming an illegal pervert." (@thoughtcatalog)
+
Porn For Straight Girls: Well, That's One Way To Sell Your Art: "I like "Art School Dykes" because it's got some of the funniest things about straight porn, including bad dialogue, overblown acting and manicured pubic hair, while being full of awesome tattooed girl-on-pierced-girl action and genuinely enthusiastic orgasmic shrieking. (@fleshbot)
Images You Should Not Masturbate To: Nails are clipped in this gallery. (@jezebel)
The 11 Best/Worst Vagina Tattoos of All Time: it's a thing. (@buzzfeed)
Europe Through the Back Door: "Like a straight man who thinks getting a colonic will turn him gay (Meghan says men have actually worried aloud about that), I fear that something terrible will happen if I let anyone go near my butt." (@effin'dykes)
DAR: A Super Girly Top Secret Comic Diary, by Erica Moen (@dar)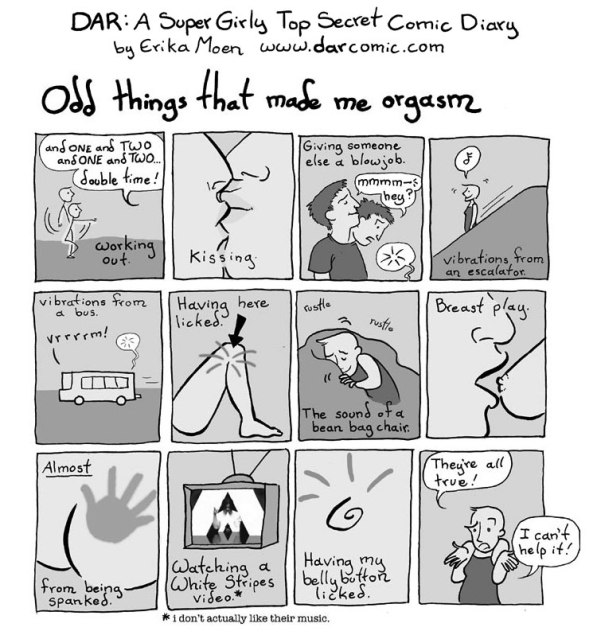 The first rule of Jane Austen's Fight Club is…
Remember when we gave you 8 Steps Any Girl Can Take to Get a Girl to Sleep Over? Maybe read that one again.

Autostraddle Anonymous Sex Toy Review #1: This Giant Purple Strap-On
It's our very first Autostraddle Anonymous Sex Toy Review! Over the last 2-3 years, we've been propositioned frequently by sex toy companies wondering if we'd like to review their toy in exchange for, you know, their toys. In 2011, in addition to "saying yes to the dress" we are saying YES to the sex toys!
Several of these companies which sell Adult Toys don't realize that we're homos, and will probs never want to send us anything ever again. That's where we're starting today, with a toy we pawned off at a dinner party last night. It happens. This will probably be the funniest one because it's silly.
+
Grooved G-Spot Strap On From Theirtoys.com
We couldn't bring ourselves to actually use the Grooved G-Spot Strap-On from the Strap-On section of this incredible TheirToys Adult Toys Website.
The "harness" may very well be made out of worn-out underwear elastic and that heinous plastic packaging that's impossible to open, even with scissors.
There was NO FUCKING WAY that shit was coming anywhere near my soft tender parts or the skin of my inner thighs.
So "over the clothes" is the only way to go — we did that and helpfully took some photographs for you: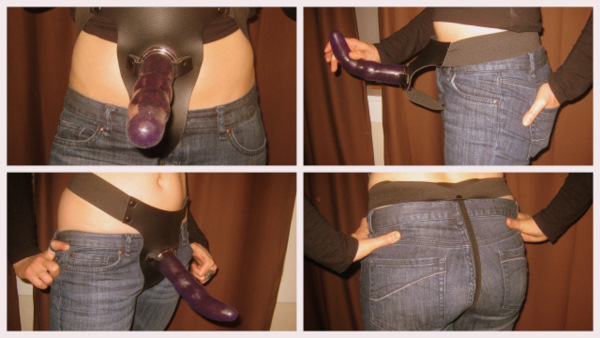 So we've got this big Purple Dildo Monster (which the package calls "a dong") entirely lacking harness support, so it's very loose and floppy. No control at all! Furthermore the "O ring" is practically at the waist. How do you fuck someone from the waist?
The base of the dildo is supposed to be a suction cup so you can "stick it to the floor, wall, or tile, and it stays put!" which is clearly a priority over like, "you can use this to fuck girls!" But it was bent out of shape with no suction at all. As "Jane" said, "how am I supposed to have sex with the floor now?" How indeed.
The dildo may not be a total loss if you're into big and long. We could maybe report back on that later. The best part is that it comes with a blindfold! So you don't have to look at what you're doing or the piece of junk you're doing it with. Thank goodness!



Okay share your funny sex stories or say whatever you want.