UGANDAN LESBIAN ASYLUM:
In an amazing twist worthy of a real-life romantic comedy but actually way better than a romantic comedy because this actually matters, Ugandan lesbian Brenda Namigadde was finally granted at least a temporary reprieve against deportation from the UK. Namigadde has been seeking asylum because of the hostile climate towards homosexuals in Uganda; the British government was reluctant to grant it without some kind of 'proof' of her sexuality. While literally seated on the plane that was meant to take her back to the country where her existence was punishable by death, Namigadde received notice that she had been granted a temporary reprieve, allowing her to stay in the country until a more permanent decision can be reached on her case.
The shadow justice minister, Andy Slaughter, was quoted as saying: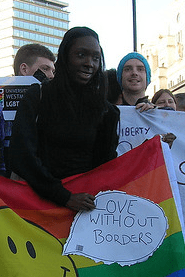 "Whatever the circumstances surrounding Ms Namigadde's presence in Britain, it is clear that she cannot be deported to Uganda at present. Both the public mood and the official stance towards homosexuals in Uganda are lethal at the moment – we should not be contemplating sending my constituents back to a society where she will be in grave danger of her life."
Namigadde's case is now "being looked at again." In a way, it's awful to have the best news of the week be that one person was going to be sent to a terrible fate by an unfeeling administration but was (temporarily!) saved from that. It's certainly true that this was only a barely decent way for the UK to respond to what's happening in Uganda. But in another way, this is exactly the good news we're looking for; this is what we want, what we've been fighting for. We are asking for this: for decent treatment from one human being to another. In the end, every good thing in our world comes from one person deciding to be decent to someone else, and overcoming those personal or cultural predispositions that tell them not to. So in the endless procession of unqualifiedly terrible news coming out of Uganda, it's okay to take one minute and feel good about one person being okay for now. Let's just go ahead and do that. Okay? Okay.
HAWAII CIVIL UNIONS:
The march of progress towards equality in Hawaii is moving forward; this week the Hawaii state Senate passed the bill for civil unions 19-6. A virtually identical bill was put through the process in 2010 before being vetoed by Hawaii's then-governor; the current governor has pledged to sign the bill into law. "For years we have strived to secure equal rights for all families in Hawaii and today we are one step closer to realizing that dream," said Alan Spector, Co-Chair of Equality Hawaii. "We thank the Hawaii State Senate for recognizing the importance of this bill and for advancing the cause of equality in the Aloha State."
LADY GAGA LOVES ELLEN:
Remember how it was Ellen's birthday this week? Of course you do. So did Lady Gaga. I am too dumb to embed the video but the important thing is Lady Gaga singing over the phone: cutecity!
HOMOPHOBIA AND BISEXUALITY:
Hey do you need to feel a little more optimistic about the fate of the world? Maybe try reading about this teen whose homophobic upbringing had her telling her best friend that she was going to hell for being gay – and who is now out and proud with a girlfriend of her own. It's getting better, you know?
TRANS VISIBILITY:
In a move that's kind of incredible in how perfectly it seems like the photo negative of most companies' approach to trans and visibly queer people, a Thai airline has committed to making 10% of its flight attendant staff trans – and has reached that goal. 3 of PC Air's 30-person flight attendant staff is now trans.
GAY TRAVEL IN INDIA:
India's stance towards homosexuality is fragmented and confusing, but at least now some are courting gay and lesbian travelers!
WOMEN AND MONEY:
Tired of hearing about how bad women are with money? Good, because it's not true. "In Bangladesh, Nobel Prize-winner Muhammad Yunus, creator of the micro-credit phenomenon, has found that women not only repay loans more often than men, but that when women control the money, their families were more likely to benefit from the income. And a study in the Philippines reported that when women have control over a couple's savings accounts, expenditures shift towards the purchase of family-targeted durable goods, such as washing machines or kitchen appliances."
SEAN CONNERY:
Sean Connery has a bronze bust built in his honor in Estonia.
OLD PEOPLE DANCING:
It's the new otters.
These old people are dancing sweetly to a romantic song:
And these old people are dancing to Poker Face. You're welcome.